FOLK LITERATURE

Folk Literature has existed for thousands of years, handed down orally from generation to generation. Most folk literature consists of stories in the form of fairy tales, fables, folktales, legends, and myths. But it can include nursery rhymes, proverbs, riddles, songs, superstitions, holiday, and religious celebrations.

We hope that you will enjoy the following selections. Sadly, many titles are out of print, however, they should be available in libraries.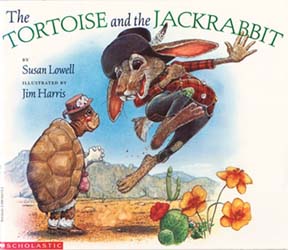 THE TORTOISE AND THE JACKRABBIT
written by Susan Lowell, illus, by Jim Harris, (Rio Nuevo Publishers, 1994, $15.95, ISBN 978-0-87358-586-0), 32p, Ages 4-7
With a delightful Southwestern spin on the classic tale of the Tortoise and the Hare, an elderly bespectacled tortoise challenges a cocky, self-important jackrabbit to a race across the desert. Roadrunner marks the course with signs and Rattlesnake draws the starting line. As Jackrabbit races past saguaro cacti, mesquite trees, Elf Owls, Tarantulas, and Javelinas, Tortoise inches her way forward, pausing to admire the desert dandelions, golden poppies, and butterfly lilies. True to the original tale, Jackrabbit tires and takes a nap. "Suddenly he woke up. He saw all the other animals gathered at the water hole. The Quails had even brought their children, like little brown eggs on legs. And Tortoise had almost reached the finish line." Author's end note explains the threat of disease and habitat destruction of the desert tortoise. Rich illustrations round out this clever retelling of a classic fable.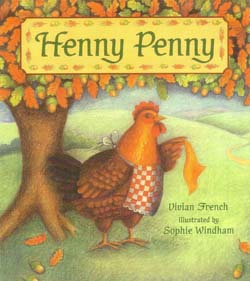 HENNY PENNY
written by Vivian French, illus. by Sophie Windham, (Bloomsbury Publishing, 2006), 32p, Ages 4-8
According to Henny Penny, this is the real story of what happened when an acorn fell on her head. On her way to tell the king, she meets Ducky Lucky, Cocky Locky, Goosey Loosey, and Turkey Lurkey, who decide to come along. When they encounter Foxy Loxy, he convinces them of a better way to reach the king. Of course, his way is right into the boiling pot for dinner. Volunteering to clean Foxy's dirty house while he napped, they all sneak away. An excellent retelling of a favorite tale.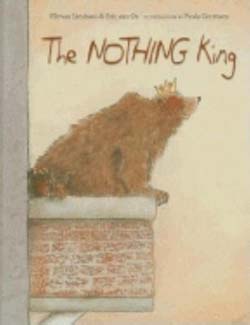 THE NOTHING KING
written by Elle van Lieshout & Erik van Os, illus. by Paula Gerritsen, (Front Street Books, 2004), 32p, Ages 4-7
King Bear decides to move from his castle to a third floor apartment and discovers that having nothing is more rewarding than have everything. He loves taking care of himself and the pansies. When the townspeople laugh at his poverty, he realizes that his simplistic lifestyle and happiness are more important.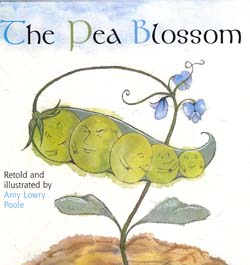 THE PEA BLOSSOM
retold & illus. by Amy Lowry Poole, (Holiday House, 2005), 32p, Ages 4-7
Based on Hans Christian Andersen's story "Five Peas in a Pod", small peas, growing in a garden near Beijing, wait to discover what the future has for them. One pea wishes to fly to the sun, another to the moon, two more want to dine with the Emperor, but the smallest pea transforms the lives of a mother and daughter.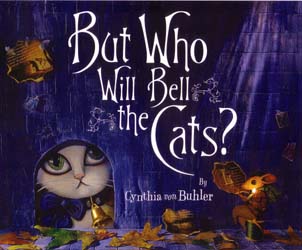 BUT WHO WILL BELL THE CAT?
written/illus. by Cynthia Von Buhler, (Houghton Mifflin Books for Children, 2009), 32p, Ages 4-7
According to an Aesop's Fable, mice of long ago proposed to attach a bell to their enemy to hear its approach. In this story, the Princess of a castle enjoys a luxurious life with her eight cats, but in the basement poor Mouse and Brown Bat are determined to change their environment. "Upstairs, the cats ate at the banquet table in the elegant dinning hall. Down below, Mouse ate crumbs that fell through the floorboards into the basement." Determined to enjoy the castle's luscious banquet, Mouse devises several schemes that involve armor, a dog costume, and a fashion show. Outwitted by the cats every time, only help from an unusual source, along with bravery, creativity, determination, and an act of kindness will finally bell the cats. The original fable prefaces the story.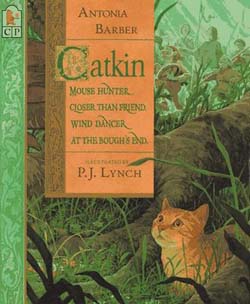 CATKIN
written by Antonia Barber, illus. by P. J. Lynch, (Candlewick Press, 1994) 48p, Ages 7-11
Catkin, a tiny and magical, golden kitten, is given the job of protecting little Carrie, the only daughter of a farmer and his wife. Distracted by a butterfly, Catkin unknowingly allows Carrie to be captured by the Little People. To rescue the child, Catkin ventures into an enchanted land where he must solve three riddles to free her from the Lord and Lady of the Little People. With courage and compromise, the child is returned, and two families learn the meaning of sharing.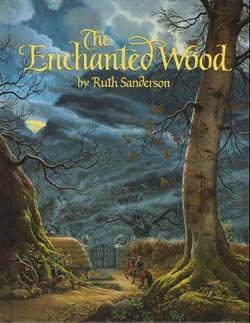 THE ENCHANTED WOOD
written/illus. by Ruth Sanderson, (Little Brown & Co., 1991), 32p, Ages 5-8
A King's grief over the loss of the Queen results in a terrible drought throughout his Kingdom. One day the King recalls an old legend and sends his three sons on a quest. "A legend says that if a man of royal blood and noble purpose can find the Heart of the World, his purpose will be magically achieved. Surely, our need to end this terrible drought is such a noble cause." Each son begins the journey and meets an old woman, the gatekeeper to the Enchanted Wood. She gives each a warning not to stray from the path, but the two oldest sons surrender to temptations and lose their way. Only the third and youngest son remains steadfast with the help of the old woman's daughter. With mouth-watering illustrations, this original fairy tale of adventure, magic, and a bit of romance will please all who take the path to "The Enchanted Wood."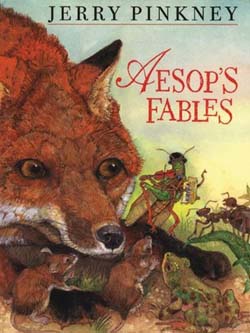 AESOP'S FABLES
retold by Jerry Pinkney, (Chronicle Books, $19.99, ISBN 978-1-58717-000-3), 96p, Ages 5-9
More than sixty of Aesop's classic tales are brought to life in Jerry Pinkney's unforgettable style. Tales of steadfast lions, crafty wolves, carefree grasshoppers, patient tortoises, dissatisfied donkeys, unwise mice, persistent ants, tricky foxes, grateful lions, honest woodcutters, and many more teach lasting moral lessons for young listeners: "Honesty is the best policy." "Appearances can be deceiving." "Look before you leap." "Don't count your chickens before they're hatched." An introduction includes information on the real Aesop and the importance of moral lessons today. Some are familiar, others are almost forgotten, ("The Mermaid and the Woodcutter"), but all are relevant to children today.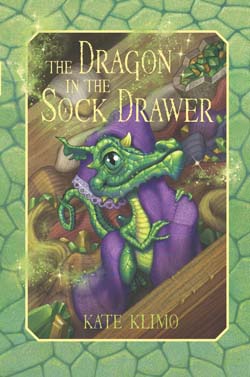 THE DRAGON IN THE SOCK DRAWER
written by Kate Klimo, illus. by John Shroades, (Random House, 2008),176p, Ages 8-12
"The world is talking to us. Everything in it has a story to tell. All we have to do is sit quietly and listen. This story begins with a rock . . ." During their summer vacation, ten-year-old cousins, Jesse and Daisy, discover what they think is a thunder egg or geode. When the egg suddenly hatches and a very loud, green, baby dragon emerges, they assume responsibility of raising Emmy. An internet search leads them to "foundadragon.org," which explains that they are "Dragon Keepers" and must protect Emmy from the centuries old legend, Saint George. This black-cloaked stranger stays alive by drinking the blood of dragons, and he desperately searches for Emmy. The loveable dragon has a mind of his own and thwarts Saint George in a very unexpected way. Children will love Emmy as well as the series.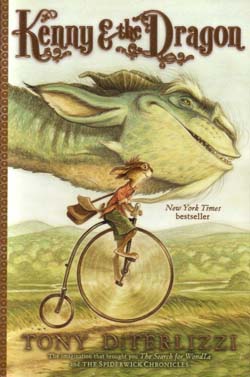 KENNY AND THE DRAGON
written/illus. by Tony DiTerlizzi, (Simon & Schuster, 2008), 112p, Ages 8-12
A curious, well-read rabbit named Kenny, a cultured, crème brûlée-loving dragon named Grahame, and a bookstore owner/retired dragon slayer, George, devise a plan to prevent Grahame from being killed. At first meeting, Kenny is initially wary of Grahame. Soon he realizes that the peace-loving dragon has no interest in eating anyone. As their friendship grows, Kenny introduces Grahame to another friend, George, who has been selected by the King to slay the monster. With their shared love of books, the three plot to trick the townspeople and king into viewing a fake battle. With an emphasis on friendship, not judging others, and doing the right thing, Tony DeTerlizzi has created charming characters and an enjoyable story that children will love to hear again.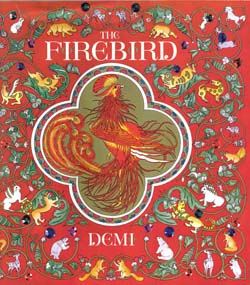 THE FIREBIRD
retold/illus. by Demi, (Henry Holt, 2005), 32p, Ages 6-10
This well-known Russian classic tells the legend of a young archer who must undertake a series of difficult tasks to win the hand of the lovely Princess Vassilissa. With the aid of his magical horse, Dimitri fulfills the tsar's requests and wins the hand of the princess. Demi's illustrations are exquisite.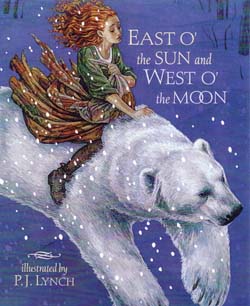 EAST O' THE SUN AND WEST O' THE MOON
translated by George Webbe Dasent, illus. by P.J. Lynch, (Candlewick Books, 2005), 48p, Ages 9-12
Translated from Norwegian in 1859, this romantic fairy tale tells of a young girl who reluctantly travels with a white bear to a far kingdom, only to discover that the bear is a prince under an evil spell. Only her love and persistence save him from a disastrous marriage to a troll princess. As with all great fairy tales, there are quests, a magic spells, strangers bearing gifts, impossible roads to travel, and good triumphing over evil. P. J. Lynch's realistic illustrations, especially of the North Wind, dangerous forests, and drooling trolls, are marvelous.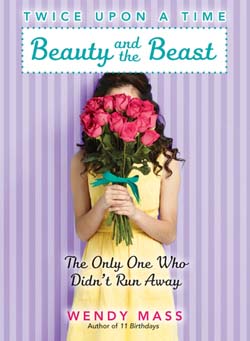 TWICE UPON A TIME: Beauty and the Beast, the Only One Who Didn't Run Away
written by Wendy Mass, (Scholastic Press, $16.99, ISBN 978-0-545-31018-5), 282p, Ages 9-12
Beauty is a plain girl, whose life drastically changes after a fire burns down her family's home and business. Searching for work, she finds employment in an apothecary shop. Riley is a prince, who would rather search the stars, play bagpipes, and study science rather than princely duties. When a wicked witch turns Riley into a beast and renders his family invisible, they must find a girl to love him and bestow a kiss before the curse becomes permanent. The two families cleverly work together to unite Beauty and Riley, but many problems, quests, and adversaries stand in the way. This safe, light, non-violent retelling of the classic fairy tale should please most tweens who enjoy fairy tale twists.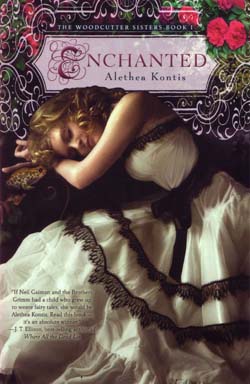 ENCHANTED: The Woodcutter Sisters Book 1
written by Alethea Kontis, (Graphia, 2013), 336p, Ages 14-18
Readers who love fairy tales will enjoy this charming mixture of classics. Cinderella, Sleeping Beauty, Jack in the Beanstalk, and more are woven into a complex story about seven sisters, a frog prince, battling fairy godmothers, and evil villains. Sunday Woodcutter, the seventh daughter of a seventh daughter, discovers an enchanted frog in the forest. As their friendship grows into love, Sunday unknowingly breaks his curse and frees Prince Rumbold. As he searches the kingdom for her, the path to true love is filled with obstacles from Sunday's stubborn family, wicked kings, fairy godmothers, giants, golden eggs, glass slippers, and beanstalks. Intricately threaded with humor, drama, magic, intrigue, and romance, readers will enjoy the elaborate plots, colorful characters, hidden agendas, family dynamics, and the delectable enchantment of book one.
ABOUT US
The Children's Hour was created to promote and encourage reading to children. We believe that reading aloud not only creates a special bond between parents and children, but it is important to the development of their imagination and curiosity. Our books are also great choices for children to read.
The Children's Hour
150 N. Santa Anita Ave.,
Suite 300
Arcadia, CA 91006
626-791-4848
Conditions of Use
Privacy Policy