Welcome to the Children's Hour where reading to children and reading by children is considered a high priority to their success in life. Literacy begins by reading to children, but is developed over the years when great literature is available for their listening and reading enjoyment.

The best children's books contain imaginative stories, memorable characters, beautiful illustrations, and lyrical language. Well-written stories should contain heroes and role models to imitate. Great books should be enjoyable reads, make the world a better place, and incorporate heart, humor, heroes, and hope.

Be sure to sign up for our monthly newsletter for information on the best in children's literature available to read and read-aloud.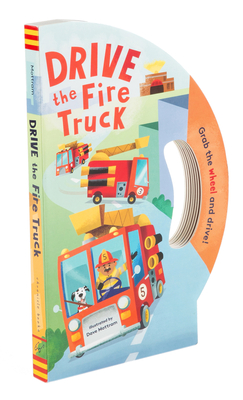 DRIVE THE FIRE TRUCK
written/illus. by Dave Mottram, (Chronicle Books, $9.99, March 2021, ISBN 978-1-4521-7885-1), 14 pages, Ages 2-4
This clever interactive board book, with its built-in handles and rhyming directions, allows children to pretend that they are behind the steering wheel of a fire truck on its way to an emergency fire. "The siren's on, / time to go fast. / Cars pull aside to / let you pass." Children are given directions on each page including how to pass cars, turn left and right, honk the horn, park, and extend the ladder. Kids will love the gauges and controls across the bottom of each page which encourage them to push the buttons, take the wheel, and save the day.
Themes: Adventure, Concept, Machines, Rhythm & Rhyme, Series
Other Books in the Series: Drive the Race Car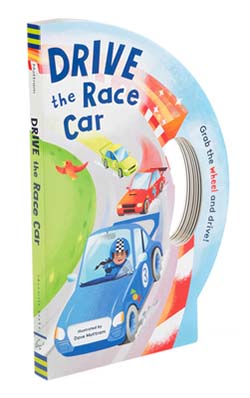 DRIVE THE RACE CAR
written/illus. by Dave Mottram, (Chronicle Books, $9.99, March 2021, ISBN 978-1-4521-7886-8), 14 pages, Ages 2-4
"At the line, / your car is ready. / Helmet on, / hands are steady." In this cute interactive, rhyming, and steering wheel-shaped board book with built-in handles, little race car enthusiasts will love pretending to drive a race car. They are given instructions to maneuver curves, increase speed, swerve around other race cars, take pit stops, and race toward the checkered flag to the finish line. Kids will love making beep-beep and zoom sounds throughout the race, and shout as, "The checkered flag / comes into view … / The whole crowd cheers. / The winner if YOU!"
Themes: Adventure, Concept, Machines, Rhythm & Rhyme, Series
Other Books in the Series: Drive the Fire Truck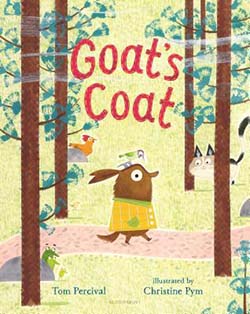 GOAT'S COAT
written by Tom Percival, illus. by Christine Pym, (Bloomsbury Children's Books, Dec. 2018, $16.99, ISBN 978-1-68119-901-6), 32p, Ages 3-6
"Let me tell you the tale of Alfonzo the goat, / who was terribly proud of his lovely new coat. / It had bright shiny buttons all made out of glass / and a collar the color of freshly cut grass." Alfonzo is a kind goat but far from ordinary, as readers and listeners learn when he goes the extra mile to help other creatures in need. On a morning walk, Alfonzo comes across a family of frogs without a home, a cat with a hurt tail, and a lost chick up in a tree. Using pieces of his new coat he provides a boat for the frogs, a bandage for the cat's tail, and a rope for rescuing the chick. "Alfonzo's new coat was now just a few threads, / but he thought of the good deeds that he'd done instead." When the weather turns cold and Alfonzo is close to freezing, find out how the animals return his kindness in this lovely tale of resourcefulness, kindness, and helping others in need.
Themes: Adventure, Animals, Friendship, Heroes, Rhythm & Rhyme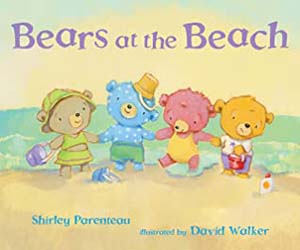 BEARS AT THE BEACH
written by Shirley Parenteau, illus. by David Walker, (Candlewick Press, April 2021, $16.99, ISBN 978-1-5362-0838-2), 32p, Ages 3-6
With pails and shovels, Shirley Parenteau's lovable bears return for a romp at the beach. The sun is shining and the waves "ebb and flow" while Yellow, Fuzzy, Floppy, and Calico decide to build the best sandcastle to reach the sky, however, each one they create manages to collapse. When the sand is too dry or too wet, Yellow has a solution: "We'll build in between. / The sand will be damp / and our towers won't lean." The next effort, built on top of Big Bear, collapses with too many holes for windows and doors. They begin again but this time find a perfect solution using seashells for holes. With dedication and persistence these roly-poly bears have loads of fun solving sandcastle problems, all the while having a great romp at the beach.
Themes: Bears, Families, Rhythm/Rhyme, Seasons, Series
Other Books in the Series: Bears and a Birthday | Bears in a Band | Bears in the Bath | Bears in the Snow | Bears on Chairs | Bears and Boos | Bears in Beds | Bears and Blossoms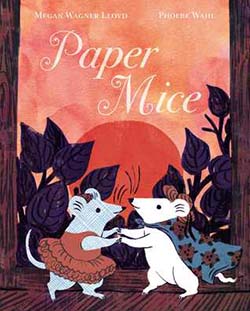 PAPER MICE
written by Megan Wagner Lloyd, illus. by Phoebe Wahl, (Simon & Schuster Books for Young Readers, $17.99, May 2019, ISBN 978-1-4814-8166-3), 40p, Ages 3-7
One day a young girl and her grandmother cut out two paper mice from envelopes, paint eyes, tiny noses, and whiskers on the cutouts, give them names, and slip them between pages of two books. That night, unaware of each other, Ralph and Della come to life and venture out of their books to explore their surroundings. Della discovers a doll house just her size, while Ralph explores the kitchen but runs into trouble. When Della rescues him, they decide to explore together. "The house creaked, the fire sighed, the night slipped away, and the mice were happy. Out into the darkness they'd each ventured—alone—and found true comfort: a friend." As the night comes to an end, the two friends slip back into their books to wait for the next night's adventure. Kids will love the detailed illustrations in this whimsical, clever tale of adventure and friendship.
Themes: Adventure, Animals, Friendship, Humor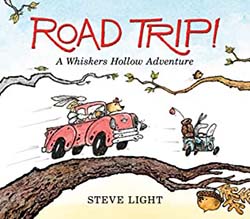 ROAD TRIP!: A Whiskers Hollow Adventure
written/illus. by Steve Light. (Candlewick Press, $16.99, Feb. 2021, ISBN 978-1-5362-0947-1), 40p, Ages 3-6
Welcome to the magical world of Whiskers Hollow with its magnificent tree branches, which the inhabitants zoom around on using unique vehicles. This day Bear's red 1940s Chevy pickup needed a headlight replacement after Bear accidentally crashed into a large acorn, thus requiring a road trip to Elephant's Old Junk Tree. Along the way Bear picks up his friends, snack-obsessed Rabbit, fearful Mouse, and junk enthusiast Donkey. When they arrive at Elephant's Old Junk Tree, it was filled with old car parts and lots of rusty treasures. There were tires, tricycles, a guitar with broken strings, a motorcycle, and lots of wrenches. Even hubcaps!"

Discover how a mud puddle and an elephant help them find their needed treasure. Little ones will love the detailed illustrations to pore over in this charming miniature world of adventure and friendship. Endpapers contain a detailed map of Whiskers Hollow with its trees that contain a bank, library, a general store, acorn storage, acorn ice cream shop, gas station, train station, and much more.
Themes: Adventure, Animals, Friendship, Humor, Machines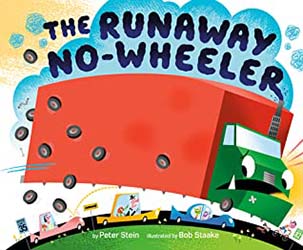 THE RUNAWAY NO-WHEELER
written by Peter Stein, illus by Bob Staake, (Viking Books for Young Readers, $17.99, November 2020, ISBN 978-0-593-11420-9), 40p, Ages 3-6
"Tony was a rugged truck who had a lot to haul / He'd load his rig and hit the road / without a hitch or stall." But this day the 18-wheeler faces disaster after disaster on his way to make a delivery. Tony slips on road slime, bumps over potholes narrowly missing a family of ducks, encounters a gang of tire thieves, and collides with a rocket ship full of aliens. Each mishap results in the loss of wheels, which prompts readers to count the number of lost wheels and remaining ones.

Passing castles, houses, tunnels, and a spaceship, Tony sees his destination, hits the gas, leaps through the air and slides into the city with no wheels. Kids will enjoy routing for this courageous and determined 18-wheeler with his never-give-up attitude, delightful facial expressions, the fun math lesson, and the shipment he delivers.
Themes: Adventure, Concept, Heroes, Humor, Machines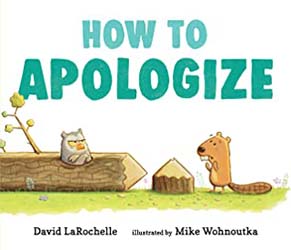 HOW TO APOLOGIZE
(A Click Clack Book)
written by David LaRochelle, illus. by Mike Wohnoutka, (Candlewick Press, $16.99, May 2021, ISBN 978-1-5362-0944-0), 32p, Ages 3-7
This comical guide to apologizing for mistakes will have kids laughing out loud at the various scenarios requiring the reply - "I'm sorry." From a giraffe who borrowed a worm's socks without permission to a porcupine who popped a squirrel's balloon, to a penguin wearing goggles who parachuted through the roof of a bathing alligator, helpful tips show kids when, how, and why to apologize because, "Everyone makes mistakes." Examples of sincere and insincere apologies are given. Fixing the problem is recommended and sometimes apologizing in a note is okay. Kids will love the funny illustrations for each scenario, especially the note sent by snail apologizing to sloth for running too fast and stepping on his toes.
Themes: Animals, Concept, Friendship, Values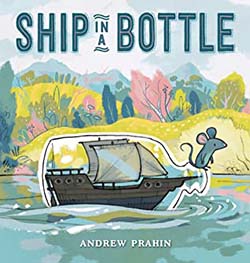 SHIP IN A BOTTLE
written/illus. by Andrew Prahin, (G. P. Putnam's Sons Books for Young Readers, $17.99, June 2021, ISBN 978-1-9848-1581-1), 32p, Ages 3-7
"Mouse and Cat lived together. But there were problems. Mouse wanted to eat gingersnaps. Cat wanted to eat Mouse." Mouse only desires to eat gingersnaps, to lie in the sun, and dream of a better life with the ship that's in a bottle up on the shelf. One day Mouse decides to search for a new home. She stuffs the ship with gingersnaps and says goodbye just as cat accidentally tips the ship out the window into a quiet river. On the trip down the river, she encounters grabby seagulls, selfish rabbits, hunger pains, and stormy waters.

Reaching the shore of a large city Mouse discovers a park with new friends, who introduce her to interesting culinary delights (French Fries) and help her and her ship find a new home. "And whenever the sun's rays warmed the ground, Mouse would find a tidy little spot of her own and stretch out, without a care in the world." As for the cat, well he's still at the window waiting. Kids will love this little heroine's courage, ingenuity, and strength in overcoming obstacles to find a new life with her charming Ship in a Bottle and wonderful new friends.
Themes: Adventure, Animals, Friendships, Heroes, Humor

ALL EXCEPT AXLE
written by Sue Lowell Gallion, illus. by Lisa Manuzak, (Aladdin, Sept. 2020, $17.99, ISBN 978-1-5344-4022-7), 48p, Ages 3-6
Axle is brand new, just off the assembly line, clean, and polished for delivery, until he sees Earlene, the transport truck. Nervous and shy, he can't quite seem to drive himself onto the truck, but once aboard, Axle is reluctant to leave when it's time to unload. Earlene takes pity on him and takes him to secluded roads to practice left and right turns, drive up and down ramps, and up a large mountain. Complications arise when Earlene blows a tire coming down the mountain and needs Axle's help. Kids will love how Axle finds his courage to rescue Earlene and can finally face the challenges that come his way.
Themes: Adventure, Friendship, Heroes, Machines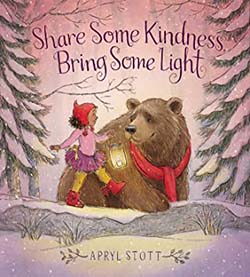 SHARE SOME KINDNESS, BRING SOME LIGHT
written/illus. by April Stott, (Simon & Schuster Books for Young Readers, $17.99. Oct. 2020, ISBN 978-1-5344-6238-0), 40p, Ages 4+
"Coco and Bear were friends from almost the first time they met. They were very different: Bear was big. Coco was small. Bear was shy. Coco was brave." When Coco learns that the forest animals think Bear is mean, she offers to remedy the situation. Giving Bear a hug, she remembers her grandmother's saying: "When life gets dark as winter's night, share some kindness, bring some light." Together they make cookies and lanterns to share, but the animals reject the gifts in fear of Bear.

Returning home, Coco and Bear discover Baby Deer, who is stuck in the snow, give her a ride home on Bear's back, and meet up with a rescue party using their lanterns for light. Recognizing that Bear is responsible for the rescue, the animals appreciate Bear's kindness, friendliness, and bravery, and Bear realizes that "kindness is about giving away love instead of gifts. It's doing something nice without expecting to get anything in return." Kids will love this big, brown, lovable, and dancing bear, who shares kindness.
Themes: Adventure, Animals, Bears, Friendship, Heroes, Values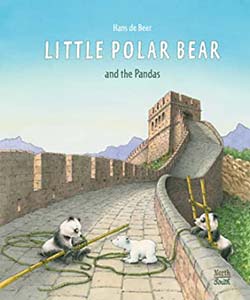 LITTLE POLAR BEAR AND THE PANDAS
written/illus. by Hans de Beer, (NorthSouth Books, $17.95, March 2021, ISBN 978-0-7358-4428-5), 32p, Ages 4-7
In this newest addition to the Little Polar Bear series, spring in in the air in the Artic. When Lars follows a group of tourists in their snow vehicle to their cruise ship, he smells something delicious and investigates, only to find himself on a trip to China. Now a stowaway on the ship, he meets new mice friends, who smuggle him off at the next port. Wandering through a bamboo forest he meets two young pandas, Ying and Yong, who introduce him to bamboo and help him scale the Great Wall of China.

Smelling water in the distance, Lars finds fish to eat and a friendly otter, Oleg. "The two of them sat and began to eat the fish. 'Everyone keeps helping me,' said Lars, his mouth full of fish. 'And now you've helped me too. How nice you all are!' 'Of course,' laughed Oleg 'It's the best way. You today, me tomorrow.'" Discover how Lars manages to fly home, arrive safely to relieved and overjoyed parents, and tells of an exciting adventure and new friendships. Kids will love the illustrations especially the rope ladders.
Themes: Adventure, Animals, Bears, Friendship, Heroes, Series, Values
Other Books in the Series: Little Polar Bear | Ahoy There, Little Polar Bear | Little Polar Bear Finds a Friend | Little Polar Bear, Take Me Home! | Little Polar Bear and the Brave Little Hare | Little Polar Bear and the Husky Pup | Little Polar Bear and the Big Balloon | Little Polar Bear and the Reindeer | Little Polar Bear and the Whales | Little Polar Bear and the Submarine | Little Polar Bear Takes a Stand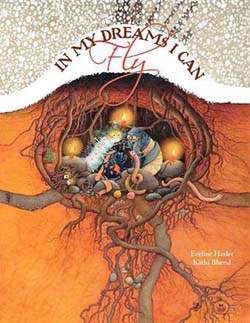 IN MY DREAMS I CAN FLY
written by Eveline Hasler, illus. by Käthi Bhend, (NorthSouth Books, $17.50, Reprint Feb. 2021, ISBN 978-1-7658-4430-8), 32p, Ages 4-7
Five friends, a grub, a beetle, two worms, and a caterpillar wait for spring in their underground homes. "Every third evening, the friends played cards together in the grub's home among the roots. The little beetle usually lost, so the caterpillar told him funny stories and jokes to cheer him up." As winter progresses and food runs out, beetle eats most of grub's huge onion, and caterpillar disappears.

All seems lost, until the snow begins to melt. Spring was on its way, and the friends begin to tunnel out. Once above ground they love the Spring breezes, find that grub's onion has sprouted, and discover that their friend caterpillar is now a butterfly. "'You can fly!' gasped the grub. 'It's what I've always dreamed of doing.' The butterfly laughed. 'Be patient, little grub,' she said softly. 'One day your dream will come true!'" Kids will enjoy the beautiful, intricate illustrations and friends working together.
Themes: Friendship, Insects, Nature, Seasons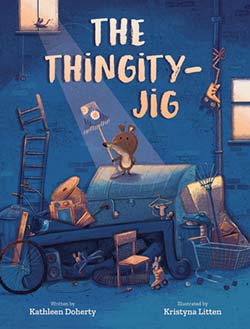 THE THINGITY-JIG
written by Kathleen Doherty, illus. by Kristyna Litten, (Peachtree Publishing, $17.99, April 2021, ISBN 978-1-56145-959-9), 32p, Ages 4-7
Late one night the woodland animals are asleep except a little Bear, who wants to play. Wandering into town he makes a marvelous discovery in an alley, ("… a springy thing. / A bouncy thing. / A sit-on-it, hop-on-it, jump-on-it thing"), a worn-out red sofa, which he calls the Thingitiy-Jig. When his friends decide that they are too sleepy to help him bring it home, Bear decides to invent a device, a Rolly-Rumpity, to wheel the large and heavy sofa home. "But Bear found it impossible to lift the Thingity-Jig onto the Rolly-Rumpity," so he invents a Lifty-Uppity which works marvelously and a Pushy-Poppity when the sofa becomes stuck in the mud.

Kids will love this little enthusiastic and creative little genius, who discovers a treasure, builds devices to haul it home, is undaunted in the face of obstacles, and generously shares it with his friends, Rabbit, Fox, and Raccoon, to jump, bounce, hop, leap, and climb all over it. And Bear? He finally falls asleep.
Themes: Adventure, Animals, Friendship, Heroes, Humor, Inventions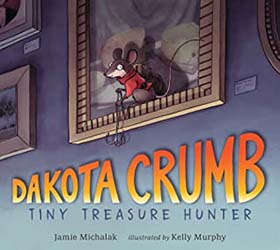 DAKOTA CRUMB: Tiny Treasure Hunter
written by Jamie Michalak, illus. by Kelly Murphy, (Candlewick Press, $17.99, July 2021, ISBN 978-1-5362-0394-3), 32p, Ages 5+
"In the great, big city, in the great, big museum, a clock tick-tocks past midnight. Doors are locked. Guards keep watch. All is still, until . . .a small figure creeps out of the shadows!" Its's Dakota Crumb, a small but intrepid mouse detective, who lives beneath the museum and enjoys searching for treasures for her own "Mousehole Museum." This night Miss Crumb searches the city museum with a map and sack seeking the Purple Jewel of Egypt (a gumdrop). Slipping past knights on horses, Greek and Egyptian statues, and mummies, she picks up various discarded items until she spies the treasure.

All will love this brave and daring little treasure hunter, her museum with its Hall of Statues, Vault of Shiny Things, Itty Bitty Gallery, Café, Gift Shop, and the end pages where kids are invited to find more treasures that were missed by the Tiny Treasure Hunter.
Themes: Adventure, Animals, Humor, Mysteries & Detectives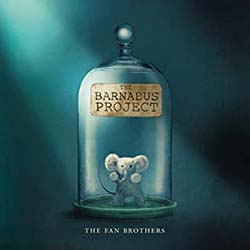 THE BARNABUS PROJECT
written/illus. by the Fan Brothers, (Tundra Books, $18.99, September 2020, ISBN 978-0-7352-9626-0), 72p, Ages 5+
Barnabus is a cute half-mouse/half-elephant, who lives underneath a pet store in the Failed Projects laboratory along with other imperfect pets. Confined to a small bell jar, Barnabus dreams of the world above ground with its green trees, tall buildings, sparkling lakes, and the stars that his friend Pip the cockroach described.

Slated for re-cycling by the lab's Green Rubber Suits, Barnabus cracks his jar open, frees the other misfits, and their quest begins to reach the outside world. Along the way they discover another failed project, a huge marine creature in a tank of water, however, when the Green Rubber Suits find them, all seems lost. Find out how Barnabus and his friends discover freedom with the help of water pressure, proving that with determination "Nothing is impossible." Kids will love the creative illustrations and the ambitious dream of finding "a place that might be home."
Themes: Adventure, Fantasy, Friendship, Heroes, Pets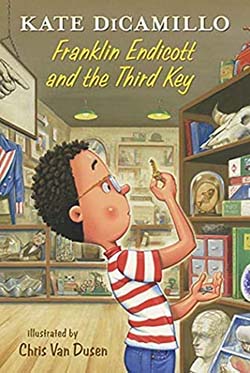 FRANKLIN ENDICOTT AND THE THIRD KEY #6 (Tales from Deckawoo Drive)
written by Kate DiCamillo, illus. by Chis Van Dusen, (Candlewick Press, $15.99, June 2021, ISBN 978-1-5362-0818-9), 112p, Ages 6-9
Franklin Endicott is an obsessive worrier, especially about lions, submarines, black holes, leprosy, and armadillos. He classifies all worries in his worry notebook, sorting alphabetically and indexing, and cross-referencing. After putting his notebook under his bed, Franklin begins to have nightmares and enlists the help of Mercy Watson, the neighbors pet pig, to stay awake and consume his nightmares, but she falls asleep.

After discussing his predicament with neighbor Eugenia Lincoln over warm milk, Eugenia takes him on an errand to obtain a duplicate key at Buddy Lamp's Used Goods. The darkened store presents Franklin with more worries, especially when left alone to wait for the new key and receiving three keys instead of two. Readers will sympathize with this young worrier on his journey to confront his fears, finding delight in reading stories to his friends and neighbors, and beginning a new notebook of marvels.
Themes: Adventure, Animals, Friendship, Humor, Mysteries, Series
Other Books in the Series: Leroy Ninker Saddles Up #1, Francine Poulet Meets the Ghost Raccoon #2, Where Are You Going, Baby Lincoln #3, Eugenia Lincoln and the Unexpected Package #4, Stella Endicott and the Anything-Is-Possible Poem #5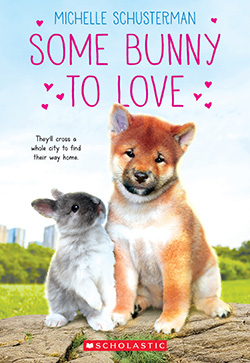 SOME BUNNY TO LOVE
written by Michelle Schusterman, (Scholastic, Inc., $6.99, January 2021, ISBN 978-1-338-67237-4), 224p, Age 8-11
Evie is the bunny mascot of the Rodriguez family's bodega in Harlem. Through a series of unfortunate accidents, she is left behind with strangers when her family travels out of town. Determined to find her way back home, Evie escapes into traffic and is rescued by a streetwise stray Shiba Inu named Bart, who agrees to help her in exchange for finding him a collar to keep the dogcatcher away. Together they begin a quest across Central Park, encounter tourists, dogcatchers, and dangerous challenges. As people begin to post pictures of the two unlikely friends on social media, Evie's worried owner, Laura, checks on their progress and even offers tips to followers on how to catch Evie.

Find out how two vastly different animals support each other through challenging times, set aside their differences, and work together to find a way home for both, and one young, insecure girl discovers she is stronger than she thinks. Readers and listeners from 8 to 98 will enjoy this sweet story of friendship, heroes, and a lost diamond necklace.
Themes: Adventure, Families, Heroes, Mysteries, Series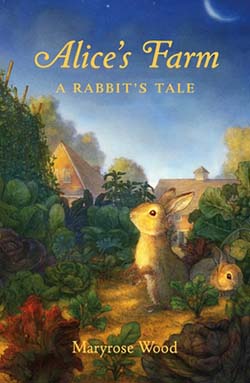 ALICE'S FARM: A Rabbit's Tale
written by Maryrose Wood, (Feiwel and Friends, $17.99, September 2020, ISBN 978-1-250-22455-2), 368p, Ages 8-12
Historically farmers and rabbits have been enemies for centuries, due to their love of vegetables. Farmers grow them to make a living but "no self-respecting rabbit can resist the mouth-watering menu offered by your average vegetable garden." In this wonderful tale of working together, a brave young Eastern cottontail is determined to save her farmland home by working with natural predators, and secretly helping the incompetent new owners of Prune Street Farm. When Alice overhears a plan by a mean developer to run the family off and bulldoze the farm, she comes up with a plan.

Helped by the farmer's 10-year-old son Carl, his baby sister Marie, their dog Foxy, and a majestic bald eagle named John Glenn, Alice recruits a wild fox (named Doggo) to protect the rabbits from predators. The cottontails begin to plow, plant seeds, weed, keep hungry animals away when the plants sprout, and hope to reward all the animals for their contribution. Kids will enjoy this engaging story of one bunny who shares a world with humans and works to make both worlds a better place.
Themes: Adventure, Animals, Families, Food, Friendship, Heroes, Humor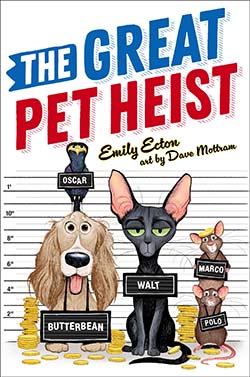 THE GREAT PET HEIST
written by Emily Ecton, illus. by Dave Mottram, (Atheneum Books for Young Readers, $17.99, June 2020, ISBN 978-1-5344-5536-8), 256p, Ages 8-12
"Butterbean knew she wasn't always a GOOD dog. But until the morning of Tuesday, October 20, she'd never considered herself a BAD dog. And she definitely never thought that by Wednesday, October 21, she'd be a member of an International Crime Syndicate."

When Butterbean's owner, Mrs. Food, accidentally slips and falls on Butterbean's throw up and ends up in the hospital, the household pets suspect that their owner may never return. Realizing that they may be destined for the shelter, Butterbean, Walt the cat, Oscar the myna bird, and pet rats Marco and Polo devise a survival plan to become independently wealthy. When Butterbean smells coins on a mean, shifty man in the elevator, the pets discover a cache of coins in the man's apartment and plan the heist of the century. With the assistance of an octopus named Chad and a vent-dwelling Wild Rat Wallace, they begin a quest to rescue the cache of gold and free their young caregiver, who was kidnapped by the criminals.

Kids will love the animals quirky, endearing personalities, their crazy plot to become independently wealthy, and the stunning illustrations.
Themes: Adventure, Animals, Heroes, Humor, Families, Fantasy, Friendship, Pets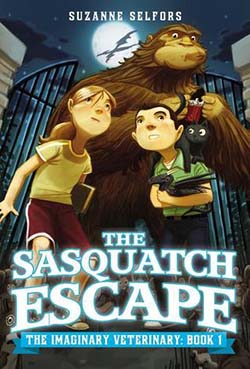 THE SASQUATCH ESCAPE: The Imaginary Veterinary Book 1
written by Suzanne Selfors, illus. by Dan Santat, (Little, Brown & Co. 2013, ISBN 978-0-316-20934-2), 224p, Ages 9-12
Not much happens in Buttonville since the factory closed, until 10-year-old Ben, who is expecting a dull summer with his grandfather, spies a helicopter-sized bird with enormous wings and a ropelike tail and Grandpa's cat brings home a bat that breathes fire. With the help of a new friend, Pearl, they take the wounded baby dragon to the only veterinary office in town, Dr. Woo's Worm Hospital in the old Button Factory.

Turns out that the hospital is home to imaginary creatures, one of which (a hairy sasquatch) is accidentally released by Ben. Now tasked with the job of retrieving the pudding-loving sasquatch, the two friends begin an adventure of a lifetime filled with mythical creatures, cliffhangers, suspense, and secrecy. Kids will enjoy the endpapers featuring the Wyvern and Sasquatch Connection, the Dragon Milk Science Connection, and the Creativity Connection (homemade chocolate pudding).
Themes: Adventure, Animals, Families, Fantasy, Heroes, Mysteries, Series
Other Books in the Series: The Lonely Lake Monster #2 | The Raindragon Rescue #3 | The Order of the Unicorn #4 | The Griffin's Riddle #5 | The Fairy Swarm #6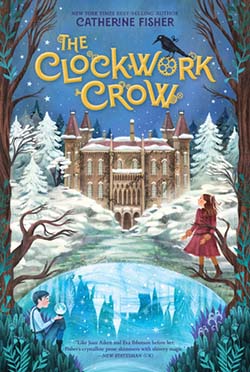 THE CLOCKWORK CROW #1
written by Catherine Fisher, (Walker Books, $16.99, Sept. 2020, ISBN 978-1-5362-1491-8), 208p Ages 10-13
One wintery night before Christmas in Victorian Wales, an orphan girl waits at an empty train station, ready to begin a new life as a ward of her godfather at his country mansion, Plas-y Fran. When a frightened stranger leaves a mysterious package with her containing the pieces of a mechanical talking crow, little does Seren Rhys realize that her life is about to magically change. Upon arrival, Seren finds the mansion nearly deserted with a dark secret, a few tight-lipped servants, the family away, and the son, Tomos, missing for almost a year. With the help of her only ally, the crochety crow, and a snow globe, the two heroes begin a magical quest to an enchanted world of danger, mystery, suspense, snow, and adventure to rescue Tomos.

Originally published in England, readers and listeners will enjoy the forbidden rooms, hidden tunnels, magical snow globes, the Fair Family, Enoch the crow, and the clever rhymes that begin each chapter in this engaging tale of family, friendships, heroes, and magic.
Themes: Adventure, Families, Friendship, Folk Literature, Heroes, Mystery, Suspense
Others in the Series: The Velvet Fox #2 | The Midnight Swan #3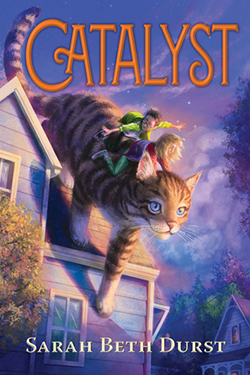 CATALYST
written by Sarah Beth Durst, (Clarion Books, $16.99, June 2020, ISBN 978-0-358-06502-9), 288p, Ages 10-13
What does a giant talking, reading & singing cat christened Pipsqueak, a multi-colored flying mouse called Buttermouse, and a six-tailed, shark tooth, green dog named Kermit, have in common? It seems that they all met a young girl when they were normal animals, who promises to take care of them after they begin to transform into magical animals.

About to celebrate her 12th birthday, Zoe rescues a stray kitten and decides to keep it hidden, as her parents have forbidden any more animal rescues. She begins to realize that this is no ordinary kitten when it begins to abnormally grow bigger and starts to read, talk, and sing opera. Zoe and her neighbor/best friend Harrison devise clever hiding places for Pipsqueak as he grows, but they realize the impossibility of keeping an almost mountain-sized cat in the backyard. Zoe longs to return Pipsqueak to her normal size and thinks her aunt in New Hampshire can help.

They devise a plan to ride the still growing Pipsqueak from Western Massachusetts to the White Mountains of New Hampshire, discover two other magical animals along the way, and camp out, without avoiding detection. As Pipsqueak declares, "We're having an adventure! Our own incredible journey!" Kids will enjoy the flying poodle, the rooftop leaps, second cake, s'mores, and the secrets that Aunt Alecia is keeping.
Themes: Adventure, Animals, Families, Fantasy, Friendship, Heroes, Pets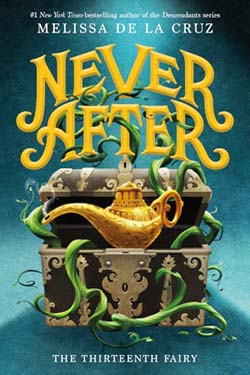 NEVER AFTER: The Thirteenth Fairy #1
written by Melissa De La Cruz, illus. by James Madsen, (Roaring Brook Press, $16.99, Dec. 2020, ISBN 978-1-250-31121-4), 336p, Ages 10-14
12-year-old Filomena Jefferson-Cho, adopted as a baby, overprotected by her parents, and a victim of school bullying, enjoys escaping into the world of fantasy. A fan of the Never After fairy tale series, Filomena looks forward to the release of the thirteenth book in the series. Upon discovering that the long-awaited book was mysteriously never published, Filomena returns home only to be followed by one of the characters in the books, Jack the Giant Stalker, and both are almost killed by one of the creatures in the books. Realizing that the stories were real, Filomena travels to the world of evil fairies, princesses, ogres, and sorcerers, where an evil queen is bent on destroying what is left of the fairy kingdom. Together with friends Jack and Alistair they begin a quest to defeat an evil queen, return the fairy tale world to safety, and find the truth behind the fairy tale series. Along the way Filomena confronts her bullies, befriends fairy tale characters and learns the truth of her past.

Kids will enjoy the motor-cycling wolves, riddles that become spells, and one brave, independent heroine who confronts her bullies and bands together with her beloved characters to save Westphalia.
Themes: Adventure, Families, Friendship, Folk Literature, Heroes, Series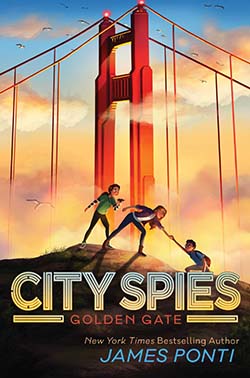 GOLDEN GATE (City Spies) #2
written by James Ponti, (Aladdin, $17.99, March 2021, ISBN 978-1-5344-1494-5), 432p, Ages 12+
In the second adventure with MI6, Agents Brooklyn, 12, and Sydney, 14 are assigned to protect two daughters of high-ranking British officials on the Sylvia Eearle, a marine research vessel with a biology program for girls only. When the ship is boarded by Norwegian pirates to kidnap the girls for ransom. Brooklyn and Sydney avert the plot. Back home at the F.A.R.M (The Foundation for Atmospheric Research and Monitoring), a covert facility in Scotland, the two girls regroup with the other kids (Paris, 15, Kat, 13, and Rio, 12) and Mother their leader.

At Mother's request they begin to investigate the murder of a retired agent, who has left clues behind regarding a mole that has been operating in MI6 for years. This takes them eventually to San Francisco where they attempt to discover the identity of Magpie. Meanwhile Mother has a new lead on his missing children taken by his ex-wife, a double agent working for the evil Umbra against MI6.

Twists and turns, adventure, excitement, danger, and a surprise ending will have kids unwilling to leave this unusual family. As in book one, humorous Motherisms are used to help the kids remember key principles of spying. "Anything that you think is wrong, is something that can make you strong." More adventures to come.
Themes: Adventure, Families, Friendship, Heroes, Humor, Mysteries, Series, Suspense
Other Book in the Series: City Spies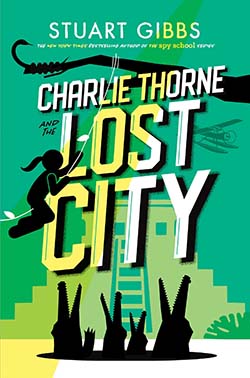 CHARLIE THORNE AND THE LOST CITY #2
written by Stuart Gibbs, (Simon and Schuster Books for Young Readers, $17.99, March 2021, ISBN 978-1-5344-4381-5), 384p, Ages 12-15
After discovering Einstein's last code in Charlie Thorne and the Last Equation (2020), Charlie is ready for a vacation in the Galápagos Islands. There, she is approached by the strange Esmerelda Castle, who is hunting for a legendary treasure and needs Charlie's help in deciphering and breaking a code.

In 1835, Charles Darwin redirected the HMS Beagle's journey and began a secret solo expedition in South America. Upon returning to the ship with a treasure, the crew responded with amazement and horror. The treasure vanished but Darwin left a trail of clues behind for others which were brave and clever enough to search for it.

Joined by her brother and friend, Charlie crosses South America to solve Darwin's nearly two-hundred-year-old mystery, track down the mysterious treasure, and stay ahead of her enemies and CIA agents. NOTE: This is a work of fiction that deals with the theory of evolution.
Themes: Adventure, Families, Heroes, Historical Fiction, Mysteries, Series
Other Books in the Series: Charlie Thorne and the Last Equation
ABOUT US
The Children's Hour was created to promote and encourage reading to children and by children. We believe that reading aloud not only creates a special bond between parents and children, but it is important to the development of their imagination and curiosity.
The Children's Hour
6497 Bellcross Trl
Whitsett, NC 27377
626-393-5899
Conditions of Use
Privacy Policy