Welcome to the Children's Hour where reading to children and reading by children is considered a high priority to their success in life. Literacy begins by reading to children, but is developed over the years when great literature is available for their listening and reading enjoyment.

The best children's books contain imaginative stories, memorable characters, beautiful illustrations, and lyrical language. Well-written stories should contain heroes and role models to imitate. Great books should be enjoyable reads, make the world a better place, and incorporate heart, humor, and hope.

Be sure to sign up our monthly newsletter and receive advanced information on the best in children's literature available to read and read-aloud today.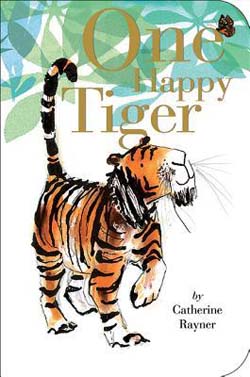 ONE HAPPY TIGER
written/illus. by Catherine Rayner, (Tiger Tales, $9.99, March 2017, ISBN 978-1-58925-234-9), 24p, Ages 2-4
Based on Catherine Rayner's award-winning Augustus and His Smile (Good Books, 2006), little ones learn to count from 1 to 10 as they travel with Augustus on his playful adventures with birds, insects, fish, butterflies, dragonflies, bees, and fish. From "ONE sad tiger sitting alone," TWO bright bugs, and THREE colorful birds to NINE splishy fish, and "One happy tiger and TEN little friends", curious and playful Augustus is no longer sad.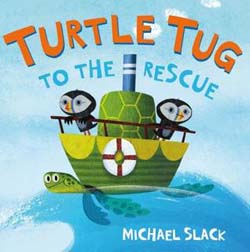 TURTLE TUG TO THE RESCUE
written/illus. by Michael Slack, (Henry Holt & Co., $16.99, March 2017, ISBN 978-1-62779-194-6), 40p, Ages 2-5
Tugboat Turtle is on a mission to make the world a safer place. "He cruises the coastline / with a keen, watchful eye, / guarding sea dwellers / swimming on by." When a typhoon blows in, he steams through gusty winds and turbulent waves to rescue panicked puffins, a stranded seal pup (towed behind in a life preserver), an entangled sperm whale (pulled with a towline), and a squid tangled in plastic garbage. With courage and bravery, Turtle Tug slowly chugs to shelter. "From stem to stern, / he's loyal as can be. / A special sea vessel / steward of the sea." Kids will love this steady little hero, who in times of danger keeps on chugging with determination and grit to save the day.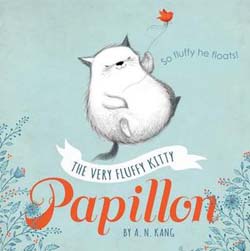 A VERY FLUFFY KITTY PAPILLON
written/illus. by A. N. Kang, (Disney Hyperion, Sept. 2016, $16.99, ISBN 978-1484-71798-1), 40p, Ages 3-6
Papillon is a very large, lightweight, fluffy kitty, who literally floats around the house, causing his owner, Miss Tilly, concern about his gliding away and becoming lost. She tries weighing him down with food (doughnuts, fish, pizza, spaghetti, and cupcakes), clothes, and costumes, but nothing works. One day when she leaves for the market, Papillon has a fun time in the air with, "synchronized swimming, a relaxing nap, acrobatics, a sing-along to his favorite tune and, of course, dancing." Upon seeing a small, red bird on the windowsill, he follows it and becomes lost. Fortunately his new red friend shows him the way home, which gives Miss Tilly a perfect idea for holding him down. Kids will love this irresistible, independent kitty, who realizes that home is finally perfect when shared with a red friend.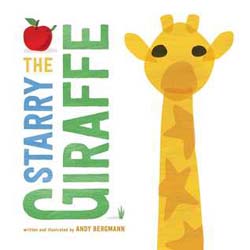 THE STARRY GIRAFFE
written/illus. by Andy Bergmann, (Aladdin, $15.99, June 2017, ISBN 978-1-4814-9100-5), 40p, Ages 3-5
"The starry giraffe stumbled upon a plump apple tree. She was very hungry." When she plucked the most delicious looking one off the tree, a squeaky little mouse pleads for the apple, and she graciously gives it away. She distributes four more apples to a family of skunks, one to an old cane-carrying bunny, one more to a raccoon, two for a snake (indicated by the two bumps when he swallows them), one for a rhino carrying his lunch box, and the last apple to a small, hungry inchworm. Tired, sad, and hungry, she is rewarded for her selfless generosity when she discovers eighteen more apple trees. This delicious read-aloud tale will delight little ones, especially with its theme of generosity and sharing.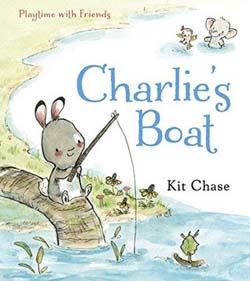 CHARLIE'S BOAT
written/illus. by Kit Chase, (G. P. Putnam's Sons, May 2017, $16.99, ISBN 978-0-399-25702-5), 32p, Ages 2-5
Charlie, Lulu, and Oliver are great friends who love to play together. This third book in the series, (Oliver's Tree, 2014, Lulu's Party, 2015), finds the trio fishing on a nearby river. When Charlie catches sticks instead of fish, he decides to build a boat. His friends join in and decide to race their boats. Unfortunately, Charlie's boat becomes struck on rocks, tangles in branches, and comes in last. "He tried to be happy for his friends, but he didn't feel very happy." Then Oliver comes up with a great idea to build a raft for all to enjoy, and Charlie happily catches his first fish. Capturing the joys and frustrations of childhood, this delightful story teaches creativity, patience, and helpfulness.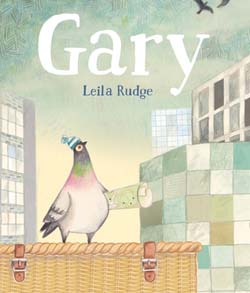 FLASH THE FISH
written by Paul Kor, translated by Annette Appel, (Dial Books, $16.99, April 2017, ISBN 978-0-735-22746-0), 32p, Ages 3-5
"Once upon a time, deep under the sea, lived a little fish—a silver fish called Flash." Loving adventure, one morning Flash swims far away from his family and encounters a big black something with a great big eye with a tear. Realizing that it's a lost baby whale, Flash vows to find its parents. Enlisting the help of his family, Flash decides to stay with the lost baby until his mama and papa can be found. "Since then, every day, Flash visits the whale, and the two of them play in the sea." Little ones are never too young to learn about compassion and friendship.
LMNO PEA-QUEL
written/illus. by Keith Baker, (Beach Lane Books, $17.99, July 2017, ISBN978-1-4814-5856-6), 40p, Ages 3-7
The popular little green peas return in their fifth book, this time involving unique jobs, exciting hobbies, and unusual activities surrounding the lowercase alphabet. Firefighters on their ladder truck douche a fire atop the letter "f", but spill water onto field hands who think it's raining; X-Peas (superheroes) fight villains; soldiers stand on top of the letter "s", which is strapped to a school bus taking students to school. These busy little peas are architects, botanists, cowpokes, dentists, ichthyologists, pirates, window washers, and even yakkers on phones. "And we're dreamers, too, throughout the abcs. What will we be now? So many possibilipeas!" Kids will love these busy little peas as they look for the ladybug on each double-page spread.
BULLDOZER HELPS OUT
written by Candace Fleming, illus. by Eric Rohmann, (Atheneum Books, $17.99, May 2017, ISBN 978-1-4814-58941-8), 40p, Ages 3-6
The little Bulldozer, from Bulldozer's Big Day (2015), returns to help at the busy construction site where Cement Mixer stirs his load, Crane Truck lifts lumber, and Digger Truck scoops dirt. Tough jobs are certainly no place for a small bulldozer, who only wants to help. When Crane suggests Bulldozer clear and flatten an untouched area, Bulldozer immediately charges over and stops. After moving some piles around, "he hunkered down, hushed and watchful. His motor hummed, soft as a lullaby. Hours passed." At first the big trucks are dismayed at Bulldozer's lack of work, but soon realize that he is protecting a family of newborn kittens. They all agree that it's a tough job, but Bulldozer is just the right size for it. This charming story of compassion, friendship, and caring is a good lesson for little ones.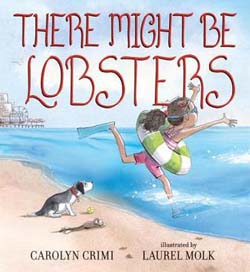 THERE MIGHT BE LOBSTERS
written by Carolyn Crimi, illus. by Laurel Molk, (Candlewick Press, $16.99, May 2017, ISBN 978-0-7636-7542-4), 32p, Ages 3-7
Many things at the beach scare Eleanor's dog, Sukie. "Those waves were big, and they were whooshy, and they might toss her out to the middle of the sea, and she might float all the way to Tasmania or even Florida." Besides, the steps are large and sandy, the beach balls are huge and frightening, and, of course, you never know about the lobsters! When Sukie's toy monkey accidentally floats away, she overcomes her fears, braves the waves, and heroically swims over the supposed lobsters to rescue her beloved Chunka Munka. "Sukie sat in the sandy sand with the wavy waves and watched for lobsters with Chunka Munka by her side. And they didn't see one all day." A perfect summer read aloud while eating ice cream at the beach.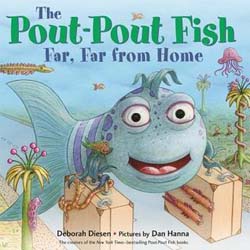 THE POUT-POUT FISH FAR, FAR FROM HOME
written by Deborah Diesen, llus. by Dan Hanna, (Farrar Straus Giroux, $16.99, April 2017, ISBN 978-0-374--30194-1), 32p, Ages 3-6
"Mr. Fish sent off for flyers / And he studied each location / Then he picked the perfect place / For his very first vacation!" Packing his suitcases, he begins the adventure, not letting a detour, forgotten snacks, or an accident with a 90-degree sharp spoil his adventure. Arriving at the HelloStone Park Lodge, Mr. Fish quickly unpacks only to realize that he's forgotten his beloved snoozy-snuggly. Devastated, he remembers that his love for snoozy-snuggly always travels with him wherever he goes. After a good night's sleep, Mr. Fish thoroughly enjoys the whale rides, surfing, land buggy rides, and a massage. Happily returning home, he reflects, "Not every single part / Of a trip goes swell, / But the detours and the bumps / Are the trip as well." Children and adults will love this latest read aloud in the Pout-Pout series.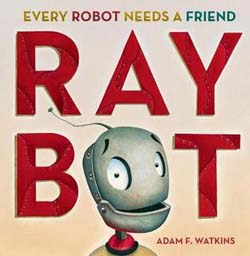 RAYBOT
written/illus. by Adam F. Watkins, (Price Stern Sloan, $17.99, Mar. 2016, ISBN 978-0-8431-8300-9), 32p, Ages 3-6
Raybot lives alone in a junkyard, until he discovers a torn advertisement for dog bones. "Your puppy deserves the best! Because he's your BEST FRIEND! Bark!" His quest for a thing that goes "Bark" leads him to many nice animals that BAAA, OINK, GROWL, NEIGH, MOO, QUACK, and HONK, but none answer his request for a "BARK?" From farms, to woodlands, to jungles, and oceans, Raybot finds his answer in the form of a rain-forest parrot who repeats his "BARK". But the parrot has a four-legged friend of his own. "With his journey at an end, Raybot realizes that puppies and friends come in all different shapes and sizes. And together they all go home. Friends forever." Kids will love this friendly, persistent, little wrench-carrying robot in his search for a friend.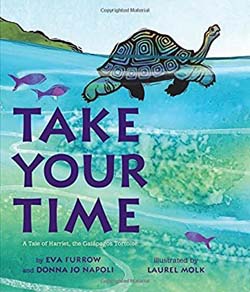 TAKE YOUR TIME: A Tale of Harriet the Galápagos Tortoise
written by Eva Furrow/Donna Jo Napoli, illus by Laurel Molk, (Henry Holt & Co., April 2017, $16.99, ISBN 978-0-8050-9521-0), 32p, Ages 4-7
"Harriet did everything slowly. She smelled the papayas and swamp hibiscus. She munched cactus pads and apples. All afternoon. She slumbered deep. All night." When the other animals on the island decide that she should pick up the pace of her life, Harriet decides to visit the summer penguin parade on a neighboring island. Leaving in winter, Harriet swims past hammerhead sharks, humpback whales, and giant rays to arrive just in time for the parade. While there, she joins the parade, takes iguanas for a ride on her shell, and builds a pool for the sea lions. Deciding to head home after a year, she meets a few dolphins, who show her the thrill of racing the waves. After a fast, salty, and windy ride, Harriet decides happiness is moving at her own pace and savoring the journey. "But slow or fast, clumsy or graceful, straight or wiggly, everyone had a rhythm that worked." Based on a Galapagos Tortoise who lived in an Australian zoo in the mid 1800s, the Authors' Note describes her tastes, habits, and at the age of 175, she became the oldest animal to live in captivity.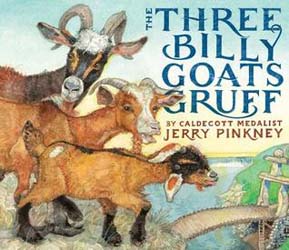 THE THREE BILLY GOATS GRUFF
written/illus. by Jerry Pinkney, (Little, Brown & Co., May 2017, $17.99, ISBN 978-0-316-34157-8), 40p, Ages 4-8
Once again Jerry Pinkney has turned a classic tale of greed, forgiveness, and redemption into a wonderful retelling, but with a twist at the end honoring the value of second chances. As three billy goats approach a bridge that connects to a hillside of lush grass, each one meets a mean, hairy, green troll, who guards the bridge. When the smallest billy goat approaches, the troll threatens to gobble him up, to which he replies, "Oh no, don't eat me! … Wait until the next billy goat crosses. He's much bigger than me." The next one gives the same answer and is also allowed to pass. However, the oldest and biggest billy goat smashes through the bridge gate and tosses the troll into the water, where an even larger creature threatens him. In a change from traditional tellings, readers will notice that endpapers point to perhaps a change in their relationship, as they learn to co-exist. As Jerry Pinkney states about his rendition of The Three Billy Goats Gruff, "They are, like many of us, both meek and at the same time strong in the face of adversity … and they must work together to 'stand up to the bullies' and be a force for change."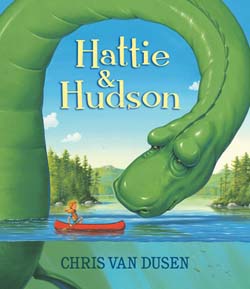 HATTIE & HUDSON
written/illus. by Chris Van Dusen, (Candlewick Press, $16.99, May 2017, ISBN 978-0-7636-6545-6), 40p, Ages 4-8
"Hattie McFadden loved to explore. Every morning after breakfast, she'd grab her life jacket, wave good-bye to her parents, and paddle out in the canoe to see what she could see." Singing a sweet song to herself, Hattie is unaware of a mysterious creature lurking beneath her, who is fascinated with her singing. When he emerges to sing along with her, they become fast friends and hatch a plan to convince the frightened townspeople of Hudson's kindness. When the people realize that Hudson is a gentle giant of a hero, they welcome him with open arms. "But when the sun went down and the visitors left, for Hattie and Hudson, everything was just as it had been since the beginning. And every night they met in the same place, played the same games, and splashed and frolicked under the big silver summer moon."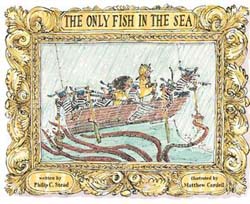 THE ONLY FISH IN THE SEA
written by Philip C. Stead, illus. by Matthew Cordell, (Roaring Brook Press, Aug. 2017, $17.99, ISBN 978-1-62672-282-8), 40p, Ages 4-8
Little Amy Scott receives a goldfish for her birthday, declares it to be boring, and throws it into the sea, plastic bag and all. When Sherman shares the information with Sadie, the adventurous heroine from Special Delivery (Roaring Brook, 2015), she immediately devises a plan to rescue newly named Ellsworth. Along with six rambunctious monkeys, they borrow a boat, a net, two fishing poles, twenty-one pink balloons, a bucket of paint, and rain gear (paid for with bananas from the monkeys). After plotting their route, Sadie remarks, "The important thing, Sherman, is that Ellsworth stays hopeful and brave, knowing that we're on our way." Oblivious to the dangers of sharks, sperm whales, and giant squids, they rescue poor Ellsworth, and find him a safe home in the town fountain. Kids will love Sadie's sense of justice, Sherman's silly facial expressions, and giggle at the crazy monkeys.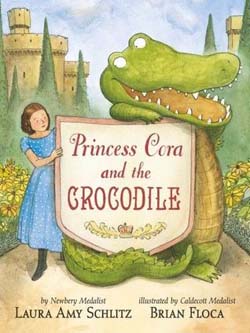 PRINCESS CORA AND THE CROCODILE
written by Laura Amy Schlitz, illus. by Brian Floca, (Candlewick Press, $16.99, Mar, 2017, ISBN 978-0-7636-4822-0), 80p, Ages 5-8
In order to inherit the throne, Princess Cora endures endless lessons, obsessive training in the castle gym, and taking baths three times a day. She longs for one day of freedom from her strict nanny and overprotective parents. Denied the companionship of a dog, Cora writes to her fairy godmother: "Nobody listens to me. My mother and father won't let me have a pet and Nanny says I don't even want one. But I do. And I'm sick and tired of everything. Please help me." Help comes in the form of a cream puff-loving, undisciplined crocodile that switches places with her for one day. While Cora is having a wonderful day off climbing trees, eating strawberries, wading in streams, and getting dirty, Crocky dumps the nanny in the bathtub, locks the Queen in the tower, and bites the exercise-obsessed King. When Princess Cora returns, the crocodile is reprimanded, her parents have a change of heart, and she finally gets a fluffy dog. The crocodile? It's strange how the cream puffs she tosses into the lily pond seem to disappear every day.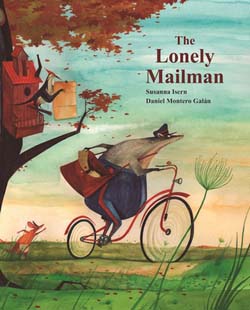 THE LONELY MAILMAN
written by Susanna Isern, illus. by Daniel Montero Galán, (Cuento de Luz, April 2017, $16.95, ISBN 978-84-16147-98-4), 32p, Ages 6-8
"Every night, the old mailman sits down in the flickering candlelight and writes letters. They are the letters he'll be delivering the next day." From sunrise to sunset, an aging, uniformed badger delivers his notes to the animals of the forest stating complaints, resolving misunderstandings, offering apologies, and issuing invitations of reconciliations and friendship between animal neighbors. Hedgehog apologizes to Squirrel for an accidental prick at the market, and Squirrel suggests having dinner together at eight for a nice chat; Dormouse's note to Woodpecker's complains about his noisy pecking, and Woodpecker replies with a promise to find another tree. One day as the mailman finishes his deliveries, he finds a letter addressed to him. "For a long time, your letters have filled our days with love and happiness. But now we've discovered your secret, and we want to thank you." Every child should hear this sweet tribute to the peacemakers and problem-solvers of the world.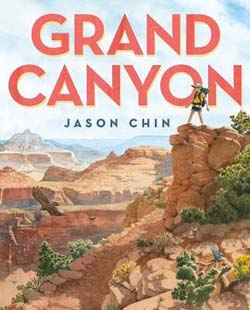 GRAND CANYON
written/illus. by Jason Chin, (Roaring Brook Press, $19.99, Feb. 2017, ISBN 978-1-59643-950-4), 56p, Ages 7-12
"Grand Canyon is one of the largest canyons in the world. It is 277 miles long, as much as 18 miles wide, and more than a mile deep, but it's much more than just a big hole in the ground." What begins with a young girl and her father hiking paths and walk ways throughout the Grand Canyon on their way to the South Rim, becomes a trip through time to various periods of the Canyon's creation, present and past, real and imaginative. Descriptions of plants, animals, and landscapes accompany commentaries on geological formations. Gorgeous illustrations provide the amazing diversity of life from California condors, Bighorn sheep, Wild turkeys, Bobcats, Elk, and Mountain lions, to chipmunks, skunks, owls, and birds. Die-cuts, double gatefolds, and intricate maps offer a glimpse into the natural wonders of this rugged but beautiful Canyon. Endnotes offer additional ecological, geological, and anthropological information on this wonderful creation.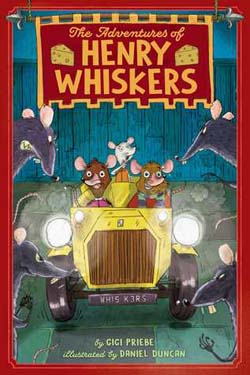 THE ADVENTURES OF HENRY WHISKERS #1
written by Gigi Priebe, illus. by Daniel Duncan, (Aladdin Books, $16.99, Jan. 2017, ISBN 978-1-4814-6575-5), 160p, Ages: 7-10
At Windsor Castle there resides the magnificent Queen Mary's Dollhouse, built in the 1920's, with four floors, 40 rooms, 2 working elevators, hot and cold running water, and electricity. Never meant for dolls or children to play with, it is only used for exhibition. However, it has been home for 25 generations to the Whisker family, who live in the empty storage drawers built into the base. Exploring is great fun for Henry Whisker and his cousin Jeremy, but they are always careful to avoid detection by the museum staff and Titus, the resident cat. When Henry's little sister disappears, they begin a grand adventure to rescue Isabel. Avoiding the cat, Henry and Jeremy drive a miniature car, escape from the dangerous Rat Alley, rescue a baby rat, make unexpected friends, and avoid humans, who are cleaning the dollhouse for the Queen's royal birthday banquet, which coincides with the Whiskers' Annual Mouse Masquerade. Kids will love this brave, loyal, cheerful, and courageous hero in his first adventure.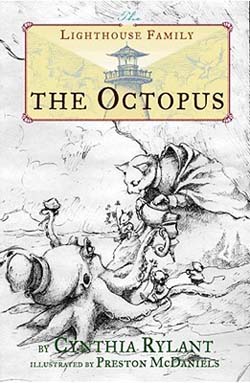 THE LIGHTHOUSE FAMILY #5: The Octopus
written by Cynthia Rylant, illus. by Preston McDaniels, (Beach Lane Books, $15.99, March 2016, ISBN 978-0-689-86246-5), 48p, Ages 7-10
In order to inherit the throne, Princess Cora endures endless lessons, obsessive training in the castle gym, and taking baths three times a day. She longs for one day of freedom from her strict nanny and overprotective parents. Denied the companionship of a dog, Cora writes to her fairy godmother: "Nobody listens to me. My mother and father won't let me have a pet and Nanny says I don't even want one. But I do. And I'm sick and tired of everything. Please help me." Help comes in the form of a cream puff-loving, undisciplined crocodile that switches places with her for one day. While Cora is having a wonderful day off climbing trees, eating strawberries, wading in streams, and getting dirty, Crocky dumps the nanny in the bathtub, locks the Queen in the tower, and bites the exercise-obsessed King. When Princess Cora returns, the crocodile is reprimanded, her parents have a change of heart, and she finally gets a fluffy dog. The crocodile? It's strange how the cream puffs she tosses into the lily pond seem to disappear every day.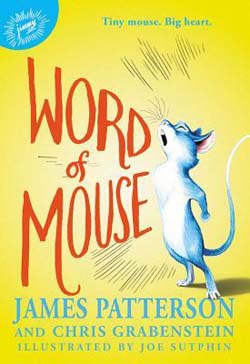 WORD OF MOUSE
written by James Patterson/Chris Grabenstein, illus. by Joe Sutphin, (Little, Brown & Co., $13.99, Dec. 2016, ISBN 978-0-316-34956-7), 304p, Ages 8-12
Raised in a laboratory with his 96 brothers and sisters, Isaiah has bright blue fur, speaks perfect English, reads, writes, and is fluent on computers. When Isaiah's big brother, Benji, hatches a plan to break the family out of the laboratory, it is only Isaiah that eludes capture by the scientists. Rescued by a family (mischief) of mice, who live in the cellar of a family named Brody (the laboratory's janitor), Isaiah outwits the hairless family cat, leads nightly raids to the kitchen for food, and rescues a mouse from a trap. Officially adopted into the mischief, but still missing his family, Isaiah develops a rescue plan. Along with a young human friend, Hailey, and the mischief, they storm the laboratory. With courage, determination, and perseverance, this little hero proves that friendship and family transcend all barriers. Kids will enjoy the witty sayings under each zchapter heading, ("All of us are given gifts. How we use them is up to us.") The detailed illustrations are marvelous and greatly enhance this sweet tale of friendship.
MAKING MISTAKES ON PURPOSE #2 (Ms. Rapscott's Girls)
written/illus. by Elise Primavera, (Dial Books for Young Readers, $16.99, Oct. 2016, ISBN 978-0-8037-3824-9), 368p, Ages 8-12
Ms. Rapscott's life lessons continue in this sequel to Miss Rapscott's Girls, (2015). Beatrice Chissel, Mildred A'Lamode, Annabelle Merriweather, and Dahlia Thistle return, shipped in their boxes, to the Great Rapsott School for Girls of Busy Parents and are served birthday cake for breakfast by Ms Rapscott's two assistant corgis, Lewis and Clark. Fay Mandrake's box is accidentally shipped to The Top on her way to the Big White Lighthouse by the Sea. As the semester begins, the girls are informed that hurricanes Bertha, Bessie, Birdie, Bobby, Bunhilda, Bunny, and Buster are on the way, and the seventh floor of the lighthouse is off limits. New lessons include how to celebrate birthdays, make bad days good, share, deal with hurt feelings, and make incredible mistakes on purpose. Along the way, they discover that to reach The Top they must start at the Bottom of the Barrel (literally), and Going Far in Life includes failing and disappointments. There's lots of fun with birthday balloons and top hats for traveling as well as distilled white vinegar to solve problems. As Ms. Rapscott would say, "Life is like a hurricane. It twirls you around, knocks you off our feet and can blow you into unfamiliar territory, but you must always just put on your rain bonnet and enjoy the ride!"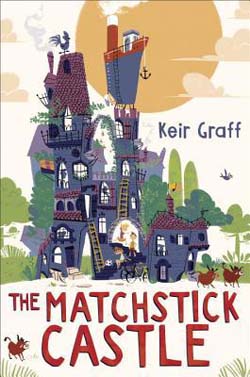 THE MATCHSTICK CASTLE
written by Kier Graff, (G. P. Putnam's Sons, $16.99, Jan. 2017, ISBN 978-1-101-99622-5), 288p, Ages 10+
Boring, Illinois is the summer destination of Brian Brown, when his widowed father is called to replace an injured astronomer in Antarctica. Leaving Boston, soccer, and his friends behind, Brian endures his Uncle Gary's summer school program, rules, homework, and his irritating cousin, Nora. When their argument ends in a chase through forbidden woods, Brian and Nora become lost and stumble upon a peculiar wooden seven-story house with a boat on the roof. There, they meet Cosmo, the youngest of the eccentric van Dash family. The three form a unique friendship as they begin battling South American giant wasps that have infested the house, locate Uncle Kingsley, who has been lost inside the castle for a year, battle an evil bureaucrat intent on demolishing the dilapidated old house, try to avoid sharp-tusked wild boars, and perhaps find the family's missing fortune in gold. All in all, Brian discovers that his summer isn't so boring after all. For any kid who has ever longed for adventure, this crazy, madcap tale is the perfect summer read.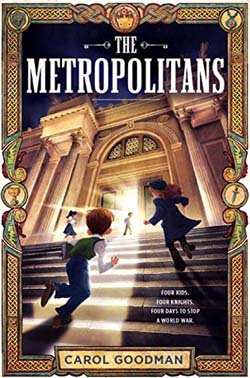 THE METROPOLITANS
written by Carol Goodman, (Viking Children's Books, March 2017, $16.99, ISBN 978-1-101-99766-6), 368p, Ages 10-14
On December 7, 1941, four thirteen-year-olds, with a connection to the Metropolitan Museum of Art come together on the day that Pearl Harbor is attacked, to search, solve, and decode pages from the Kelmsbury Manuscript, an Arthurian book of legends about King Arthur. Hidden within the museum's collection, the pages hold the key to preventing a Nazi attack on American soil. Sharing a magical link to the King Arthur legend, Madge, an orphan, Kiku, daughter of the Curator of Far Eastern Art, Joe, a Native American runaway, and Walt, a Jewish boy sent away from Germany to escape the concentration camps, join forces to thwart enemy agents from sending coded message to Germany. Little do they realize that the Kelmsbury has magical powers that link them to the King Arthur legend. Readers will enjoy the fast-paced action, clever clues, and skills the kids use to complete each task they are given while forging unbreakable friendships in this fantasy, espionage, and historical fiction tale.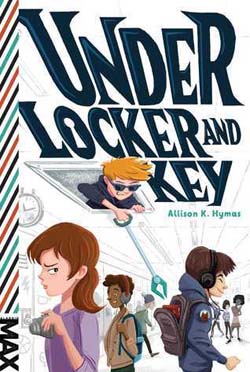 UNDER LOCKER AND KEY
written by Allison K. Hymans, (Aladdin, April 2017, $16.99, ISBN 978-1-4814-6342-3), 256p, Ages 9-13
Eleven-year-old Jeremy Wilderson considers himself a "retrieval specialist and crime fighter" and not a thief, as Becca Mills, Scottsville Middle School's aspiring investigator and fellow sixth grader calls him. Returning items, whether stolen by students or confiscated by teachers, to their rightful owners is what Jeremy loves to do. When he is tricked by an aspiring eighth grade crime lord to retrieve a master key to the school lockers and student items go missing, it's up to Jeremy to retrieve the key. In desperation he turns to Becca for help. Hopefully they can find the key and take down the culprit before he winds up in detention by Becca for his unauthorized methods of crime fighting. Kids who enjoy entertaining capers and charming heroes will love this first book of Allison K. Hymas.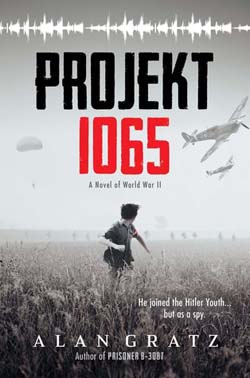 PROJEKT 1065: A Novel of World War II
written by Alan Gratz, (Scholastic Press, $16.99, Oct. 2016, ISBN 978-0-545-88016-9), 320p, Ages 13+
In 1943 Michael O'Shaunessey, 13-year-old son of the Irish ambassador to Germany, is a spy for the Allies during World War II. With his flawless German and photographic memory, Michael joins the Hitler Youth to infiltrate Nazi hierarchy and access information that will assist his parents in spying for the Allies. When Michael rescues a downed British pilot, he is alerted to the existence of Projekt 1065, a new Nazi warplane with no propellers. Upon discovering that his classmate's father is the designer of the plane, Michael is given access to the blueprints. As a junior Gestapo member, Michael is assigned, along with three other boys, to assassinate a Jewish physicist, who is developing an atomic bomb for the Americans. In a complex coming-of-age drama of friendship, loyalty, espionage, and betrayal, Michael experiences tough choices and moral dilemmas. Drama is offset by hilarious Irish-Scotch-English jokes, a marriage proposal from a friend's 10-year-old sister, and Michael's humorous limericks when under stress ("There once was a man from Nantucket, who kept all his cash in a bucket. But his daughter named Nan ran away with a man, and as for the bucket, Nantucket!")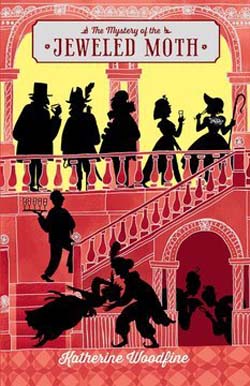 THE MYSTERY OF THE JEWELED MOTH #2 (The Sinclair Mysteries)
written by Katherine Woodfine, illus. by Julia Sardŕ, (Kane Miller Books, Feb. 2017, $6.99, ISBN 978-1-61067-438-6), 340p, Ages 13+
Sophie and Lil, shop girls at Sinclair's Department store in Edwardian London and part-time detectives, from The Mystery of the Clockwork Sparrow, (Kane Miller, 2016), return in a mystery surrounding the missing Moonbeam Diamond. Stolen from a Chinese temple, it is said to carry a curse upon those who possess it. When a young Chinese girl requests their help in finding the Diamond for her family, who have guarded it for generations, Sophie and Lil use elaborate disguises to infiltrate high society, stop a disastrous engagement, retrieve the Moth, and discover secrets that lead them to London's most infamous crime lord, the Baron. The girls discover that bringing the Baron to justice might just cost them their lives.
WHAT GOES UP
written by Katie Kennedy, (Bloomsbury, July 2017, $17.99, ISBN 978-1-61963-912-6), 336p, Ages 13+
NASA has proven that the Universe is infinite and has created a mysterious Interworlds Agency to explore, assess, engage and protect Earth from intelligent life on other worlds. They are looking for the brightest high school juniors to become part of their team, and through round after round of exhaustive competitive testing, the field is narrowed down from two hundred to four students. Rosa is a privileged and brilliant is a child of scientists. Eddie, raised by a physicist grandmother, but on his own now, hitched hiked his way to NASA. Theo is the son of medical professionals. Brad comes from a wealthy family, who can buy or sell NASA. When aliens land, determined to destroy Earth, the teens, along with their ball-headed, pickle-crunching instructor, steal an alien craft and head to the alien's parallel version of Earth, where they discover slightly altered versions of themselves. Find out how the teens from both Earths work together to defeat enemies and fight for a brighter future. Hilarious banter, likeable characters, competitive friendships, action-packed adventure, and crazy science fiction make this an excellent read for teens.
ABOUT US
The Children's Hour was created to promote and encourage reading to children and by children. We believe that reading aloud not only creates a special bond between parents and children, but it is important to the development of their imagination and curiosity.
The Children's Hour
150 N. Santa Anita Ave.,
Suite 300
Arcadia, CA 91006
626-791-4848
Conditions of Use
Privacy Policy