Welcome to the Children's Hour where reading to children and reading by children is considered a high priority to their success in life. Literacy begins by reading to children, but is developed over the years when great literature is available for their listening and reading enjoyment.

The best children's books contain imaginative stories, memorable characters, beautiful illustrations, and lyrical language. Well-written stories should contain heroes and role models to imitate. Great books should be enjoyable reads, make the world a better place, and incorporate heart, humor, and hope.

Be sure to sign up our monthly newsletter and receive advanced information on the best in children's literature available to read and read-aloud today.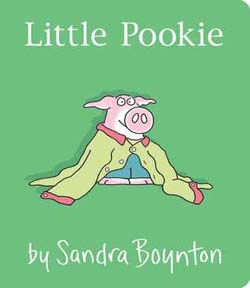 LITTLE POOKIE
written/illus. by Sandra Boynton, (Little Simon, Brd $5.99, Aug. 2017, ISBN 978-1-4814-9768-8), 18p., Ages 2+
In this latest addition to the Pookie series, young listeners will watch Little Pookie discover 10 things that his mama knows about him. In a clever rhyming and counting book, mama tells him, "1. You like macaroni. / 2. You're suspicious of peas. / 3. You are happy outdoors / with your ears in the breeze." And, of course, number 11 is the best one ! playful Augustus is no longer sad.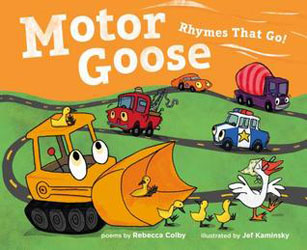 MOTOR GOOSE: Rhymes that Go!
written by Rebecca Colby, illus. by Jef Kaminsky, (Feiwel and Friends, July 2017, $16.99, ISBN 978-1-250-10193-8), 32p, Ages 2-5
Rhymes, vehicles, and hilarious illustrations combine for an enjoyable Mother Goose collection of twenty-three rewritten familiar rhymes. From poems about a clunker, sub, tow truck, and taxi to a digger, crane, helicopter and more, kids will love singing, chanting, or just listening to these wonderful reimagining's. Each poem has a helpful hint underneath showing the original name.

"This Little Steam Train (This Little Piggy) - This little steam train climbed a mountain./ This little steam train didn't roam. / This little steam train had passengers, / This little steam train had none. / And this little steam train whistled, / "Whoo, whoo, whoo!" all the way home."

The rhymes, which progress through the day and into the night, also make for a clever bedtime read.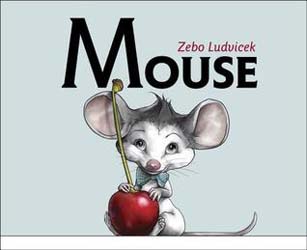 MOUSE
written/illus. by Zebo Ludvicek, (G. P. Putnam's Sons, Nov. 2017, $16.99, ISBN 978-1-101-99636-2), 40p, Ages 3-5
An irresistible little mouse carries a big, beautiful cherry that letter M (pictured with eyes and a mouth) would love to taste. Reluctantly, Mouse shares one bite, but M pronounces it "Marvelous" and proceeds to consume the whole cherry. In return, M offers Mouse a nibble of himself, which becomes several nibbles and turns M into the letter N. Full of the munchies, Mouse take a nap on the side of the N, pulling it over to become the letter Z. When a lightning storm breaks off Z's top, it becomes a lopsided L, Determined to return M to its original shape, Mouse maneuvers the leftover pieces into the letter C, then U, then H, and finally back to the original M, who declares Mouse marvelous and his forever friend, "Cause there is no Mouse … without an M." Kids and adults will love the gorgeous artwork and the clever interactive story that makes a great addition to a home library.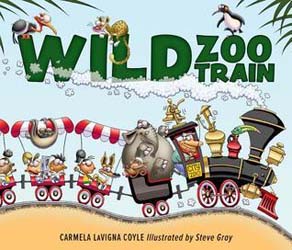 WILD ZOO TRAIN
written by Carmela Lavigna Coyle, illus. by Steve Gray, (Muddy Boots, Oct. 2017, $15.95, ISBN 978-1-63076-306-0), 32p, Ages 3-7
Ride along with the Wild Zoo Train as it travels to amazing wild habitats within the zoo, which seem to be missing from the city zoo tour map. "'All aboard the Wild Zoo Train! First stop—CANYONLANDS!' calls the conductor." With a "Clickety-clack," "Choo-Choo-Choo," "Ding-ding-ding," and "Tooot-Toooot" readers and listeners travel to the Amazon Jungle, where the passengers don rain ponchos while watching for jaguars, monkeys, and toucans. Next stop is the African Savanna, where passengers need sunglasses to watch for "zebras and cheetahs, baboons and hyenas; elephants and pythons, and flap-necked chameleons!" Parkas are required for the next destination in Antarctica, as passengers watch for rockhoppers, penguins, and the long-tailed gentoo. As the train proceeds down the track, several hitchhikers jump on to enjoy the ride. (coyote, monkey, toucan, and elephant).The final destination is a fun one—the Moon. Kids will enjoy the repetition and rhyming as they search and find the animals in each habitat. Colorful, crazy, and loaded with fun, this wild train trip is a must for all little ones.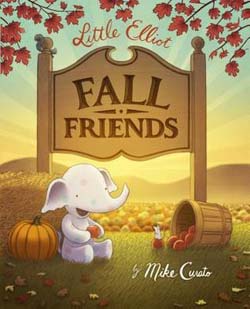 LITTLE ELLIOT, FALL FRIENDS
written/illus. by Mike Curato, (Henry Holt, Aug. 2017, $17.99, ISBN 978-1-62779-640-8), 40p, Ages 4-7
This fourth book in the charming Little Elliot series finds the little polka-dotted elephant and his best friend, Mouse, needing a break from the Manhattan's frantic pace and lifestyle of the 1940's. Hopping a bus for the countryside, they soak up the autumn landscape, eat apples from a nearby farm, and play hide-and-seek. When Mouse never returns to find him, Elliot uses his nose to follow a whiff of apple pie and finds Mouse with a freshly baked pie and new farmhouse friends. "That night, Elliot and Mouse nestled into the hay and took turns naming the stars until both fell fast asleep." It's always a pleasure to experience fun and friendship during a beautiful season of the year.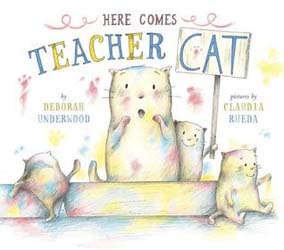 HERE COMES TEACHER CAT
written by Deborah Underwood, llus. by Claudia Rueda, (Dial Books, August 2017, $16.99, ISBN 978-0-399-53905-3), 88p, Ages 4-6
Cat's busy nap schedule is interrupted when he reluctantly agrees to become a substitute teacher for Ms. Melba's class at Kitty School. Facing six adorable kittens is terrifying for Cat, who attempts to escape out a window and hide under the desk. The unseen narrator's guilt trip has Cat returning to guide the kittens through music (loud jam session with electric guitar), building (a fish spouting fountain), and art (paw prints on walls). The kittens save the day and clean up, just in time for Ms. Melba's return with a cone around her neck. When asked what they learned while she was gone, the kittens use placards like Cat's to communicate their unusual day. When nap time arrives, Cat decides to stay for a group nap. Kids who love the Cat series, won't be disappointed in Cat's latest learning adventure.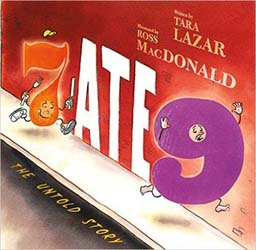 7 ATE 9: The Untold Story
written by Tara Lazar, illus. by Ross MacDonald, (Disney-Hyperion, $17.99, May 2017, ISBN 978-1-4847-1779-0), 32p, Ages 4-7
In this whodunit mystery, math puns, concepts and jokes surround an investigation by Private I of the Al F. Bet detective agency into an accusation made by frantic number 6 against number 7. "'Word on the street is that 7 ate 9! And now he's after me,' said 6." Private I responds, "'Well, technically, he's always after you. There's 5, then 6, then 7.'" With white gloves, stripped tie and fedora, Private I interviews various numbers and decides that the facts don't add up. Putting two and two together, he comes up with a clever solution to the mystery that is guaranteed to entertain adults as well as kids. "The next day, while dozing in my chair, my phone bolted me awake. I'd recognize her voice anywhere. It was 2 … with another problem to solve. I've really got to change my number!"
THE VELVETEEN RABBIT or How Toys Become Real
written by Margery Williams, illus. by Sarah Massini, (George H. Doran Co.,1922, Noisy Crow, 2017), 64p, Ages 5-9
"There was once a velveteen rabbit, and in the beginning he was really splendid. He was fat and bunchy, as a rabbit should be; his coat was spotted brown and white, he had real thread whiskers, and his ears were lined with pink sateen." Given to a small boy at Christmas, he is instantly loved, but soon forgotten and left in the nursery. There, he meets a skin horse, the oldest and wisest toy in the nursery, who tells him how toys become real—when a child loves it for a long, long time and not just to play with. Eventually, the Velveteen Rabbit is loved by the boy and they become inseparable, until scarlet fever separates them, and the rabbit is thrown away. He almost gives up hope of finding the magic of "real" until he is rescued by the Nursery Magic Fairy. With is kiss he becomes real with hind legs, soft brown fur, ears that twitched, and long whiskers. "He gave one leap and the joy of using those hind legs was so great that he went springing about the turf on them, jumping sideways and whirling round as the others did, and he grew so excited that when at last he did stop to look for the Fairy she had gone. He was a Real rabbit at last, at home with the other rabbits." First published in 1922, this classic tale is for everyone who believes in the power of love.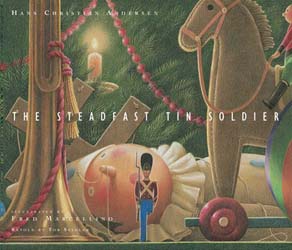 THE STEADFAST TIN SOLDIER
written by Hans Christian Andersen, retold by Tor Siedler, illus. by Fred Marcellino, (Michael di Capua Books, 1992, Atheneum Books, 2017), 32p, Ages 5-8
First published at Christmastime in 1838, this enchanting tale tells of a discarded one-legged tin soldier, who sees a paper ballerina dancing on one leg, and loves her from afar. One Christmas a young boy receives 25 tin soldiers standing at attention in their red and blue uniforms, except for one who was missing a leg. "He was the last to be cast, and the tin had run out. But he stood a steadily on his single leg as the others did on two—and of them all, he was the one destined for greatness." From a distance he admires a beautiful paper ballerina, who is also balanced on one leg. Through a series of unusual events, the tin solder falls off the boy's windowsill into a stream, travels down a sewer, is swallowed by a fish, and eventually reunited with the boy. When a thoughtless child throws the tin soldier into the fireplace, the ballerina joins him via a gust of wind. This holiday classic of romance, endurance, and heroism is a special holiday treat for all ages.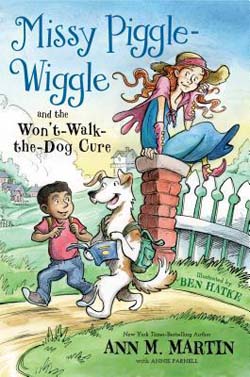 MISSY PIGGLE-WIGGLE AND WON'T WALK THE DOG CURE #2
written by Ann M. Martin & Annie Parnell, illus. by Ben Hatke, (Feiwell & Friends, Sept. 2017, $16.99, ISBN 978-1-250-07170-5), 240p, Ages 8-11
Missy from Missy Piggle-Wiggle and the Whatever Cure (2016) returns in her second adventure with a temperamental upside-down house and the misbehaving children of Little Spring Valley. Five-year-old genius Marvel Treadupon's family are desperate for Missy's Smarty-Pants Cure, eight-year-old Egmont Dolittle, needs Missy's highly creative Won't-Walk-the-Dog-Cure, Austin and Houston Forthright receive a Whinny-Whiners cure, and Wareford Montpelier, who woke up on the wrong side of the bed, frantically needs the Woe-Is-Me Cure. When a violent storm blows through Little Spring Valley, damaging the upside-down house, expensive repairs are needed, and the house is unhappy and uncooperative. Money is tight for repairs, until Missy discovers the missing Silver Key, which her aunt, Mrs. Piggle-Wiggle left behind when she went looking for her husband. Readers will love Missy's menagerie of animals including Lester, the butler pig, Penelope the talking parrot, who announces all visitors, Wag the dog, Warren the gander, Evelyn Goose, Martha and Millard Mallard, the duck couple, Trotsky the horse, and Heather the cow.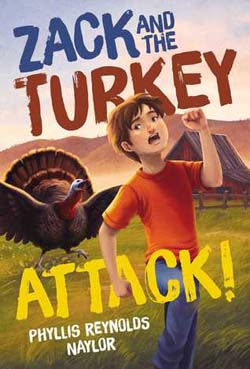 ZACK AND THE TURKEY ATTACK!
written by Phyllis Reynolds Naylor, illus. by Vivienne Tu, (Atheneum Books, $16.99, Oct. 2017, ISBN 978-1-4814-3779-0), 176p, Ages 7-11
Zack loves working on his grandparents' farm every weekend, except when Tailpipe spies him. That giant turkey-pecking monster chases him around the farm and delights in accosting him. Determined to find a way to scare the monster away for good, Zack uses various things from his grandfather's machine shed to build a "turkey-blaster trouble-shooter." With the help of two friends, Matthew and Josie, they use a croquet ball, rain gutter, pie tin, gum-ball machine, sewing machine stand, bellows, propeller, washing machine wringer, steering wheel, bicycle pump, water balloons, and marbles to construct a one-of-a-kind contraption to cure a mischievous turkey from pecking them. When Josie informs them of a mysterious robber prowling around the neighborhood taking bracelets, necklaces, and coins, they discover strange V-shaped footprints that the robber leaves behind. Find out how the burglary is solved and Tailpipe receives his comeuppance in this humorous homespun novel of family and friends by award-winning Phyllis Reynolds Naylor.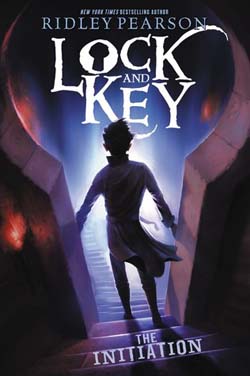 LOCK AND KEY: The Initiation #1
written by Ridley Pearson, (HarperCollins, $17.99, Sept. 2016, ISBN 978-0-06-239901-4), 384p, Ages 11+
This first tale in a planned trilogy surrounds the origin of the rivalry between famous enemies, Sherlock Holmes and James Moriarty. Told from the perspective of James's younger sister, Moira, the three teens meet at Baskerville Academy in present day Boston, where James becomes the roommate of a lanky British know-it-all named Sherlock Holmes, ("Lock" to his friends). Shortly after school begins, the irreplaceable Moriarty Bible, belonging to the original Moriarty ancestor, goes missing. When the Academy imposes a lockdown until the bible is found, clues begin to turn up leading James on an intense search. With the entire student body under suspicion, only James receives curious red envelopes containing cryptic messages as to the Bible's whereabouts. When Sherlock and Moira offer assistance, James refuses and distances himself from them, instead aligning himself with unsavory upperclassmen.

Sherlock, with his deductive reasoning, searches for clues that lead to the discovery of a secret society within the walls of the school, which include the headmaster and James's father. The members of this clandestine organization, called The Fellowship of Scowerers, encourage James to join. When James and Moira's father dies under suspicious circumstances, Moira asks Sherlock to do some investigating, believing that his death was not accidental. With danger and mystery around every corner, lives are irreversibly changed, and nothing will ever be the same for James, Moira, and Sherlock. Readers, who enjoy mysteries, will be pulled into this first installment of an exciting new series based on famous literary characters.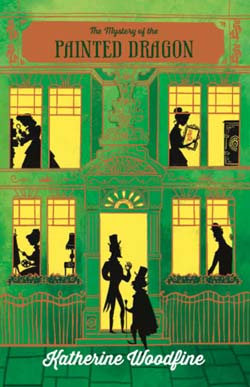 THE MYSTERY OF THE PAINTED DRAGON #3 (The Sinclair Mysteries)
written by Katherine Woodfine, illus. by Julia Sardà, (Kane Miller Books, Sept. 2017, $6.99, ISBN 978-1-61067-661-8), 320p, Ages 13+
This third book in the Sinclair series (The Mystery of the Clockwork Sparrow, 2016, The Mystery of the Jeweled Moth, 2017) finds shopgirl Sophie Taylor, actress/part-time department store mannequin Lilian Rose and their detective friends investigating the theft of a priceless painting, The Green Dragon, property of the King on exhibition at Sinclair's department store. Replaced with a replica, painted by Leo, a disabled art student at London's Spencer Institute of Fine Art, the girls are faced with threats, attempted murder, forgery, trickery, and deceit involving a high ranking member of London society. Developing a clever plan to unmask the villain, they soon realize that their old enemy, the Baron, is behind the theft as well as other stolen dragon paintings by a secret organization known as the Dragon Brotherhood. Readers will enjoy this old-fashioned whodunit, including the interesting world of art, safecracking techniques, and the British Suffragettes.
ABOUT US
The Children's Hour was created to promote and encourage reading to children and by children. We believe that reading aloud not only creates a special bond between parents and children, but it is important to the development of their imagination and curiosity.
The Children's Hour
150 N. Santa Anita Ave.,
Suite 300
Arcadia, CA 91006
626-791-4848
Conditions of Use
Privacy Policy