Welcome to the Children's Hour where reading to children and reading by children is considered a high priority to their success in life. Literacy begins by reading to children, but is developed over the years when great literature is available for their listening and reading enjoyment.

The best children's books are filled with imagination and fun. Stories that take children into a world of delight and adventure present storytelling at its best. Children need stories for pleasure, laughter, and fun. Many times they need imaginative and nonsensical stories that may not have a scrap of useful information or lesson, but cheerful and delightful lunacy.

Be sure to sign up our monthly newsletter and receive advanced information on the best in children's literature available to read and read-aloud today.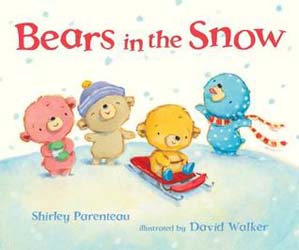 BEARS IN THE SNOW
written by Shirley Parenteau, illus. by David Walker, (Candlewick Press, $15.99, Oct. 2016, ISBN 978-0-7636-8148-7), 32p, Ages 2-5
Fuzzy, Floppy, Yellow, and Calico, who have conquered chairs, beds, music, and bathtime, now tackle the problem of riding a small sled with not enough room for four bears. Waiting for a turn is difficult, so Big Brown Bear flops down, and they all ride down on top of him. "They shriek with joy. / That hill is steep. / They land at the bottom / in a laughing heap." At the end of the day, they all settle down and share hot chocolate for a happy ending to a fun snowy day.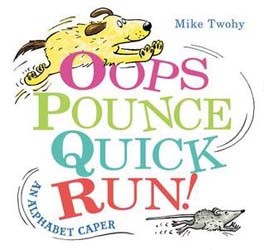 OOPS, POUNCE, QUICK, RUN!: An Alphabet Caper
written/illus. by Mike Twohy, (Balzer + Bray, $17.99, Feb. 2016, ISBN 978-0-06-237700-5), 32p, Ages 3-5
This fun alphabet romp surrounds a dog that accidentally bounces his beloved ball into a mouse's hole, and is determined to retrieve it. Told with only one or two words per page, mouse is Asleep in his chair when dog's bouncy Ball lands in his lap. After mouse is forced to Catch it, Dog uses his nose to smell into the hole, his Eye to see into it, his Feet to grab the ball, and Grrrr the chase is on. When mouse devises a clever plan to make peace, dog blows Xoxo, mouse replies Yes!, and they nap together—Zzzzz. Kids will enjoy the energetic, non-stop action, and adults will appreciate the peaceful ending. Give this caper a D for Delightful.
BUNNY SLOPES
written/illus. by Claudia Rueda, (Chronicle Books, $15.99, Oct. 2016, ISBN 978-1-4521-4197-8), 60p, Ages 3-5
"Oh, do you want to join me for a ski day? But where's all the snow? Maybe we can make some!" An energetic and friendly bunny asks readers for help in obtaining snow by shaking the book, tapping the top of the book to pack it down, tilting, flipping, and turning the book for Bunny to ski downhill, climb out of a tree, and jump over a hole at the bottom, where he finds mom waiting with hot chocolate. Funny and interactive, little ones learn about directions and instructions while giggling at Bunny's antics.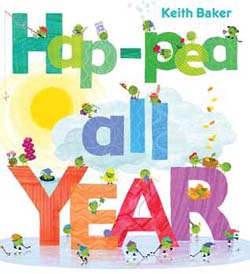 HAP-PEA ALL YEAR
written/illus. by Keith Baker, (Beach Lane Books, $17.99, Nov. 2016, ISBN 978-1-4814-5854-2), 40p, Ages 3-7
The pea people from LMNO PEAS (2010), 1-2-3 PEAS (2012), and LITTLE GREEN PEAS: A Big Book of Colors (2014) return to teach about the months of the year. Written in rhyme, each month features a special event or activity occurring during the month. "Hap-pea March! Wear a touch of green / and look for leprechauns on day seventeen." Busy little green peas fly kites, dress up as leprechauns, and ride skateboards with sails as the windy MARCH blows through. Kids will love searching out the various little pea adventures each month. Whether chasing fireflies in July or carving pumpkins in October, story time has never been so much fun.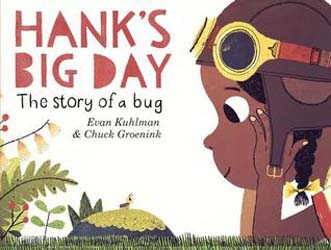 HANK'S BIG DAY: The Story of a Bug
written by Evan Kuhlman, illus. by Chuck Groenink, (Swartz & Wade Books, $16.99, Sept. 2016, ISBN 978-0-553-51151-2), 40p, Ages 3-7
For a pill bug, Hank lives a very busy life. After crawling out from his home under a rock, he shimmies through grass, nibbles on a dead leaves, creeps past a cricket, a worm, an industrious ant carrying a potato chip, and encounters a scary grasshopper. Climbing up a stick, traveling across potholes, inspecting bottle caps, and narrowly missing a skateboarder, Hank meets Amelia. Wearing goggles like her hero, Amelia Earhart, she makes Hank her copilot, and they begin an adventure across her backyard. With Hank perched on her helmet, they soar over the Atlantic Ocean, wave to the Queen of England, barely miss the Eiffel Tower, land for a snack near the Le Velvet Bug café, and return to America. From his vantage point atop her helmet, Hank views Amelia's backyard with a whole new perspective. After a wonderful day with his new friend, Hank crawls back home to happily sleep under his rock. This cute adventure is a wonderful choice for nap or bedtime.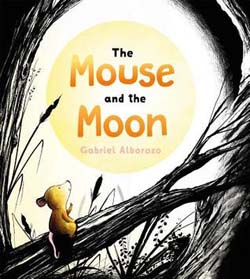 THE MOUSE AND THE MOON
written/illus. by Gabriel Alborozo, (Henry Holt & Co, $16.99, Sept. 2016, ISBN 978-1-62779-224-0), 32p, Ages 4-7
"In a dark and broken tree, in a dark and wild wood, there lived a little mouse. All alone. His only friend was the moon." However, the moon was silent and never replied to the little mouse's hopes, fears, and news. One night while wandering in the woods in search of his friend, he hears a small voice calling out "hello," sees a reflection of the moon in a pond, and assumes it's his friend. Under the pond is a small fish, who also talks to the moon's reflection. The two share stories all night until the sun rises, the moon disappears, and they finally meet. The illustrations are beautiful and lend a magical touch to this quiet story of finding friendship in the most unlikely places.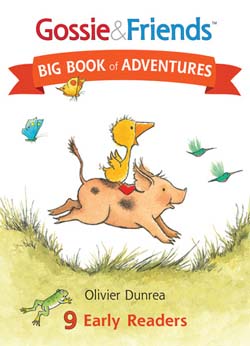 GOSSIE & FRIENDS: Big Book of Adventures
written/illus. by Olivier Dunrea, (Houghton Mifflin Harcourt, Jan. 2017, $15.99, ISBN 978-0-544-779/0-8), 288p, Ages 3-7
Nine easy-to-read stories about eight adventurous goslings from Olivier Dunrea's beloved Gossie & Friends series are presented for emerging readers as well as faithful listeners. Featured are stories about Gossie, who loses her favorite red boots, Gertie with her blue boots as she splashes, dives, and plays in the haystacks, and little Ollie, who finally hatches and stomps everywhere. Then there's forgetful Peedie, who can't remember to come in out of the rain, eat, tidy his nest, or take a nap. Of course, there's curious Boo Boo, a blue gosling, who likes to eat everything and loves to burp. With insatiable curiosity and unlimited energy Gideon chases the farm animals and loses Otto, his toy octopus. Last but not least, there's tidy Jasper and messy Joop, who learn to play together out of necessity. This lovable gaggle is sure to charm everyone who reads and listens to these memorable gosling adventures.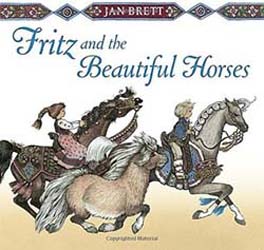 FRITZ AND THE BEAUTIFUL HORSES
written/illus. by Jan Brett, (G. P. Putnam's Sons, $17.99, 1981/2016, ISBN 978-0-399-17458-2), 32p, Ages 4-7
Although Fritz was a kind and gentle pony, he was not beautiful like the magnificent horses that lived within the walled city. "He had a long, tangled mane, whiskers on his muzzle, and short legs. He was sure-footed and always willing to work." One day the citizens of the city were returning home in their fine carriages, when a bridge broke leaving the adults on one side and their children on the other side. When Fritz rescues the children by carrying them to safety, he becomes an instant hero and earns a place in the walled city. As always, Jan Brett's illustrations are beautiful.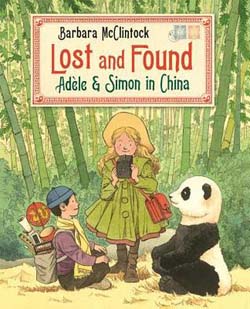 LOST AND FOUND: Adèle & Simon in China
written/illus. by Barbara McClintock, (Farrar Straus Giroux, $17.99, Dec. 2016, ISBN 978-0-374-39923-8), 40p, Ages 4-8
This newest book in the adventures of Adèle and Simon find them traveling to Hong Kong to meet their Uncle Sidney, where they prepare for a trip through China. Their uncle buys Adèle a camera for the trip and an abacus, scroll, knapsack, flute, fan, bowl, brush, ink box, and scarf for Simon, who loses an item at each stop along the way. Told through Adèle's post cards to Mama, they stop at a silk farm near Shanghai, walk by the Forbidden City in Peking, visit the Great Wall, ride camels across a desert, make brush painting with monks in Xi'an, hike in a bamboo forest, make friends with a panda, watch fishermen use cormorants to catch fish, and return to Uncle Sidney's to develop Adèle's photographs, which show each location where Simon lost an item. Endnotes contain interesting historical information on each location. From a bustling marketplace in Peking to a monastery in the Wudang Mountains, kids are treated to a wonderful perspective of a vast and historical China at the turn of the 20th century.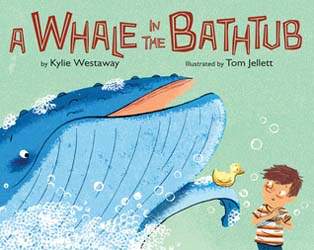 A WHALE IN THE BATHTUB
written by Kylie Westaway, illus. by Tom Jellett, (Clarion Books, $16.99, June 2016, ISBN 978-0-544-53535-0), 40p, Ages 4-7
It seems that there is a very rude whale in Bruno's bathtub and it refuses to let him take a bath. "You could have knocked!" he replies, when Bruno walks in. His family believes that Bruno is making it up and it's physically impossible for a whale to fit in a bathtub anyway. What's a boy to do when a huge, tub-hogging, bubble-bath-squirting whale refuses to budge? The whale solves Bruno's bath problem with a good blowhole shower. When Bruno's sister goes into the bathroom, she finds both the whale and a whale-size mess. Full of humor and nonsense, kids will love the silliness and the endpapers decorated with krill.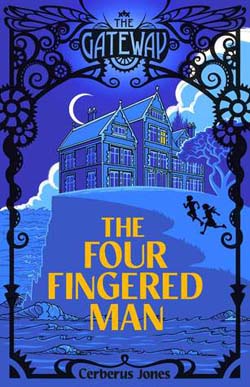 THE FOUR-FINGERED MAN (Bk1 The Gateway Series)
written by Cerberus Jones, , illus. by Hardie Grant Egmont, (Kane Miller, Oct 2016, $5.99, ISBN 978-1-61067-498-0), 160p, Ages 9-12
To Amelia and her brother, James, the Gateway Hotel in Forgotten Bay is rundown, creepy, and the caretaker with eye patch and missing finger is just plain freaky. "The hotel must have once been beautiful, but now it was a mass of peeling paint, cracked windowpanes, spiderwebs and abandoned wasps' nests." When their parents decide to renovate it and live there, they miss their friends and apartment back in the city, but along with a local boy, Charlie, Amelia discovers many mysteries surrounding the hotel that need investigating. Who is Lady Naomi? Why is there a small metal door behind a painting of the original owner, Matilda Swervingthorpe, who mysteriously disappeared? Why is a guest carrying a bag full of jewels and has a tank full of centipedes? Why are the parents hiding something? As mysteries begin to unravel, Amelia and Charlie discover that the Gateway Hotel is no ordinary hotel. It guests are coming from other planets. To be continued …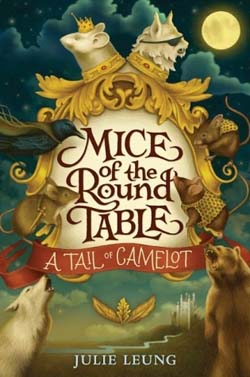 MICE OF THE ROUND TABLE: A Tail of Camelot Bk#1
written by Julie Leung, illus. by Lindsey Carr, (HarperCollins, Oct. 2016, ISBN 978-0-06-240399-5), 304p, Ages 9-12
Caleb Christopher, a young mouse page in King Arthur's castle, dreams of becoming a brave knight of the Round Table, preserving his family name, and following in the "pawsteps" of his famous father and grandfather. Before he can participate in the Harvest Tournament, a competition leading to knighthood, his grandfather is murdered, and the Camelot mice suspect the animals from the Darkling Woods. Caleb believes an old enemy plans an invasion of Camelot, and he sets out to unite the rodent population, the forest animals, and the humans (two-leggers), after discovering that the Sword in the Stone, which appears at Camelot's darkest times, has returned. Along the way he befriends 11-year-old Galahad, the son of Sir Lancelot, and the two heroes face parallel battles against the invading Saxon weasels and soldiers. In this first action-packed adventure of the Mice of the Round Table series, readers will root for this small hero in his quest to save the legendary Camelot and the Knights of the Round Table.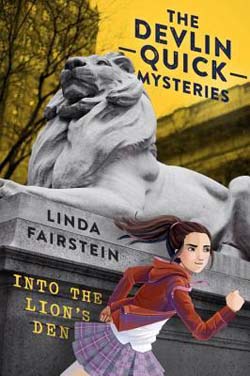 INTO THE LION'S DEN
written by Linda Fairstein, (Dial Books, $16.99, Nov. 2016, ISBN 978-0-3991-8643-1) 320p, Ages 9-12
With the New York Police Commissioner as her mother, 12-year-old Delvin Quick has a definite advantage in sleuthing. When rare maps from the New York Public Library are stolen, Devlin enlists the help of her mom, friends Liza and Booker, and police detectives in an effort to solve the case. With a love for reading, Devlin knows that defacing a book is horrible, but with no grown-up witnesses, she uses unorthodox means to gain information, following a trail from the 42nd Street Library lions to Brooklyn Public Library's Central Building. When captured by the thief, Devlin and Lisa find themselves trapped in the basement of the library and must escape through an abandoned subway station to seek help. First in a new series, this well-crafted detective tale features many famous landmarks, historical and geographical facts, and a wide variety of concepts and techniques and concepts used in forensic work.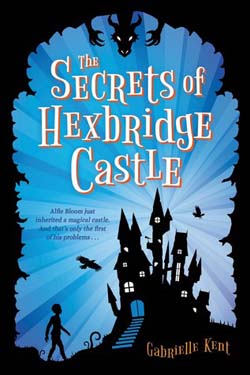 THE SECRETS OF HEXBRIDGE CASTLE
written by Gabrielle Kent, (Scholastic Press, Nov. 2016, ISBN 978-0-545-86929-4), 336p, Ages 9-12
Alfie Bloom's dreadful summer radically changes, when he receives a letter informing him that he has inherited Hexbridge Castle from an ancient druid, Orin Hopcraft. Upon his 12th birthday, not only does he inherit a castle, but Hopcraft's magic is passed to him. When Alfie and his inventor father move in, Alfie discovers a mysterious butler, a talking and flying bearskin rug named Artan, two nearby cousins, enchanted walls that hold magical secrets, and a hidden mystery under the castle that is under Alfie's protection. His inheritance includes guarding powerful magic, traveling through time, and battling a dangerous dragon, as well as two evil headmistresses of his new school, who try to sneak in the castle and steal the magic. With support from family, friends, Artan, and a shape-shifting crow, Alfie soon realizes how power can be used for evil or good. With themes of loyalty and doing the right thing, this fantasy/adventure will have kids eagerly awaiting the next installment.
THE WARRIORS OF BRIN-HASK (Bk 2 The Gateway Series)
written by Cerberus Jones, illus. by Hardie Grant Egmont, (Kane Miller, Oct 2016, $5.99, ISBN 978-1-61067-499-7), 140p, Ages 9-12
This second delightful book in The Gateway series finds Amelia and her friend Charlie anxiously awaiting the arrival of special guests to her parents' newly renovated Gateway Hotel. Aptly named, the Gateway receives alien guests from other worlds via worm holes in the galaxy. While awaiting the arrival of the seaweed-loving, small, fuzzy, Warriors of Brin-Hask, Amelia's dad discovers cybertronic red-eyed rats under the kitchen floor. When the warriors arrive, King Hibble decides to battle the vermin. "The kitchen was filled with screams of outrage. It was impossible to know what was going on, as the battle was all below the floor, but Amelia quickly learned to tell the difference between the high-pitched squeals of the rats and the joyous battle cries of the Brin-Hask." Mysteries still remain as to the identity of the Leaf Man, who wanders the grounds, and the sudden appearance of a creepy little creature that Amelia immediately decides to adopt. To be continued …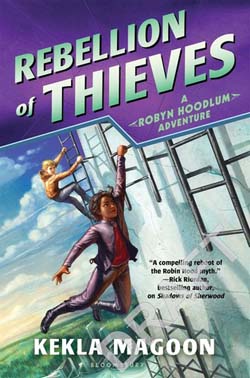 REBELLION OF THIEVES (A Hoodlum Adventure)
written by Kekla Magoon, (Bloomsbury, Oct. 2016, $16.99, ISBN 978-1-61963-655-2), 256p, Ages 10-13
This second book in the Robin Hoodlum Adventure series finds twelve-year-old Robyn Loxley, along with her band of misfit kids, continuing their fight against the evil dictator, Ignomus Crown and his oppressive government. Her ultimate goal of rescuing her parents from Crown's castle becomes a possibility as she enters the Iron Teen competition. Finalists are rewarded with a special dinner at the governor's mansion, where Robin believes her mother and other political prisoners are held. With the Crown increasing the reward for her capture and tightening security, Robin and her friends find new ways to execute their heists for the poor citizens of Nott City. Although Robyn is fulfilling her destiny, she struggles with balancing her own selfish desires and those of the rebellion. A memorable heroine and colorful characters continue to entertain readers with courage and daring deeds.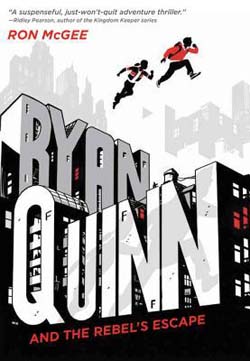 RYAN QUINN AND THE REBEL'S ESCAPE
written by Ron McGee, illus. by Chris Samnee, (HarperColliins, Oct. 2016, $16.99, ISBN 978-0-06-242164-7), 368p, Ages 11+
Unbeknownst to eighth grader Ryan Quinn, his parents belong to the Emergency Rescue Committee, a secret organization that rescues people around the world from certain death since World War II. Ryan's father has been using his diplomatic assignments from a UN program as a cover for their mission and secretly training Ryan since he was young for this dangerous work. Now living in New York City, Ryan discovers his parents' secret, when his father disappears on a business trip to an Asian country near China. When his mother is abducted and held as ransom for the return of a blogger, who has been exposing sensitive information to the world about the military dictatorship in Andakar, Ryan decides to find his father. Breaking into a military post, tracking his father to a hidden temple in the jungle, and chased by soldiers, he meets the blogger, Myat Kaw, a young girl his own age named Lan. With daring rescues, international intrigue, desperate enemies, and death defying stunts, this first installment of an action-packed, adrenaline-fueled trilogy will please fans of adventure, espionage, and heroes.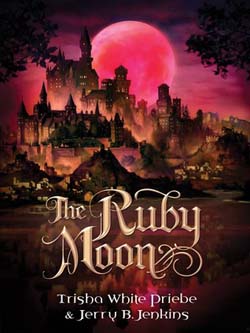 THE RUBY MOON
written by Trisha White Priebe/Jerry B. Jenkins, (Shiloh Run Press, Oct. 2016, $14.99, ISBN 978-1-63409-903-5), 240p, Ages 13+
This second book in the Thirteen series finds Avery and the other kidnapped thirteen-year-olds anxiously awaiting and training for the King's Olympiad, and Avery is determined to compete. Among all the preparations for the tournament, many of the kids begin to disappear from their hiding place in the castle, and the council decides to relocate them into the dangerous tunnels underneath the castle. Upon receiving carrier pigeon messages about her lost family and receiving her brother's paper boat, Amy decides to investigate and discovers an underground movement against the King. Frustrated by many unsolved problems, Avery is determined to prove that Queen Angelina is poisoning the King, locate her missing family, and find a way to speak to the king about his unknown son, her friend thirteen-year-old Kendrick. Adventure, danger, intrigue, and unanswered questions will have readers eagerly awaiting the third book, The Paper Boat.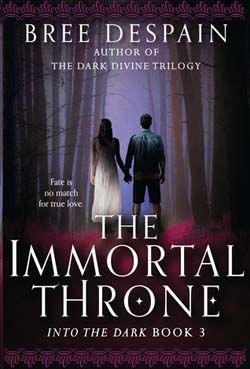 THE IMMORTAL THRONE
written by Bree Despain, (Carolrhoda Lab, $18.99, Oct. 2016, ISBN 978-1-5124-0583-5), 344p, Ages 16+
This final book of the Into the Dark series finds 17-year-old Daphne Raines in the Underworld betrothed to Haden's conniving half-brother, Garrick, who has managed to become king. The love of her life, Haden, has been banished to the mortal realm, as poison slowly takes over his body. Her kiss can save him, but she needs to escape her prison room, find the lost Key of Hades that unlocks the gates of the Underworld, rescue the innocent people held in Hades' Castle, and return to the mortal realm to help Haden fight the evil Keres with her musical talent. Haden must unite the Skylords to prevent the extinction of the realms and stay alive long enough to help defeat the Keres. Underlords, Skylords, Keres, Shades (and one special Shady), battle scenes, dramatic rescues, humorous antidotes, magical powers, and sacrificial love, all combine to create a spectacular and surprise ending to a magical series that many readers will wish could continue.
ABOUT US
The Children's Hour was created to promote and encourage reading to children and by children. We believe that reading aloud not only creates a special bond between parents and children, but it is important to the development of their imagination and curiosity.
The Children's Hour
150 N. Santa Anita Ave.,
Suite 300
Arcadia, CA 91006
626-791-4848
Conditions of Use
Privacy Policy