Welcome to the Children's Hour where reading to children and reading by children is considered a high priority to their success in life. Literacy begins by reading to children, but is developed over the years when great literature is available for their listening and reading enjoyment.

The best children's books contain imaginative stories, memorable characters, beautiful illustrations, and lyrical language. Well-written stories should contain heroes and role models to imitate. Great books should be enjoyable reads, make the world a better place, and incorporate heart, humor, and hope.

Be sure to sign up our monthly newsletter and receive advanced information on the best in children's literature available to read and read-aloud today.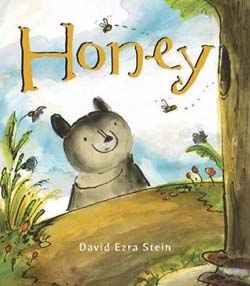 HONEY
written/illus. by David Ezra Stein, (Nancy Paulsen Books, $16.99, March 2018, ISBN 978-1-5247-3786-3), 32p, Ages 2-5
When Bear wakes up from his long winter nap, he's ravenous, and all he can think of is honey. "Warm, golden, sweet, / clear, slowly flowing, / spicy, aromatic, sparkling with sunlight— / Honey!" When Bear realizes that it's too early for the summer bee season, he passes the time enjoying the rain, bothering the bees (until he is stung), and splashing in a waterfall. When he hears a buzz, he rushes to the hive where the honey is as good as he remembered. That memory lasts into fall where, "A sleepy bear sat and remember the summer, and thought how good it had been." In this follow up to David Ezra Stein's award-winning Leaves, kids will love this eager, impatient, adventurous Bear, and his insatiable love of honey.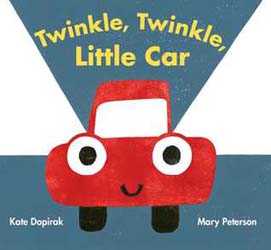 TWINKLE, TWINKLE, LITTLE CAR
written by Kate Dopirak, illus. by Mary Peterson, (Beach Lane Books, $17.99, Feb. 2018, ISBN 978-1-4814-8803-7), 40p, Ages 3-6
"Twinkle, twinkle, little car, / how you love to travel far! / Now it's time to go to bed / But you want to drive instead." Leaving his little garage at bedtime, Little Car cruises around town with his headlights shining, and goodnight beeps to the tractors, trucks, taxis, buses, fire engines, police cars, cranes, and diggers. The vehicles respond back with "Zing!" "Ah-Ooh-ga!" "Blooop! Bwoop!" and "Bee-Booo!" Now sleepy, Little Car is ferried back to his comfortable garage, more than ready to let his "beep-beep dreams begin." This fun spin (hopefully sung) to the familiar Twinkle, Twinkle, Little Star is a perfect read-aloud for all the little revved-up engines out there to enjoy at bedtime.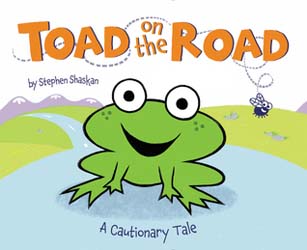 TOAD ON THE ROAD: A Cautionary Tale
written/illus. by Stephen Shaskan, (HarperCollins, $17.99, 2017, ISBN 978-0-06-239347-0), 32p, Ages 3+
Little toad is happily and hungrily sitting in the middle of the road watching a fly buzz around, not realizing that others use the road for traveling. "Who's that coming down the road? / Oh yikes! Oh yikes! / It's a … Bear on a bike! / Everyone shout Look out! Look out!" With a "SKID! SCREECH!, BAM!" Bear crashes in a ditch and warns toad that playing in the road is dangerous, and what in the world would his mama say? Toad pays no attention to the warning. Soon Croc in a car and Vole in a van also crash, resulting in a pileup of damaged vehicles. Then Mama comes down the road in a tow truck to set things right. Bouncy, catchy, and interactive, this cautionary tale is a great choice for story time.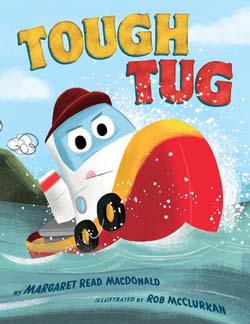 TOUGH TUG
written by Margaret Read MacDonald, illus. by Rob McClurkan, (Two Lions, $17.99, March 2018, ISBN 978-1503950986), 32p, Ages 3-7
On launch day a brand new tugboat, constructed of steel with a fresh coat of red paint, discovers a love for twirling and swirling in the waters of the bay in Seattle, Washington. The older tugs grumble and remind him of his duty to just push and pull barges. On his first assignment of towing a barge to Alaska, he challenges an older tug to a race to Sitka, but loses. On the second leg of the trip across open sea to Anchorage the older tug has problems and signals S.O.S. "Arctic Tug lost power! Engine stopped! I have to leave you, Barge, I've got to help. I'll rescue Arctic Tug and come right back. Don't worry. I can do this, I'm Tough Tug." With plenty of personality and humor, kids will love this little tugboat as he overcomes obstacles and helps others. According to the author's note, Tough Tug is based on a true incident between tugboat companies. Maps of the route from Seattle to Anchorage are featured on the inside covers.
HOW TO FIND AN ELEPHANT
written by Kate Banks, illus. by Boris Kulikov, (Margaret Ferguson Books/Farrar Straus Giroux, $16.99, Nov. 2017, ISBN 978-0-374-33508-3), 32p, Ages 3-6
It isn't widely known, but gloomy days are made for hunting elephants. So thinks a young explorer, who packs food, binoculars, a flute, a colored blanket, and a story, "woven through the cloth to tell the elephant." The young explorer instructs readers to look for elephant footprints, if thirsty, stop for drinks at the nearest waterhole, take shelter under large leaves in case of storms, and swing with chimpanzees and fly with eagles for quick traveling. There are false alarms and surprises along the way— mistaking rhinos for elephants, taking a nap on top of a waking elephant, and realizing that the elephant may find you first. Readers will spot the cleverly hidden elephant on each page in this beautifully illustrated and whimsical tongue-in-cheek elephant romp.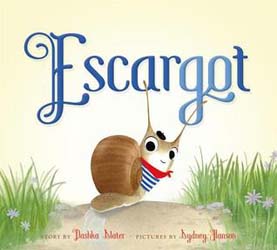 ESCARGOT
written by Dashka Slater, illus. by Sydney Hanson, (Farrar Straus Giroux, $16.99, April 2017, ISBN 978-0-374-30281-8), 40p, Ages 4-6
Escargot, a French snail, is on a journey to the end of the book to reach, "a beautiful salad, with croutons and a light vinaigrette." He encourages readers to share the experience by giving him a gentle push. Conversation along with way involves asking the reader to choose him as their favorite pet, informing them that his trails are "shimmery" not slimy, that snails dislike carrots in salads, and that he is quite fast and fierce when needed. Upon reaching the salad, Escargot discovers a dreaded carrot in it, and makes a deal with the reader. "On the count of three we will take a very, very, very small bite of the carrot," and declares the reader to be his favorite animal. Try reading aloud this cute snail tale with a French accent. It will be even more delightful and c'est magnifique!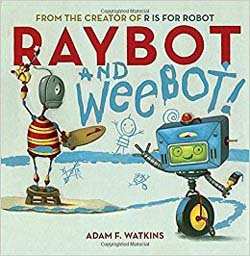 RAYBOT AND WEEBOT
written/illus. by Adam F. Watkins, (Price, Stern, Sloan, June 2017, $17.99, ISBN 978-0-8431-8301-6), 32p, Ages 4-7
Raybot, from R Is for Robot: A Noisy Alphabet (2014) and Raybot (2016), along with his friends, Parrot and Puppy, lead an orderly, peaceful life in a junkyard. When a cute, energetic little robot is dumped on the road beside the junkyard, he becomes a new member of the family. Rarely powering down, Weebot's endless energy causes problems. "Raybot tried to teach him the rules and how to play nice, but Weebot sometimes ruins things." Determined to return to his peaceful existence, Raybot returns Weebot to his crate and leaves him on the side of the road with a sign, "Free Robot." Missing the little pest, Raybot has a change of heart, but when the family rushes to take Weebot back home, his crate is empty. Kids will love this friendly little guy with all his faults, in this tale of family and friendship.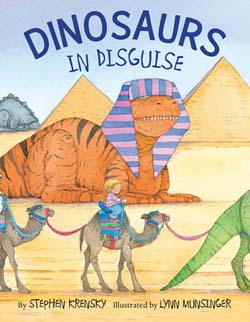 DINOSAURS IN DISGUISE
written by Stephen Krensky, illus. by Lynn Munsinger, (Houghton Mifflin Harcourt, Nov. 2016, $17.99, ISBN 978-0-544047271-6), 32p, Ages 4-7
"What if the dinosaurs never really went extinct? What if they've just been in hiding for 65 million years?" In this entertaining what-if story, a little boy claims that dinosaurs never became extinct but went into hiding, blended into their environment, and masqueraded as sphinx and pyramids in Egypt, pilgrims, the Statue of Liberty, and even Santa Claus. The little fellow decides to show the dinosaurs an easier way to hunt for dinner, to travel, and enjoy life involving TV, cell phones, and computers. However, letting dinosaurs loose in grocery stores, tearing around town in vehicles, and getting sick on junk creates problems, so the boy decides to keep their secret. Far-fetched and silly, kids will enjoy giggling at the humorous illustrations, and adults will find the subtle message of conservation and stewardship satisfying in delightful read aloud.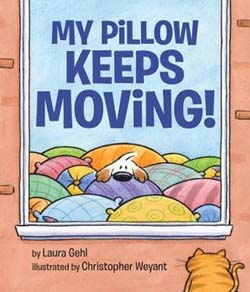 MY PILLOW KEEPS MOVING!
written by Laura Gehl, llus. by Christopher Weyant, (Penguin Young Readers, $17.99, Jan. 2018, ISBN 978-0-425-28824-5), 40p, Ages 4-8
A cute, little, stray dog searches for a warm, loving home, and devises a clever plan to obtain one. When a lonely, nearsighted man shops at The Pillow Place, The Furniture Barn, and the Jacket Emporium, he mistakenly purchases the puppy believing it to be a pillow, a footstool, and a jacket. However, the pillow keeps moving, the footstool is noisy, and the jacket burps. Returning the items yields no satisfaction from unscrupulous salesmen, who insist that the items are fluffy comfy, and cozy. He finally realizes his mistake, names the pup Jackie, and decides to buy a new hat at the Hat Factory, where Jackie winks at a lonely orange cat that has been lurking in each scene. Silly and appealing, readers will enjoy the cartoons, action, and details which add to the fun.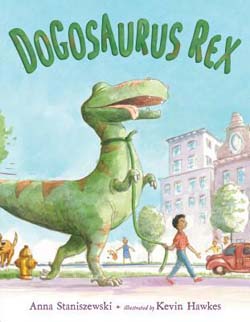 DOGOSAURUS REX
written by Anna Staniszewski, illus. by Kevin Hawkes, (Henry Holt & Co., $17.99, 2017, ISBN 978-0-8050-9706-1), 40p, Ages 4-8
On a trip to the shelter with his mom, Ben finds, "cute dogs and funny dogs and loud dogs and smelly dogs," but when he sees Sadie in a corner cage, he instantly knows she is a very special dog. Problems arise with feeding, bathing, pooping, and training. Sadie learns sitting, rolling over, and fetching, but the police disapprove of the smashed cars, fruit stands, and mail trucks. Redemption arrives when she catches a runaway thief, and the town finds jobs for her rescuing cats from trees, delivering mail, and helping farmers. "Soon Sadie was the most popular dog in town. And Ben knew he'd be able to keep her forever." This one is a winner for dinosaur lovers young and old.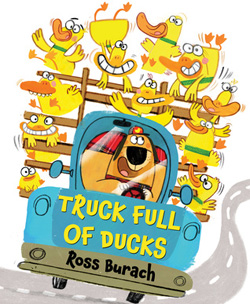 TRUCK FULL OF DUCKS
written/illus. by Ross Burach, (Scholastic Press, $17.99, March 2018, ISBN 978-1-338-12936-6), 40p, Ages 4-8
Bernie the dog runs a truck service that specializes in delivering ducks. On the way to a new delivery, Bernie's crazy, goofy, distracted ducks read newspapers, eat donuts, pizza, ice cream, and guzzle down Bladder Buster drinks. When one gobbles up the delivery directions, Bernie improvises and asks everyone he meets, "Did you call for a truck full of ducks?" A little girl replies that she called for a mail truck to mail her little brother far away, a construction worker phoned for a "D-D-D-Dump truck," a shark with a surf board claims he called for an ice cream truck, and a peg leg pirate claims he called for crackers "not quackers!" After a bathroom break, the answer came from the dark woods of H. Fox, saying, "Perfect timing. MY DINNER …" Readers and listeners will love the reason behind the order of a Truck Full of Ducks, as well as the zany cartoon drawings.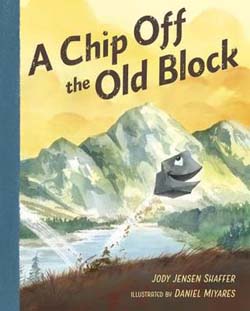 A CHIP OFF THE OLD BLOCK
written by Josy Jensen Shaffer, illus. by Daniel Miyares, (Nancy Paulson Books, $17.99, Feb. 2018, ISBN 978-0-399-17388-2), 32p, Ages 5-8
With relatives as large as Uncle Gibraltar and Great Grandma Half Dome, young Rocky might be small, but he is plucky and determined to become legendary. Feeling inspired by his famous rock formation family, Rocky hops on a pick up truck to Arizona to visit the Wave, hitches a ride to Wyoming with an eagle to visit his cousin the Devil's Tower, falls onto a station wagon loaded with camping gear, and stows away in a backpack to South Dakota, where he discovers that Mount Rushmore is closed due to a crack in Lincoln's nose. Find out how little Rocky becomes a hero and saves the National Park. "All thanks to Rocky the little pebble that wouldn't be taken for granite." Kids as well as adults will love this clever story of persistence and determination with its geological puns and historical information on famous landmarks.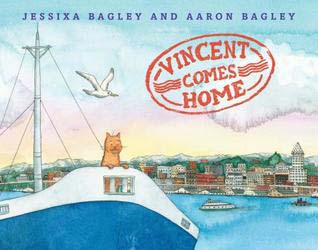 VINCENT COMES HOME
written/illus. by Jessixa and Aaron Bagley, Roaring Brook Press, $17.99, Feb. 2018, ISBN 978-1-62672-780-9), 32p, Ages 4-7
"Vincent lived on a cargo ship. His paws had never touched land." He enjoys life with plenty to eat, seagulls to chase, the captain's cheerful cabin, nighttime stars to watch, and a ship that sails the world's oceans, stopping at interesting destinations. "They'd load up with chocolate from Zanzibar and deliver it to Norway, oranges from Florida ended in up Iceland." When he overhears the sailors longing for home, Vincent wonders where home is, and decides to follow one of the crewmen off the ship at the next port. Wandering around the town, watching families reunite, Vincent realizes that, "Home is where the people who love you are. I guess I don't have a Home." When he hears the captain's familiar whistling, is scooped up, given a belly rub, and returned to the ship, Vincent finally understands that although homes don't always look alike, they are all valuable.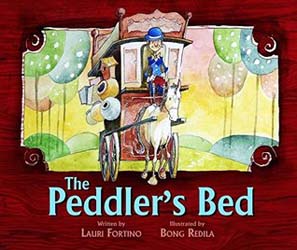 THE PEDDLER'S BED
written by Lauri Fortino, illus. by Bong Redila, (Ripple Grove Press, $16.00, 2015, ISBN 978-0-9913866-3-5), 40p, Ages 6-9
As a poor old man works in his garden with his dog for company, he hears a peddler's cart as it squeaks down the road toward his house. He admires the fine bed on top of the cart, and the peddler informs him that it was so sturdy that it would never squeak, but with no money, the old man was unable to purchase it. "The peddler paused for a moment, and then said, 'I'll make you a deal, sir. If you can think of a way to make my oak bed squeak by sunset, it will be yours.'" The old man invites the peddler to share a humble soup dinner from vegetables in his garden, a few scraps of meat, and water from his well. The old man never is able to make the bed squeak, but through the peddler's trickery, the old man will always rest peacefully on his new bed. Kindness, hospitality, and sharing are great lessons for children in our busy world.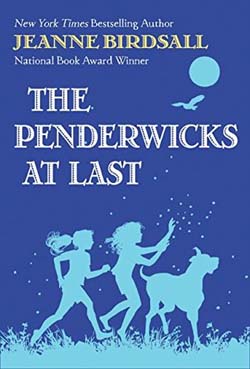 THE PENDERWICKS AT LAST
written by Jeanne Birdsall, (Alfred A. Knopf, $16.99, March 2018, ISBN 978-0-385-75566-5), 304p, Ages 9-13)
"Lydia believed in dancing wherever she could—on sidewalks, in supermarket aisles, libraries, swimming pools, parking lots. Today her stage was a bench at the bus stop." The final episode of the award-winning Penderwick series finds the youngest Penderwick sibling, eleven-year-old Lydia, waiting for the arrival of her older sister, Batty, from college for their eldest sister Rosalind's upcoming wedding at Arundel, the magnificent estate in the beginning series (The Penderwicks: A Summer Tale of Four Sisters, Two Rabbits, and a Very Interesting Boy, 2005). As the family comes together at Arundel, Lydia finds a best friend, older brother Ben uses his talents as a film director, Jeffrey flies in from Germany, Batty may find her destiny, Jane puts her sewing machine to good use, a double wedding arises, beloved dogs and a stair-climbing chicken cause mischief, and the estate's former owner intrudes. Readers will again welcome old-fashioned humor, warm family relationships, and charming characters. Although sad to leave their beloved Penderwicks, most fans will hope for an encore.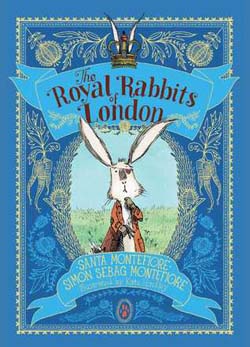 THE ROYAL RABBITS OF LONDON #1
written by Santa Montefiore/Simon Sebag Montefiore, illus. by Kate Hindley, (Aladdin, $16.99, Jan. 2018, ISBN 978-1-4814-9860-9), 208p, Ages 8-11
Shylo Tawny-Tail, the weakest and quietest in his family, has a secret and forbidden friendship with an elderly battle-scared, rabbit, Horatio, who lives on the edge of the forest. When Shylo overhears a band of ratzis plotting against the Queen of England, he immediately tells Horatio, who informs him of the Royal Rabbits, a secret society of elite rabbits that live beneath Buckingham Palace and protect the royal family. Horatio quickly dispatches Shylo to London to find the Royal Rabbits and alert them. With the Royal Rabbit motto, "Life is an adventure. Anything in the world is possible—by will and by luck, with a moist carrot, a wet nose, and a slice of mad courage," Shylo begins an adventure of his life. Conquering overwhelming fears, Shylo cleverly hitches a ride to London, where he leads an underground search through secret tunnels and helps the humorous, eccentric, commando rabbits thwart the evil rats. This first book in the Royal Rabbits series will leave kids eagerly waiting for more adventures.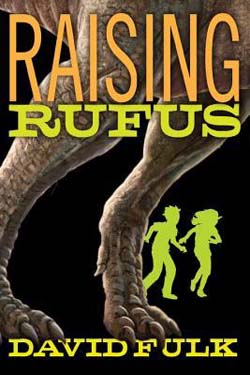 RAISING RUFUS
written by David Fulk, (Delacorte Press, $16.99, June 2017, ISBN 978-0-385-74464-5), 272p, Ages 9-12
Its summer In Menominee Springs, Wisconsin where a lonely twelve-year boy prefers rock and bug collecting to spending time with other kids. One day while chasing an illusive butterfly, Martin falls into a rock quarry and stumbles upon a large, frozen, football- sized egg buried deep below the ground. In his laboratory in the family barn, Martin wonders why it keeps moving, until suddenly it hatches and a bizarre lizard-looking animal, that he names Rufus, emerges. Soon Rufus grows into a huge and constantly hungry Tyrannosaurus Rex. Feeding and hiding Rufus becomes increasingly difficult, but with the help of a new friend at school, they keep him in huge quantities of dog food and teach him tricks. By the time school begins, they realize that adult help is needed, but when adults enter the picture, Rufus's future is in jeopardy and mayhap ensues. Find out if Rufus's destiny involves laboratories, side show carnival acts, or freedom. Readers will root for this heroic boy and his oversized pet in this humorous tale of adventure, friendship, and family.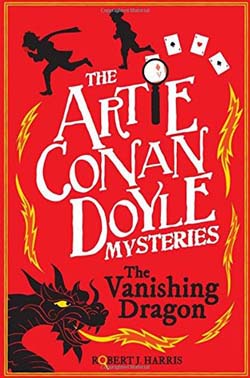 ARTIE CONAN DOYLE AND THE VANISHING DRAGON #2 (The Artie Conan Doyle Mysteries)
written by Robert J. Harris, (Kelpies, $9.95, March 2018, ISBN 978-178250-483-2), 192p, Ages 9-12
This second book in a great detective series finds 12-year-old Artie Conan Doyle and his friend Ham investigating a series of accidents surrounding a world famous magician's new production featuring a spectacular new illusion—a gigantic, mechanical, fire-breathing dragon. After a thorough investigation, many suspects emerge—"The Psychic Marvel," "The Dancing Nymph," "Kairos," and "The Theatrical Phenomenon,"—but the deadly culprit will surprise even the two competent detectives. With a nod to the great man himself, Sir Arthur Conan Doyle, kids will enjoy the humor, puzzles, conspiracies, and history in this fascinating detective mystery set in Victorian Edinburgh.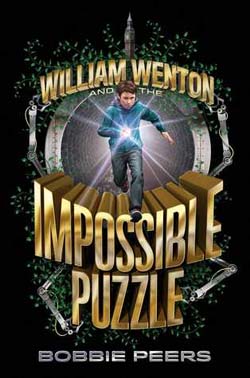 WILLIAM WENTON AND THE IMPOSSIBLE PUZZLE #1
written by Bobbie Peers, translated from Norwegian by Tara Chace, (Aladdin Books, $16.99, May 2017, ISBN 978-1-4814-7825-0), 272p, Ages 10-13
Twelve-year-old William Wenton is a gifted code-breaker, who uses vibrations inside him to understand and solve complex puzzles. William and his family live in Norway with secrets. An event eight years ago which sent the family into hiding under an assumed name, left his father in a wheelchair, and his grandfather's mysterious disappearance, are kept from him. When a special exhibit of the Impossible Puzzle comes to Oslo's History of Science Museum, William's class takes a field trip on the last day of the exhibit. Slipping away to see the exhibit triggers an unusual series of events that take William on a journey to secret societies, advanced science, futuristic research, amazing robots, killer robotic plants, wild chases, saving his grandfather, and perhaps the world. Brilliant but not perfect, William makes mistakes in judgment that often test his resilience and leave him with serious trust issues. Readers will enjoy the action, mystery, and crazy inventions in this first novel translated from Norwegian.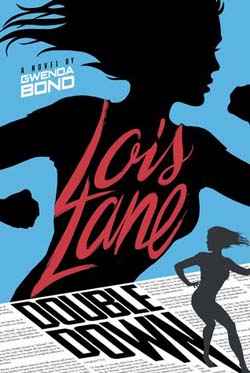 DOUBLE DOWN #2 (Lois Lane series)
written by Gwenda Bond, (Switch Press, 2016, ISBN 978-1-63079-038-7), 384p, Ages 14-18
Having settled into a new school in Metropolis and part time job at a local newspaper as junior reporter, Lois is more than ready for another challenging assignment. When she is sent to Suicide Slum to interview another student painting a mural in his neighborhood, she finds more than she bargained for when her best friend Maddy's twin sister shows up in a cab and collapses. Her nose for news and seeking out the truth leads Lois to a secret scientific program involving the twins, proving the innocence of a disgraced mayor fresh out of prison, trapping a crime lord, and helping her friend SmallvilleGuy stop top-level forces from exposing the Flying Man. Readers will love this big-hearted teen trying to juggle school, work, curfew, friendships, while battling the bad guys.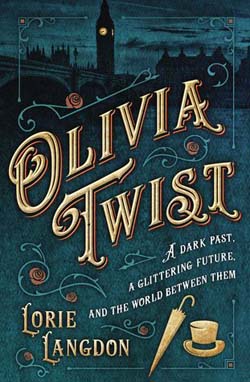 OLIVIA TWIST
written by Lorie Langdon, (Blink, $18.99, March 2018, ISBN 978-0-31-76341-3), 336p, Ages 16+
"For long minutes, there was considerable doubt as to whether the child would survive to bear a name at all. Although being born in a workhouse was not the most fortunate of circumstances, in this child's case the alternative would have made for a much different story; likely a very short one." In this reimaging of Charles Dickens' classic story Oliver Twist, a young girl orphaned as an infant in 1841, raised as a young boy on the streets of London, and protected by the clever Artful Dodger, is taken in by a long-lost uncle, leaving behind her a life of thieving. Now eighteen, vivacious and beautiful Olivia Brownlow is a highly eligible debutante in London society. At a lavish society party she recognizes a handsome, arrogant gentleman, Jack MacCarron, as her old protector, the Artful Dodger. Jack is now the adopted nephew of a society matron, who along with his "aunt" robs society at every opportunity. Intrigued by the young debutante, who reminds him of someone from his past, Jack wonders about her secret life involving homeless orphan thieves. As romance develops, Olivia and Jack work together to uncover past secrets, take on crime lords, solve mysteries and murders, and help homeless orphans. Flawed, complex, and likeable scoundrels, menacing villains, daring rescues, heroism, and a bit of romance guarantee that this clever retelling (not as bleak as the original) will captivate and capture the reader's heart.
ABOUT US
The Children's Hour was created to promote and encourage reading to children and by children. We believe that reading aloud not only creates a special bond between parents and children, but it is important to the development of their imagination and curiosity.
The Children's Hour
150 N. Santa Anita Ave.,
Suite 300
Arcadia, CA 91006
626-393-5899
Conditions of Use
Privacy Policy