Welcome to the Children's Hour where reading to children and reading by children is considered a high priority to their success in life. Literacy begins by reading to children, but is developed over the years when great literature is available for their listening and reading enjoyment.

The best children's books contain imaginative stories, memorable characters, beautiful illustrations, and lyrical language. Well-written stories should contain heroes and role models to imitate. Great books should be enjoyable reads, make the world a better place, and incorporate heart, humor, and hope.

Be sure to sign up our monthly newsletter and receive advanced information on the best in children's literature available to read and read-aloud today.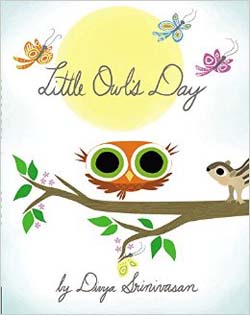 LITTLE OWL'S DAY
written/illus. by Divya Srinivasan, (Viking Books, $7.99, Feb. 2016, ISBN 978-1-101-99709-3), 34p, Ages 3-5
Awakened one morning by a chattering squirrel, Little Owl from Little Owl's Night (2011), is too curious about his surroundings to return to sleep. Flying through the forest in sunlight brings a whole new dimension to his world. He is overjoyed at the sight of a wren singing, beautiful flowers in the meadow, bees, and butterflies, which he mistakes for nighttime moths. In this sparkling new world, dragonflies fly backward, snakes glide on water, turtles sun themselves on rocks, and his old friend Bear shows him the beauty of a rainbow. As the sun descends and the moon rises, Little Owl returns home. "The possums were only just stirring. Hedgehog was still sleeping, so mice feasted on mushrooms." Now sleepy, Little Owl remembers his promise and shows Bear the moon. Rich and wonderful illustrations accompany this delightful tale of the natural world through the eyes of a small adventurous owl.
BULLDOZER'S BIG DAY
written by Candace Fleming, illus. by Eric Rohmann, (Antheneum Books, $17.99, May 2015, ISBN 978-1-4814-0097-8), 40p, Ages 3-5
"It was Bulldozer's big day. And he couldn't wait to invite all his friends to his party." Overflowing with anticipation of a birthday celebration, little Bulldozer bounces across the construction site to seek out his friends. When Digger Truck, Dump Truck, Cement Mixer, Scraper Grader, Roller Truck, and Crane Truck are too busy scooping, sifting, stirring, filling, chopping, mashing, and lifting, Bulldozer's blade sadly droops, as he realizes that there will be no party, no games, and no friends. All hope is lost, until the construction whistle, that normally signals the end of the day, becomes many happy whistles to begin a birthday surprise party for Bulldozer, and it's one party that Bulldozer will never forget.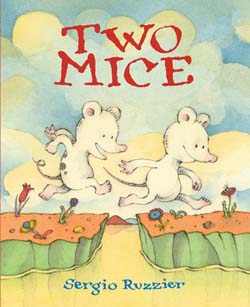 TWO MICE
written/illus. by Sergio Ruzzier, (Clarion Books, $12.99, Sept. 2015, ISBN 978-0-544-30209-9), 32p, Ages 3-7
This clever counting adventure in two-word phrases follows two friends through an imaginative and colorful world of predicaments. Whether disgruntled over cookie distribution ("One House / Two Mice / Three cookies."), a shipwreck ("Three Rocks / Two holes / One shipwreck."), or escaping an encounter with hungry baby birds ("Three beaks / Two snacks? / One escape."), the two friends scurry home where all is forgiven, and they enjoy delicious soup together. (Three carrots / Two onions / One Soup.") All great adventures that survive mishaps, danger, and close encounters, should end well with friendship and comfort food.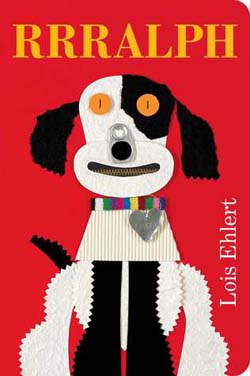 RRRALPH
written/illus. by Lois Ehlert, (Little Simon, $7.99, Mar. 2016, ISBN 978-1481-45211-3), 36p, Ages 2-5
With button eyes, pop can tab nose, and zipper mouth, Ralph loves to talk and answer questions posed by the narrator. When he first arrives at his new home, Ralph is asked about his name and he responds,"RRRALPH/RALPH." When he disappears, the narrator asks about his whereabouts and Ralph replies, "ROOF, ROOF." To the question of what animal is on the tree (children will think leaves or birds), Ralph exclaims, "BARK, BARK." Kids will love this cute, funny, and resilient canine.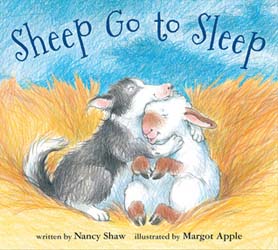 SHEEP GO TO SLEEP
written by Nancy Shaw, illus. by Margot Apple, (Houghton Mifflin Harcourt, $7.99 BB, Mar. 2016, ISBN 978-0-544-64053-5), 32p, Ages 2-5
At the end of a busy day, five sheep, from the beloved "Sheep" series, stroll home and settle into their straw bed, but are unable to fall asleep due to nighttime noises. The patient, friendly Border collie calms them down, one by one, with a hug, a drink, a song, a lullaby, a teddy bear, and a quilt. "The last one wants a cozy quilt / to snuggle on the bed she built. / The collie gives a weary grin. / He fetches one and tucks her in." But who will tuck the collie in? This delightful story with its rhyming text and gentle humor is a comforting choice for bedtime.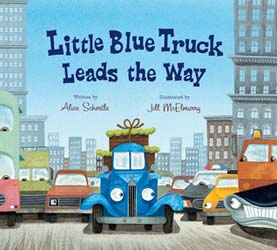 LITTLE BLUE TRUCK LEADS THE WAY
written by Alice Schertle, illus. by Jill McElmurry, (Houghton Mifflin Harcourt, $12.99 BB, Mar. 2016, ISBN 978-0-544-70899-0), 40p, Ages 3-6
When Little Blue carries a load of lettuce to a metropolitan market, he discovers that the big city is a fast, impatient, busy, and noisy place for a country truck. With all kinds of vehicles pushing to be first, a traffic jam occurs, and Little Blue advises, "You might be fast / and I might be slow, / but one at a time / is the way to go." When the Mayor gets involved, he commands that everyone follow Little Blue's instructions. "A taxi let / a van go past. / The double-decker bus / said 'I'll go last.'" Little Blue's lessons of working together and taking turns, make for a fun read aloud for young listeners.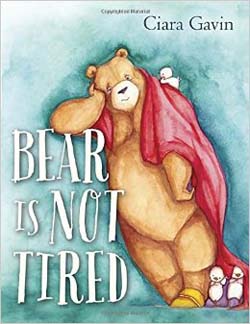 BEAR IS NOT TIRED
written/illus. by Ciara Gavin, (Knopf Books, $16.99, Jan. 2016, ISBN 978-0-385-75477-4), 32p, Ages 3-7
Bear and his Duck family from Room for Bear (2015) enjoy their blended family. Sometimes Bear even forgets that he is a bear and not a duck. With winter approaching Bear knows it's time to hibernate, but not wanting to miss out on all the fun, he decides to stay awake. When he begins to fall asleep during tennis matches, at the sound of a humming washing machine, a lullaby, rippling water, and Baby Duck's tapping feet, Mama Duck intervenes. "Mama Duck said Bear couldn't fight who he was. Bears are bears, and bears are supposed to sleep in winter. She promised him he wouldn't miss a thing." During hibernation the ducks play, eat meals, and watch TV near his bed, read to him, and even bring their snowman to share. When he awakens in spring, Mama Duck shows him the photo album of their time together. This warm and wonderful blended family is irresistible. Endpapers show the photos from Mama Duck's album.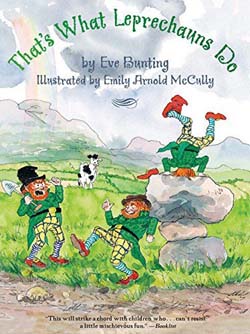 THAT'S WHAT LEPRECHAUNS DO
written by Eve Bunting, illus. by Emily Arnold McCully, (Clarion Books, $17.99, Jan. 2006), 32p, Ages 5-8
Every time it rains, leprechauns Ari, Boo, and Col race to dig up their pot of gold and re-bury it at the end of the rainbow. However, along the way, they paint the hooves of Mrs. Ballybunton's cow bright red, tie Old Jamie Bradley's long johns together, and place a yellow ball in the nest of Maud Murphy's hen. As usual, no one finds the pot of gold and it's returned to Paddywhackers Bog, with Ari saying, "That gold's waiting for just the right person." The endpapers give information on the legend of leprechauns.
LITTLE TREE
written/illus. by Loren Long, (Philomel Books, $17.99, Oct. 2015, ISBN 978-0-399-16397-5), 40p, Ages 5-8
Little Tree is happy surrounded by other small trees, squirrels that climb on his branches, and doves that sing in the summer. As the seasons change, leaves begin to drop from the trees. "But Little Tree. He just hugged his leaves tight. What would he do without his leaves?" In spite of the forest animals encouraging him to let go, season after season Little Tree holds onto his leaves, preventing him from growing. When he no longer can feel the sun, see the sky, or hear the animals in the trees, he decides to let go and grow up. This gentle and tender tale of reluctance and acceptance will leave a lasting impression.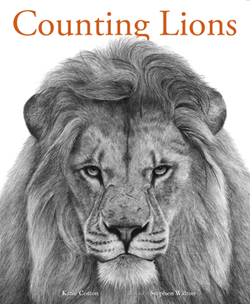 COUNTING LIONS: Portraits from the Wild
written, by Katie Cotton, illus. by Stephen Walton, (Candlewick Press, $22.00, Oct. 2015, ISBN 978-0-76368207-1), 40p, Ages 5-10
In this impressive, oversized, and exquisite counting book, realistic drawings of ten endangered animals are accompanied by descriptions in poetic verse. A single male lion, two gorillas, three giraffes, four tigers, five elephants, six Ethiopian wolves, seven penguins, eight turtles, nine macaws, and ten zebras are shown in beautiful charcoal renderings. "Three giraffes / with their heads in the sky / pluck leaves from trees and chew, / up and down, side to side, / for up to twenty hours a day. / They are peaceful patterned giants / wandering from place to place, / sleepless surveyors of the grasslands. / Three wanders. / Three giraffes." A forward by Virginia McKenna reminds readers that vanishing species are a reality. End notes feature each animal's protective status, habitat, and the number remaining.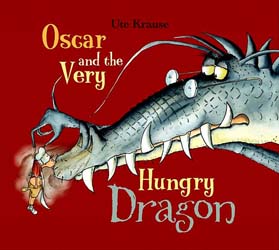 OSCAR AND THE VERY HUNGRY DRAGON
written/illus. by Ute Krause, (NorthSouth Books, $8.95, Oct. 2015, ISBN 978-0-7358-4230-4), 40p, Ages 6-8
When it's time to provide a sacrifice to their dragon, the town elders discover that their princess has disappeared, and so by lottery Oscar is chosen. Not having eaten in a year, the dragon is outraged at Oscar's skinniness. Tricking the dragon into fattening him up, Oscar turns his birdcage prison into a kitchen, requests equipment and groceries, and begins cooking tantalizing meals. Initially refusing to eat Oscar's cooking, the dragon relents due to starvation. "The dragon, who had only eaten princesses so far, was amazed when he tasted Oscar's cooking." Ultimately Oscar convinces him that a live-in chef, who prepares chocolate cakes, fudge sundaes, chocolate chip cookies, and banana splits, would far outweigh a single meal with Oscar as the main dish. The happy ending involves a new village restaurant, Cafe Dragon House, which serves tantalizing dishes to both dragons and humans.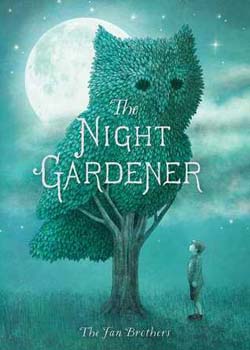 THE NIGHT GARDENER
written/illus. by Terry/Eric Fan, (Simon & Schuster Books for Young Readers, $17.99, Feb. 2016, ISBN 978-1-4814-3978-7), 48p, Ages 4-8
Grimloch Lane is part of a little town devoid of color and life, until one morning an orphan looks out his window and discovers a beautiful green tree that has been sculpted into an owl topiary. Sneaking out after dark, William discovers the gardener at work, and together they create beautiful topiaries and a magical garden of gigantic cats, elephants, camels, giraffes, rabbits and even a dragon. "Over time the leaves changed . . . and then fell, until there was no evidence that the Night Gardener had ever been to Grimloch Lane. But the people of the small town were never the same." Gorgeous illustrations and a magical story of transformation make this tale a forever winner.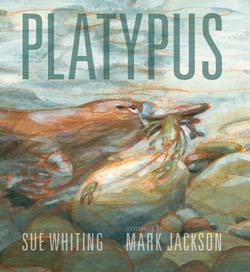 PLATYPUS
written by Sue Whiting, illus. by Mark Jackson, (Candlewick Press, $17.99, Feb. 2016, ISBN 978-0-7636-8098-5), 32p, Ages 5-9
One of the strangest creatures on the planet, the platypus is constantly in motion, forages for food in the fresh water marshlands of Tasmania and Australia, and is extremely secretive and seldom seen. The platypus, "has webbed feet and a bill like a duck, and fur and a tail like a beaver; is low to the ground and walks like a reptile; lays eggs like a bird; produces milk for its young like a mammal; and is venomous like a snake." In a two-level text, one story is told of the nighttime activities of a male platypus, while relevant facts are found at the bottom of each page. Endpapers summarize major characteristics, habitat, predators, and threats to survival, and an index provides a list of terms. Those who are interested in intriguing animals will enjoy this portrait of, "one of the world's most puzzling animals."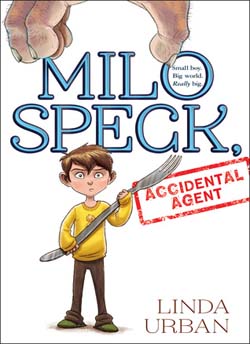 MILO SPECK: Accidental Agent
written by Linda Urban, illus. by Mariano Epelbaum, (Houghton Mifflin Harourt, $16.99, Sept. 2015, ISBN 978-0-544-41951-3), 272p, Ages 7-10
Searching for his father's missing yellow sock in the dryer, Milo is pulled in and magically transported to the land of Ogregon, where Ogres love to eat kids. There, he learns the truth about his father's job and meets a young girl, who is his father's boss at Tuckerman Fencing. Along the way, he learns to ride giant turkeys, rescues a group of captive kids, develops a plan to close the gap between worlds, and tries to escape before becoming dinner. Combining adventure, comedy, and fantasy, kids will love this modern-day hero with a strong moral code, a heart of gold, and the possibility of future adventures.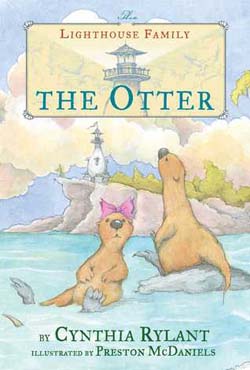 THE LIGHTHOUSE FAMILY: The Otter
written by Cynthia Rylant, illus. by Preston McDaniels, (Beach Lane Books, $15.99, Mar. 2016, ISBN 978-1-4814-6045-3), 48p, Ages 6-10
"On a tall cliff rising far above the sea stood a beautiful lighthouse, and in this lighthouse lived a happy family. But this was not an ordinary family. It was a family created by adventure, rescue, and love." So begins the sixth book the Lighthouse Family series, where a little otter called Dottie becomes tangled in a sailor's net, and her brother, Dooly, rings the bell on the fog buoy for help. Of course, the salty old dog, Seabold, devises a rescue plan using twelve dolphins, a school of sawfish, and jelly fish to free the trapped otter, and in the process the Lighthouse family makes two new friends. To repay the kindness, Dottie and Dooly return to the lighthouse to make Pandora a cedar barrel and new dresses for Lila and Tiny's dolls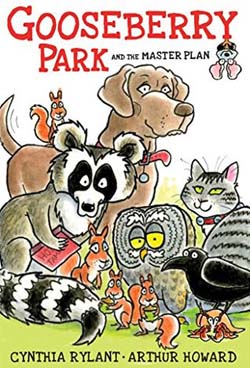 GOOSEBERRY PARK AND THE MASTER PLAN
written by Cynthia Rylant, illus. by Arthur Howard, (Beach Lane Books, $6.99, Mar. 2016, ISBN 978-1-4814-0450-1), 128p, Ages 8-12
Old friends from Gooseberry Park (Harcourt 1995) return in a humorous and delightful tale of kindness, friendship, and cooperation with environmental overtones. A severe drought threatens the animals in Gooseberry Park, and it's left to Gwendolyn, the wise hermit crab, Kona, a chocolate Labrador, and Herman, the mathematical crow, to hatch an ingenious Master Plan to secure needed water. Together with Murray, a black bat and his cousin, Morton, a motivational speaker, Stumpy and her three small squirrels, Henrietta, the possum, Conroy, the cat, and 200 owls, they design an outrageous flowchart involving the fire department rescue squad, 20 packs of chewing gum, 400 straws, a glow-in-the dark watch, seven egg rolls, and 2 boxes of Hot Tamales. Kids will love this humorous tale of friendship, family, and heroes.
THE INCREDIBLE SPACE RAIDERS FROM SPACE!
written by Wesley King, (Paula Wiseman Books/Simon & Schuster, $16.99, Feb. 2015, ISBN 978-1-4814-2319-9), 304p, Ages 8-12
One moment Jonah is in his family's living room doing homework and the next moment he is shocked to wake up on the Fantastic Flying Squirrel, a spaceship piloted by pirates on a mission to fight extraterrestrials ETT's (Entirely Evil Things) in a distant galaxy. As his Space Raider training begins, Jonah struggles with questions as to why all the kids are orphans, why monsters roam the ship, and if there really is a mission to the Dark Zone to save the Universe. When Space Raiders begin to disappear, Jonah realizes unknown bravery and begins to fight for his fellow Raiders and correct wrongdoings. Exciting chases, clever strategies, surprise revelations, suspense, and mystery surround this middle school journey of one unforgettable hero.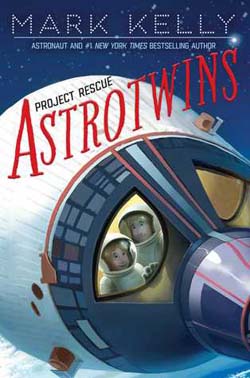 ASTROTWINS: Project Rescue
written by Mark Kelly, (Simon & Schuster, $16.99, Mar. 2016, ISBN 978-1-4814-2458-5), 256p, Ages 8-12
In the spring of 1976, 12-year-old twins Mark and Scott Kelly from Astrotwins: Project Blastoff (2015) return in another wild adventure into outer space. Upon learning that a Russian cosmonaut is trapped inside the Salyut Space Station 220 miles above Earth, the twins jump at the chance to return to space and rescue him. While staying with their Grandfather, they discover that NASA's Titan II rocket Ship is stored nearby. They reassemble their Crazy 8 team, and with the help of Senator John Glen, NASA, and Moscow, they prepare for another launch into orbit for a rendezvous and rescue operation of one cosmonaut, one small dog, four mice, and three guinea pigs. Mark Kelly explains that while this adventure might be great fun and quite a ride, it's simply fiction. Author's Note, glossary, and sources are included in the endpapers.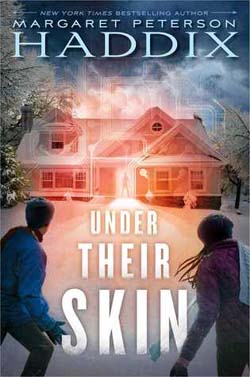 UNDER THEIR SKIN
written by Margaret Peterson Haddix, (Simon & Schuster Books, $16.99, Jan. 2016, ISBN 978-1-4814-1758-7), 320p, Ages 10-14
Twelve-year-old twins, Nick and Eryn are dismayed to learn that their single mother is remarrying, they must move to a new home, and they are forbidden to meet their new stepfather's children, who are also twelve-year-old twins. When Eryn and Nick feel compelled to investigate, they become involved in a bizarre revelation beyond their wildest imaginations. Discovering that their entire world is not only based on lies, but probably faces extinction, they confront secrets that bring danger and far reaching consequences. Family drama, mystery, suspense, and intriguing secrets surround this fascinating thriller. The cliffhanger conclusion leaves an opening for another book.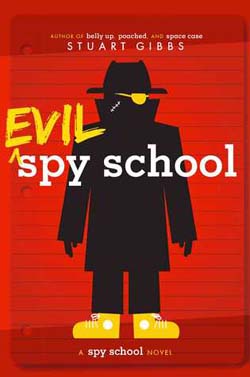 EVIL SPY SCHOOL
written by Stuart Gibbs (Simon & Schuster, $16.99, Apr. 2015, ISBN 978-1-4424-9489-3), 336p, Ages 10-13
Spy-in-Training thirteen-year-old Ben Ripley from Spy School (2012) and Spy Camp (2013) is tricked into accidentally shooting a live mortar into the principal's office and is immediately expelled. Soon after returning to civilian life Ben is recruited by SPIDER, a top secret organization of evildoers. Realizing that he was planted in SPIDER as a double agent, Ben infiltrates the school, makes friends, and uncovers plans to blow up New York City. Full of action, adventure, and espionage, this latest installment provides plenty of excitement and entertainment.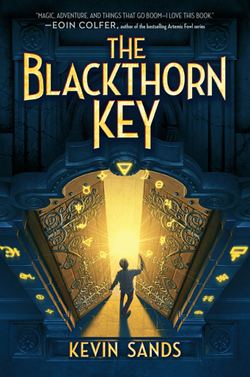 THE BLACKTHORN KEY
written by Kevin Sands, (Aladdin Books, $17.99, Sept. 2015, ISBN 978-1-4814-4651-8), 385p, Ages 12-15
The year is 1665 in London where Christopher Rowe, apothecary apprentice to Master Benedict Blackthorn, enjoys solving puzzles and deciphering complex codes. When several apothecary guild members turn up dead, including his master, Christopher and his best friend, Tom, determine to bring the killers to justice. Using astronomy, botany, chemistry, and clues left by Master Blackthorn, they discover an alchemical formula that will change the course of history. Pursued by rival apothecaries, a deadly cult, and the law, Christopher and Tom use courage, intelligence, and determination to survive. With heart-stopping adventure, rich action, suspense, historical details, and a touch of the supernatural, kids will love the intriguing characters and humorous moments. The author warns readers against trying 17th century remedies included in the story, however, it's unlikely kids will try a recipe involving marinating pigeon droppings in urine.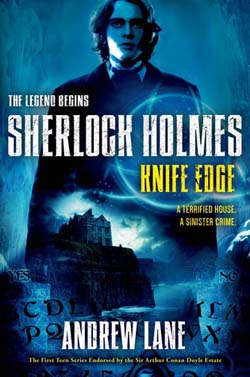 KNIFE EDGE (Sherlock Holmes: The Legend Begins)
written by Andrew Lane, (Farrar, Straus, Giroux Books, $18.99, Dec. 2015, ISBN 978-0-374-38011-3), 320p, Ages 14-18
This latest installment in the Sherlock Holmes: The Legend Begins series finds teenage Sherlock joining his brother, Mycroft, on a government mission to Ireland, where they investigate a mysterious spiritualist, who claims to communicate with the dead. Representatives from the Russian, German, Austria-Hungarian, American, and British governments arrive at Cloon Ard Castle to witness a séance by spiritualist, Ambrose Albano, who plans to demonstrate his "gifts" and auction off his "talents" to the highest government bidder. Suspecting a hoax, Sherlock uses his analytical mind, powers of deduction, and passion for justice to expose the medium's secrets, solve several Castle murders, deal with an old adversary, Baron Maupertius, and work through his feelings for a lost love. This latest installment will not disappoint readers.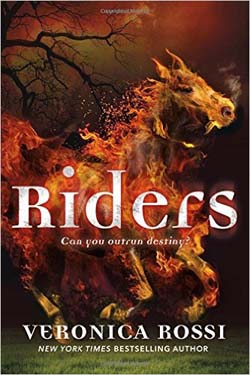 RIDERS
written by Veronica Rossi, (Tor Teen, $17.99, Feb. 2016, ISBN 978-0-7653-8254-2), 368p, Ages 17+
After a fatal military accident, 18-year-old Gideon Blake miraculously returns to life with special powers, a strange red cuff, magical weapons, a fiery horse, and a destiny beyond his wildest dreams. He is now War, one of four manifestations of the legendary Horsemen of the Apocalypse from the Bible. Given their different personalities and backgrounds, Gideon and the three other Horsemen (Sebastian as Famine, Marcus as Death, and Jode as Conquest), learn to work as a team with mystical weapons, superpowers, and magical horses. "Out of the fog came the most stunning thing I'd ever seen … A massive horse, almost as wide as my Jeep, coming at a full gallop … I couldn't be sure, but its coat was a bizarre red color like blood from a deep cut, but bright … Even stranger were the flashes of gold and yellow on its hooves and mane. Flashes that looked like flames." Led by a girl with a mysterious key, Gideon the enforcer, Sebastian the clown, Marcus the loner, and Jode the playboy ride forth to fight the evil Kindred, seven former followers of Satan, who seek to destroy the good in humanity, establish their own realm, and create slaves of mankind. The story is told by Gideon in flashbacks while under interrogation by government officials. Teens will enjoy this first book in an action-packed, intense duology, filled with intriguing characters, magnificent horses, weapons, a bit of romance, and a quest to save the world from evil. The final installment cannot come too soon.
ABOUT US
The Children's Hour was created to promote and encourage reading to children and by children. We believe that reading aloud not only creates a special bond between parents and children, but it is important to the development of their imagination and curiosity.
The Children's Hour
150 N. Santa Anita Ave.,
Suite 300
Arcadia, CA 91006
626-791-4848
Conditions of Use
Privacy Policy