Welcome to the Children's Hour where reading to children and reading by children is considered a high priority to their success in life. Literacy begins by reading to children, but is developed over the years when great literature is available for their listening and reading enjoyment.

The best children's books contain imaginative stories, memorable characters, beautiful illustrations, and lyrical language. Well-written stories should contain heroes and role models to imitate. Great books should be enjoyable reads, make the world a better place, and incorporate heart, humor, and hope.

Be sure to sign up our monthly newsletter and receive advanced information on the best in children's literature available to read and read-aloud today.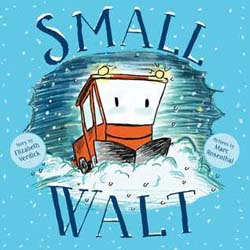 SMALL WALT
written by Elizabeth Verdick, illus. by Marc Rosenthal, (Simon & Schuster/Paula Wiseman Book, $17.99. Oct. 2017, ISBN 978-1-4814-4845-1), 40p, Ages 3-6
Smallest in a fleet of large, yellow snowplows, Small Walt hopes to be picked this time to clear the roads when a huge snowstorm blows in. Thinking he is too little to keep up, the crew leaves the little red snowplow behind. Suddenly a worker rushes to check his load of ice-melting salt, inspect the salt spreader, and test the plow and lights. Declared "good to go," Gus steers him over icy bridges, ramps, and steep hills while Small Walt hums, "My name is Walt. / I plow and I salt. / I clear the snow / so the cars can go!" With determination and perseverance, Small Walt wins the respect of the larger snowplows and is rewarded with a blue scarf that Gus ties around his rearview window. Timeless messages of never giving up and teamwork make this a perfect story for reading aloud during cold seasons and snowy weather.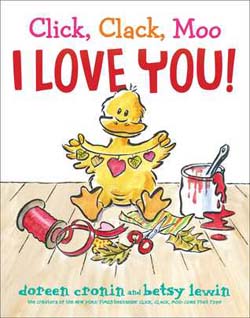 CLICK CLACK MOO I LOVE YOU
written by Doreen Cronin, illus. by Betsy Lewin, (Atheneum Books, $17.99, Dec 2017, ISBN 978-1-4814-4496-5), 40p, Ages 3-7
Valentine's Day is approaching and Farmer Brown is busy cleaning the pigpen, stocking hay for the donkey, and mending broken fences, while Little Duck is decorating the barn for the party. "Little Duck worked hard, too. She tied balloons to … everything. She strung sparkling lights between…everything. She made hearts out of anything she could find." When the party begins, Little Duck gives each animal guest a handmade valentine and they supply the food, except for the cows that went to the Divine Bovine Ball. When the music begins, everyone begins dancing, until an uninvited guest appears and the animals wonder if he will join them or eat them. Unafraid, Little Duck gives him her last valentine, and everyone dances until the cows literally come home. Kids will enjoy this fun filled celebration, especially the mice hustle.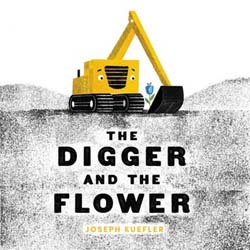 THE DIGGER AND THE FLOWER
written/illus. by Joseph Kuefler, (Balzer + Bray, $17.99, Jan. 2018, ISBN 978-0-06-242433-4), 48p, Ages 3-7
It's a great day for Crane, Dozer, and Digger as they begin to clear space for buildings, bridges, and roads on a construction project in the city. When Digger spies a tiny blue flower in the rubble, he decides to abandon his mission and care for it. "Every day, while the other big trucks built, Digger visited the flower. He watered it when its leaves looked dry. And just before he switched off for the night, Digger sang the flower a bedtime song." Deciding that their digging was more important than the flower, Dozer cuts it down. Find out how Digger finds a way for the flower to live on in this simple and charming story of compassion, heroism, and rebirth.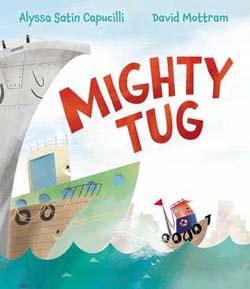 MIGHTY TUG
written by Alyssa Satin Capucilli, illus. by David Mottram, (Simon & Schuster/Paula Wiseman Books, $17.99, Jan. 2018, ISBN 978-1-4814-7681-2), 40p, Ages 3-5
At daybreak around the busy New York Harbor an energetic little tug guides large and small watercraft to their various slips. From towering cargo ships and barges to tall sailing ships and lost rafts, "Mighty Tug hugs their side. Push-and-pulling across the harbor, until the daylight slips away." Before retiring, Mighty Tug even helps a fireboat rescue a boat on fire. Small in stature, Mighty Tug is the strongest and bravest of them all.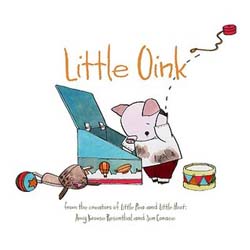 LITTLE OINK
written by Amy Krouse Rosenthal, illus. by Jan Cordce, (Chronicle Books, $14.99, 2009, ISBN 978-0-8118-6655-2), 36p, Ages 3-6
Little Oink is a clean, tidy, and compulsively neat little pig, despite his parents objections. "If you want to grow up to be a respectable pig, you must learn how to make a proper mess." In order to go outside and play Little Oink must unmake his bed, unfold his clothes, throw his towel on the floor, don a stained T-shirt, and throw all his toys on the floor. What does play consist of? Sweeping, scouring, and scrubbing his tree house. Kids will have fun with this humorous twist on childhood chores, as well as the late Amy Krouse Rosenthal's Little Pea (2005) and Little Hoot (2008).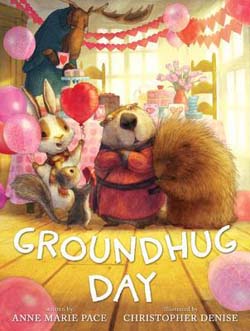 GROUNDHUG DAY
written by Anne Marie Pace, illus. by Christopher Denise, (Disney-Hyperion Books, $17.99, Dec. 2017, ISBN 978-148475356-9), 48p, Ages 4-7
Moose is busy planning a Valentine's party, until Bunny reminds him that tomorrow is Groundhog Day. "If Groundhog sees his shadow, he'll go back into his hole for six more weeks. He won't be awake on February 14th." All through the night Moose, Bunny, Squirrel, and Porcupine try many solutions involving calendars, blindfolds, tents, and hole-sitting, until they realize that Groundhog has already seen his shadow and returned home for six more weeks. Realizing that Groundhog is shadow challenged, they propose funny ways to ease his fears. Settling for hugs, Groundhog returns six weeks later just in time for a St. Patrick's Day, except why is Bunny is missing? Kids will love the chalkboard drawings and puppet charades in this clever holiday mix-up tale.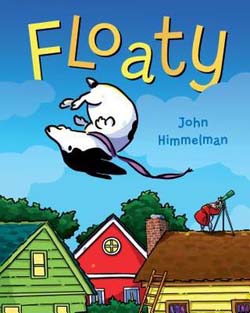 FLOATY
written/illus. by John Himmelman, (Henry Holt, $17.99, Jan 2018, ISBN 978-1-250-12805-8), 32p, Ages 4-7
Mr. Raisin, a grumpy old man, who lives alone and spends his time sewing, finds a basket on his doorstep with a note, "All yours! Too much trouble! Good luck!" Inside he finds a small dog, who promptly floats to the ceiling and become stuck. His first thought is to release the dog outside, but has second thoughts, relents, and gradually warms up to it. Tossing cornflakes into the air for food, using a garden hose to squirt water for drinking, and naming him Floaty, Mr. Raisin takes walks while Floaty sails above like a kite. When the leash snaps and Floaty sails away, Mr. Raisin is devastated, and searches for him day and night on the roof with a telescope. After a thunder and lightning storm blows in, Mr. Raisin comes up with a perfect solution to rescue Floaty. Kids will enjoy the humor and heart of this unusual relationship between pet and owner, especially when Floaty snags a pizza from an unsuspected delivery man.
THE NEW LIBEARIAN
written by Alison Donald, illus. by Alex Willmore, (Clarion Books, $16.99, Jan. 2018, ISBN 978-0-544-97365-7), 32p, Age 4-7
When the librarian fails to show up for story time, the children follow a trail of paw prints "through a galaxy, into an ocean, and down a runway" to the librarian's sticky desk with spilled honey and torn books. There, they discover a new librarian—a bear wearing a "Librarian" name tag. He is more than happy to read them a story about bears, including growls, stomps, and roars, much to their delight. When the regular librarian returns, she explains that, "A volcano erupted in the Ancient History section, and there was hot lava everywhere." As she begins to read from Goldilocks and the Three Bears, it seems that Baby Bear is missing from the tale. Kids will love the surprise ending in this cute, magical story.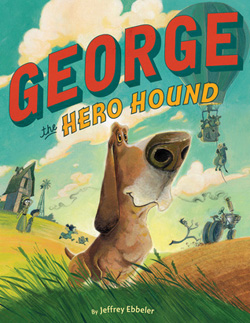 GEORGE THE HERO HOUND
written by Jeffrey Ebbeler, (Two Lions, $17.00, March 2018, ISBN 978-1503941762), 40p, Ages 4-7
Good old George is a kind and helpful hound dog around the farm. "Every day George was up, even before the chickens to help old Farmer Fritz with the chores. That rust-bucket tractor was always falling apart… and those wily cows were always plotting to get out and feast on the cornfield." When Farmer Fritz retires and moves to the beach, George is left behind to help the new owners, the Gladstones, who know nothing about farming. He helps Mr. Gladstone with tractor repairs, herds the sneaky cows back into the pen when they escape, and locates Owen's little sister, Olive, when she goes missing (enjoying a tea party with one of the chickens). With the farm finally running smoothly, George is happy just herding Olive. Kids will love the cows and their sneaky ways of escaping, the names given George by the family, and the hilarious illustrations.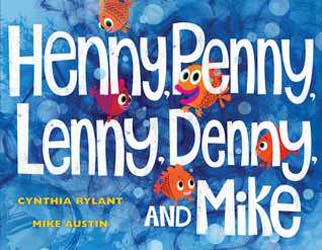 HENNY, PENNY, LENNY, DENNY, AND MIKE
written by Cynthia Rylant, illus. by Mike Austin, (Beach Lane Books, $17.99, Sept. 2017, ISBN 978-1-4814-4523-8), 40p, Ages 3-8
Five fish friends from a pet shop are taken home by a little girl and plopped into her aquarium, where they love the orange gravel, the diver, a beautiful rock, a pirate ship, and bubbles, but not the resident yucky snail, which they ignore. Their days are perfect with swimming, gulping, and blowing kisses to the little girl, except on cleaning day. When three new additions join the group, they laugh at the clown fish's jokes, admire the angel fish, and love the fairy castle, until Lenny becomes trapped in the door of the castle. "The clownfish tries to lighten the mood with a joke. The angelfish begins to pray. Yet nothing unsticks Lenny." When the overlooked and ignored snail comes to the rescue, everyone is grateful with lots of kisses, jokes, and prayers. Charming and loaded with fun, kids will love these friendly, fun-loving fish is grateful and one goofy snail.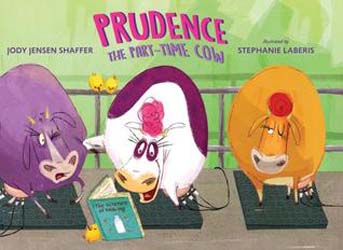 PRUDENCE THE PART-TIME COW
written by Jody Jensen Shaffer, illus. by Stephanie Laberis, (Henry Holt & Co., $16.99, June 2017, ISBN 978-1-62779-615-6), 32p, Ages 4-8
Prudence is a book-loving cow and takes every opportunity to study science, architecture, and engineering. "When it was pond-standing time, Prudence stood with the herd. She was doing great … but then she calculated the water temperature and wind speed." Not impressed, the cows complain that she is too different, and just, "a little too part-time" cow. In a moment of inspiration, Prudence devises a plan to win over the herd with her cow-pleasing inventions — an electronic "cow-culator" to keep track of the calves, a "portable shade tree" from an umbrella and saddle, and a guitar for the bull. With creativity, intelligence, and problem-solving skills, Prudence finally becomes a full member of the herd but still remains a part-time cow who loves to read.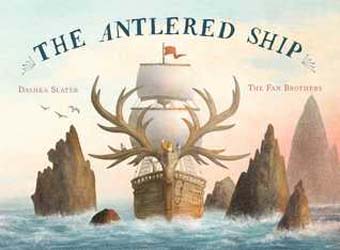 THE ANTLERED SHIP
written by Dashka Slater, illus. by The Fan Brothers, (Beach Lane Books, $17.99, Sept. 2017, ISBN 978-1-4814-5160-4), 48p, Ages 4-8
When a lost ship arrives looking for a seaworthy crew, Marco, a very inquisitive fox, sees an opportunity to find answers to his many questions about life ("How deep does the sun go when it sinks into the sea?" "Why don't trees talk?" What's the best way to find a friend you can talk to?") Along with a flock of pigeons, Marco joins up to set sail for Sweet Tree Island. It's a difficult journey with stormy seas, fierce pirates, sharp rocks, seasickness, and questionable food. Once they arrive, Marco finds sweet grass and short sweet trees, but no answers to his questions, until he realizes that new friends and further adventures are more than enough, as they agree to set sail for the Island of Scrumptious Shrubbery. Detailed maps of the journey are included in the book's endpapers in this wonderful story of friendship and curiosity.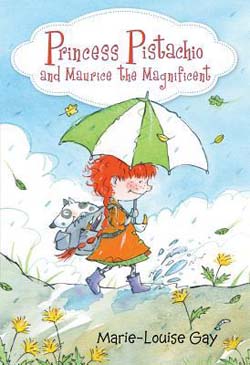 PRINCESS PISTACHIO AND MAURICE THE MAGNIFICENT
written/illus. by Marie-Louise Gay, (Pajama Press, $10.95, Sept. 2017, ISBN 978-1-77278-021-5), 160p, Ages 5-8
Pistachio is on a mission to give her sleeping dog a more exciting life. However, when she sneaks Dog into her class for Show-and-Tell, disaster results. When Dog tumbles out of her backpack onto the teacher's desk, "Dog flops out like a pile of laundry. He shakes his head. His ears flap like clothes on a line. A stack of exam papers flutter to the floor. Dog sniffs Mr. Grumblebrain's apple and licks it. Then he swallows an eraser in one gulp." Determined to change Dog's life, Pistachio spots a sign about dog auditions for a new theater production, and she knows that Dog is a perfect candidate. After winning the part of Sleeping Beauty, Pistachio gives him the stage name of Maurice the Magnificent, and his career takes off. With all the attention given to Maurice, Pistachio neglects her best friend, Madeline, who is forced into taking drastic measures to renew the friendship. Kids will enjoy this third chapter book in the Pistachio series.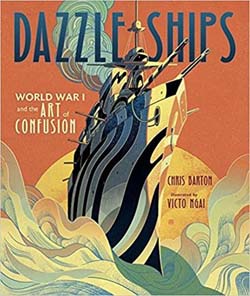 DAZZLE SHIPS: World War I and the Art of Confusion
written by Chris Barton, illus. by Victo Ngai, (Millbrook Press, Sept. 2017, $19.99, ISBN 978-1-5124-1014-3), 36p, Ages 7-11
According to Webster's dictionary, Dazzle means "to impress deeply, overpower, or confuse with brilliance." In early 1917 during World War I, the British were in danger of losing many of their food-carrying merchant ships to German submarine attacks. Britain was threatened with starvation until Norman Wilkinson of the Royal Naval Volunteer Reserve discovered a way to camouflage ships with crazy designs (Dazzle) to confuse the enemy about the speed and direction of the ships. After the United States joined the war, "1,256 American ships had been painted in dazzle designs along with close to 3,000 British ships." Readers will enjoy with this little known history of military strategy, creativity, and improbable solutions. Endpapers include Author's Note, Illustrator's Note, Timeline, and suggestions for further reading.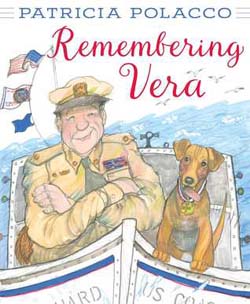 REMEMBERING VERA
written/illus. by Patricia Polacco, (Simon & Schuster, $17.99, Oct. 2017, ISBN 978-1-4814-4227-5), 32p, Ages 7-10p
Patricia Polacco recounts a heartwarming and true story of an abandoned puppy, which becomes a Coast Guard hero and mascot of the Coast Guard Base in San Francisco in the 1960's. Found under a file of boxes in a Coast Guard warehouse and rescued by a cadet, it was love at first sight. Vera, named after the cadet's favorite aunt, captured the love of the sailors as well, and "Pretty soon she was standing watches with them. She'd march the quad and do drills with them. She stood at attention during morning reveille and even went out on the bay aboard the buoy tenders." Many times with fierce determination and courage Vera swam across raging waters to rescue passengers on sinking boats and ferries. Inspired by real event, Patricia Polacco also includes the time that she met Vera at the Oakland SPCA. The Author's Note explains this little hero's final resting place on Government Island in the Bay Area as an honorary member of the United States Coast Guard.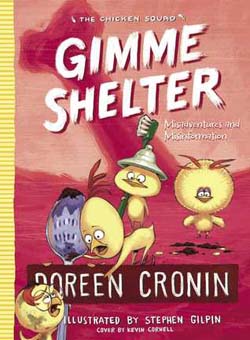 THE CHICKEN SQUAD #5: GIMMIE SHELTER: Misadventures and Misinformation
written by Doreen Cronin, illus. by Kevin Cornell, (Atheneum Books for Young Readers, $12.99, Dec. 2017, ISBN 978-1-5344-0571-4), 128p, Ages 7-10
According to the Chicken Squad a storm is brewing and likely to hit soon. So they begin digging a storm shelter in the backyard with spoons. "'There's always a storm coming kid,' replied Sugar. 'I've been watching those Connolly kids next door, and they've been moving all kinds of things into their garage. A little bit every day. They know something is coming, and now I know something is coming, too.'" Soon they unearth what they think is the leg of a female T-rex, or maybe a Unicorn bone, and an eyeball. They decide to create a grid to track their discoveries, but are somewhat hampered by the squirrels and chipmunks digging their own holes for protection. Kids will love the Restricted Area signs, the humorous Chicken Squad illogical logic, the ping pong ball storm, the emergency tunnel, and J. J. saving the day.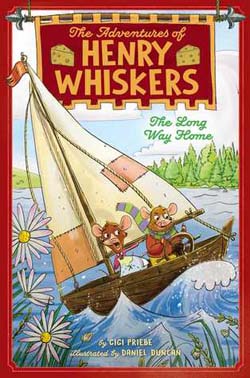 THE LONG WAY HOME #2 (The Adventures of Henry Whiskers)
written by Gigi Priebe, illus. by David Duncan, (Aladdin Books, $16.99, Aug. 2017, ISBN 978-1-4814+6578-6), 160p, Ages 7-10
When Henry discovers a mysterious treasure map in the Queen Mary's Dollhouse at Windsor Castle where he lives with his family, he searches for his cousin, Jeremy, to share his exciting find. After they are captured by the kitchen staff and dumped in a park far away from the castle, they battle hungry falcons and stormy lakes to find a way home. Field mice not only come to their rescue, but provide connections to Henry's father and the treasure map. In his quest for truth and home, discover how Henry finds friendship and excitement beyond his wildest dreams in this fun and fast-paced follow-up to The Adventures of Henry Whiskers (2017).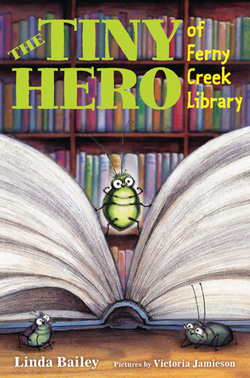 THE TINY HERO OF FERNY CREEK LIBRARY
written by Linda Bailey, illus. by Victoria Jamieson, (Greenwillow Books, $16.99, June 2017, ISBN 978-0-06-244093-8), 336p, Ages 8-12
Eddie, a little green bug, lives with his 53 siblings, parents, and Aunt Min behind the chalkboard in the fourth-grade classroom of Ferny Creek Elementary School. Aunt Min taught Eddie to read and told him about the wonderful classics from Dr. Seuss to E. B. White in the school library. When she fails to return from the library one day, Eddie begins a quest to find her, dodging sneakers, spiders, and falling books, only to find her injured, starving, and hiding on the librarian's desk in the paper tray. Once there, Eddie discovers that the substitute librarian wants to board up the windows, remove all the books, and turn the library into a testing center. Eddie begins another quest involving sticky notes, blueberry juice, and licorice. Readers will thoroughly enjoy this unlikely hero, who faces dangers and obstacles with tenacity and perseverance. Endpapers include "Eddie & Min's Bugliography" featuring over 25 classics for reading and reading aloud.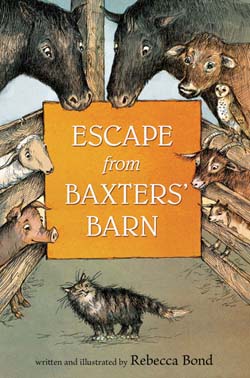 ESCAPE FROM BAXTER'S BARN
written/illus. by Rebecca Bond, (Houghton Mifflin Harcourt, $16.99, HC 2015, PB 2017, ISBN 978-0-544-33217-1), 256p, Ages 8-11
When the barn cat, Burdick, overhears a sinister plot by Farmer Baxter to burn down the barn for insurance money, he notifies the group of barn animals, who band together to hatch a plan of escape. With teamwork, cooperation, and persistence Burdick the one-eyed cat, Figgy the pig, Mrs. Brown the jersey milk cow, Nanny the goat and her kid Tick, Pull & Tug the Shire draft horses, Fluff the sheep, and Noctua, the barn owl work together to escape and find a new home. As logistic problems arise, different animals provide solutions to each obstacle. The delightful illustrations by the late Rebecca Bond add to the enjoyment of the clever story.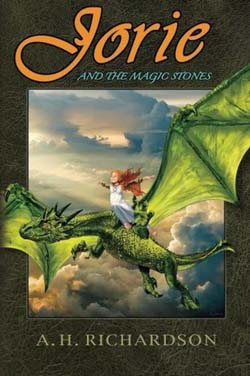 JORIE AND THE MAGIC STONES
written by A. H. Richardson, (Serano Press, $14.95, 2014, ISBN 978-0-692-35892-4), 268p, Ages 8-12
Nine-year-old Marjorie Beatrice Weaver (Jorie) could never have imagined an adventure with dragons, enchanted stones, and a cave of fire, until she is sent to live with her great aunt. After meeting Rufus, an insecure boy, who lives with his grandfather next door, an unlikely friendship develops between them. When Jorie discovers an ancient book about dragons containing four strange words, she speaks them aloud and the two kids begin an exciting adventure to a magical land beneath the backyard pond (the Tarn). There, they meet a good dragon, the Great Grootmonya, who enlists their help in finding three magic stones that belong to his land. In a battle of good versus evil, Jorie and Rufus discover loyalty, courage, friendship, and responsibility as they meet delightful inhabitants of mysterious lands, bond with a baby dragon, and fight an evil dragon, a poisonous butterfly, and a greedy professor. Filled with exciting adventure, magical characters, and mysterious powers, readers will look forward to the next installment in this fun-filled series.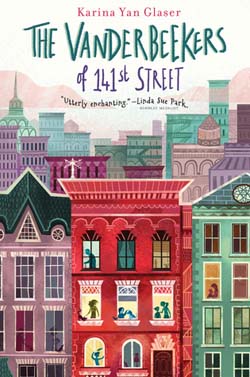 THE VANDERBEEKERS OF 141ST STREET
written by Karina Yan Glaser, (Houghton Mifflin Harcourt, $16.99, Oct. 2017, ISBN 978-0-544-87639-2), 304p, Ages 9-12
Down on 141st Street in Harlem, New York there lives a warm and loving family called the Vanderbeekers, who love their old brownstone home with its whistling pipes, wobbly banisters, and "the crack in the shape of Eastern Europe on the ceiling." 12-year-old twins Isa and Jessie, 9-year-old Oliver, 6-year-old Hyacinth, and 4 (and 3/4)-year-old Laney, along with Frantz, the dog, George Washington, the cat, Paganini, the rabbit, and parents look forward to Christmas with great anticipation. When their landlord, Mr. Beiderman, decides not to renew their lease at the end of the year, the parents look for new accommodations, and the children, who consider the brownstone a member of the family, begin a mission to change their grouchy, reclusive landlord's mind in 11 days. From building a scientific contraption to water the garden from the roof and leaving small gifts outside his door to obtaining community signatures on a petition, nothing makes a difference, until they realize that the landlord's disposition is grounded in tragedy. This heartwarming and humorous story about family, friends, and community coming together during difficult times will charm and captivate readers from the first page. And yes, this Christmas book is a great read any time of the year.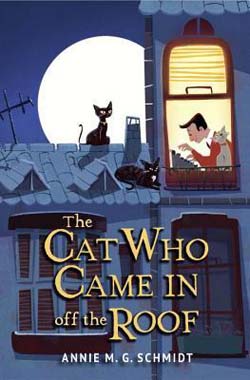 THE CAT WHO CAME IN OFF THE ROOF
written by Annie M. G. Schmidt, translated by David Colmer, illus. by Eda Kaban, (Delacorte Press, 2016, $14.99, ISBN 978-0-553-53503-7), 160p, Ages 10+
Mr. Tibble is a shy newspaper reporter, who only writes about cats. After nearly losing his job, he rescues a young woman from a tree that she climbed trying to escape a dog. When Minou confides in Tibble that she used to be a cat, he gives her room (a box with fresh newspaper), board (fish), and a job as his secretary in exchange for juicy scoops from her newly organized "Cat Press Agency." She passes on non-cat stories from local felines, who feed her scoops that Tibble turns into great articles. The Church Cat, Ecumenica, "found a pot of old coins while scratching in the churchyard for simple toiletry reasons." When he writes a story that reflects very badly on a well-known, but ruthless businessman, Tibble's job is in jeopardy again. Find out how one young girl, the cats of Killenthorn, and Minou save Tibble's job and rescue the community from a corporation takeover. Kids will love the various cat names (the Butcher's Cat, Council Cat, Pump Cat, Metropole Cat, Deodorant Cat, etc.), the Great Yawl-Yowl Song, and Minou's efforts to suppress her cat urges. This 1970 Dutch classic, translated in 2014 brings readers a great tale of transformation and friendship. With haughty villains, quirky cats, and madcap action, this charming and humorous tale is a treat for the young and young at heart.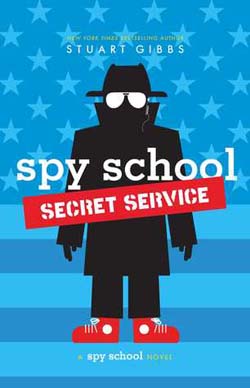 SPY SCHOOL SECRET SERVICE
written by Stuart Gibbs, (Simon & Schuster, $16.99, Oct. 2017, ISBN 978-1-4814-7782-6), 336p, Ages 10-13
13-year-old Ben Ripley begins his second year at Spy School (the CIA Academy of Espionage) with an assignment to infiltrate the White House and prevent a presidential assassination. Posing as a friend of the President's son, things begin to go wrong when Ben discovers a bomb hidden in his jacket. The resulting explosion destroys the Oval Office, and Ben is on the run from the CIA, FBI, Secret Service, and police. With only his gift for mathematics and loyal friends, Ben embarks on a wild, action-packed romp from one Washington D.C. landmark to another while eluding authorities and fighting the evil organization SPYDER. Readers will enjoy Ben's world of action, intrigue, and laugh-out- loud humor in this latest thriller.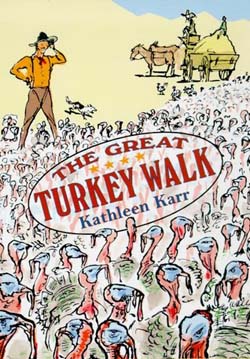 THE GREAT TURKEY WALK
written by Kathleen Karr, (Farrar, Straus and Giroux, 1998, ISBN 978-0-3747-32773-4), 208p, Ages 14+
In 1860 a 15-year-old, who has just completed third grade (for the fourth time), is advised by his teacher that, "As much as I've enjoyed your companionship, it's time for you to brave the world. To spread your wings." When an opportunity to purchase 1,000 turkeys presents itself, Simon Green hatches a plan to walk them from eastern Missouri to Denver, Colorado and make a sizeable profit. With his former teacher bankrolling the project, Simon picks up a drunken muleskinner and his dog to help, and eventually a runaway slave, and a sole survivor of cholera on the prairie. Thus begins an unforgettable journey herding the turkeys 900 miles braving weather, rustlers, rivers, Indians, a rogue U.S. Calvary, Simon's unscrupulous father, and a storm of grasshoppers (which the turkeys enjoyed). Readers will love this heroic young entrepreneur bent on making his way in the world, in this classic and comic western epic featuring a cast of endearing and capable young people with good old fashioned common sense and wisdom. Inspired by actual turkey drives in the American west, the late Kathleen Karr had first hand knowledge of poultry having grown up on a chicken farm in New Jersey.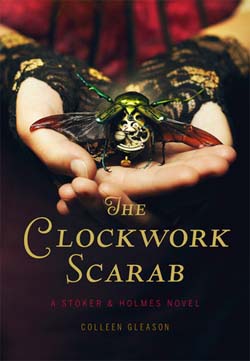 THE CLOCKWORK SCARAB #1 (A Stocker & Holmes Novel)
written by Colleen Gleason, (Chronicle Books, 2013, $17.99, ISBN 978-1-4521-1070-7), 356p, Ages 14+
In 1889 London, Princess Alexandra, sister-in-law to Queen Victoria, requests the services of Alvermina Holmes (niece of Sherlock) and Evaline Stoker (sister of Bram) to investigate the disappearance of young society women and several recent murders. Forming a partnership has its challenges, as Evaline, a vampire hunter, hates blood, and Mina has insecurity problems. Their investigation leads them to the mysterious Society of Sekhmet whose leader, Ankh, is sacrificing young women to bring back the Egyptian goddess Sekhmet. To solve the case, they join the cult. With the help of a young time traveler from 2016, a young street thief, and an irritating Inspector, the two puzzle out an expanding mystery before they become targets. Set in steampunk London, this action-packed murder/mystery with its alternate history, time travel, Egyptian mythology, and compelling characters will have readers yearning for the next title in the series.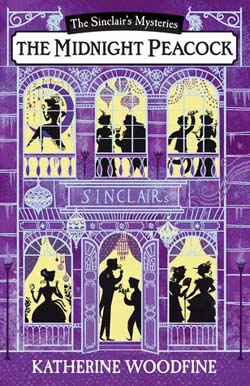 THE MYSTERY OF THE MIDNIGHT PEACOCK #4 (The Sinclair's Mysteries)
written by Katherine Woodfine, illus. by Julia Sardà, (Egmont, 2017, $6.99, ISBN 978-1-4052-8290-1), 352p, Ages 13+
This thrilling conclusion to The Sinclair's Mysteries series finds Sophie and Lil helping with the preparations for Mr. Sinclair's New Year's Eve Midnight Peacock Ball. Little do they realize that Sophie's nemesis, the Baron, has planned his own New Year Eve party, which includes a royal assassination and explosions in Piccadilly Circus. Friends come together to thwart the Baron, and Sophie finally discovers answers to her family's fate. Readers, who love the series will look forward to the new series, "Taylor & Rose."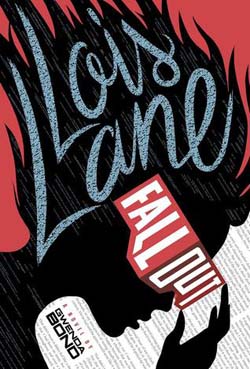 FALLOUT (Lois Lane series)
written by Gwenda Bond, (Switch Press, 2015, $16.95, IBSN 978-1- 63079-005-9), 304p, Ages 14-18+
16-year-old Army brat, Lois Lane, has lived many places, but now that her family is setting down roots in Metropolis, she is determined to keep a low profile in a new high school. Due to her brash personality and highly ethical nature, trouble is no stranger to Lois. On her first day, Lois meets the weird Warheads, and bristles at their bulling of another girl. Using her new position as junior reporter for the Daily Planet, Lois convinces the other three teen reporters to join in her investigation of high-tech immersive video games that the Warheads are using to manipulate students' minds. Trouble follows, when Lois discovers that an unscrupulous research laboratory and the principal are behind the mind-controlling experiments called Hydra. Readers will also enjoy piecing together the identity of Lois' online mysterious friend, "Smallville Guy." Friendships are tested, loyalties are questioned, teamwork is solidified, and one headstrong, capable, and persistent teen finds purpose and direction as an investigative reporter. Readers are in for a treat in a great investigative series featuring a DC Comics' fantastic lady.
ABOUT US
The Children's Hour was created to promote and encourage reading to children and by children. We believe that reading aloud not only creates a special bond between parents and children, but it is important to the development of their imagination and curiosity.
The Children's Hour
150 N. Santa Anita Ave.,
Suite 300
Arcadia, CA 91006
626-393-5899
Conditions of Use
Privacy Policy