Welcome to the Children's Hour where reading to children and reading by children is considered a high priority to their success in life. Literacy begins by reading to children, but is developed over the years when great literature is available for their listening and reading enjoyment.

The best children's books are filled with imagination and fun. Stories that take children into a world of delight and adventure present storytelling at its best. Children need stories for pleasure, laughter, and fun. Many times they need imaginative and nonsensical stories that may not have a scrap of useful information or lesson, but cheerful and delightful lunacy.

Be sure to sign up our monthly newsletter and receive advanced information on the best in children's literature available to read and read-aloud today.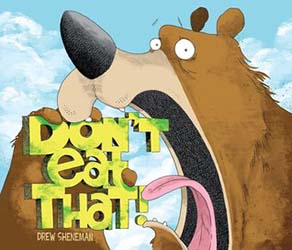 DON'T EAT THAT!
written/illus. by Drew Sheneman, (Viking Books for Young Readers, $17.99, June 2018, ISBN 978-1-101-99729-1), 40p, Ages 3-5
A young girl discovers many obstacles when she tries to help a lost bear find food. Dropped off by the City Zoo Animal Transport, the hungry bear hasn't a clue how to function in the woods. Determined to earn her nature merit badge, Gertie watches Bear forage for food. Preventing him from eating a rock ("What were you thinking?"), herself ("That would be terribly rude."), a skunk ("You'll regret it."), dirt, clouds, and pinecones, Gertie declares him hopeless after he shreds her guidebook. Upon hearing his tummy grumbling, she decides to work with new ideas involving berries, bees, and fishing (he can't swim.) As a way of thanks, Bear picks her a flower and she announces, "It's my favorite merit badge yet!" Walking hand in hand to the scout campsite, she tells him about s'mores and smoothies—"My favorite is strawberry banana. It's Berry appealing. Get it?" With messages of friendship and teamwork, kids will love the silly puns, the adorable, clueless bear, and a little girl's determination to help.
Themes: Animals, Friendship, Food, Friendship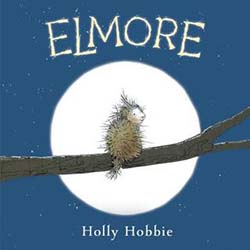 ELMORE
written/illus. by Holly Hobbie, (Random House, $17.99, Jan. 2018, ISBN 978-1-5247-1863-3), 40p, Ages 3-7
A self-reliant, but lonely porcupine longs for friends, but the animals in the meadow consider him too prickly. Elmore is discouraged and dejected, until his uncle tells him that he is handsome, his quills are beautiful, and they should be treasured. The compliment gives Elmore a great idea. Bundling up the quills, he posts a sign: "Elmore Quill Pens 100% real Porcupine quills FREE." The animals love the pens and especially Elmore's suggestion of making ink from berries. One morning Elmore sees a new sign on his tree—"You are a beautiful porcupine. Our woods are lucky to have you. Your friends" This warmhearted and inventive little porcupine will touch many hearts.
Themes: Animals, Friendship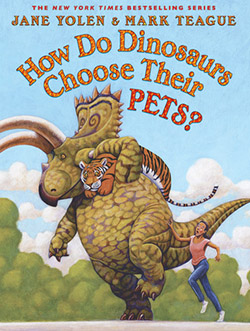 HOW DO DINOSAUARS CHOOSE THEIR PETS?
written by Jane Yolen, illus. by Mark Teague, (Blue Sky Press, $16.99, Jan 2017, ISBN 978-1-338-03278-9), 40p, Ages 3-5
Mischievous dinosaur children consider how to choose a pet in this cute installment of Jane Yolen's dinosaur series. "Does he head to the zoo / and take home a big cat? / (And what does his mom / have to say about that?)" In rhyme, choices are considered involving an elephant, boa constrictor, zebra, kangaroo, and even a dragon. Readers and dinosaurs are taught better ways to choose a pet involving pet stores, shelters, or farms for bringing home bunnies, kittens, hamsters or puppies, and teaching them manners, giving love, and providing lots of hugs as they both grow up. Little dinosaur lovers will enjoy the lesser known dinosaurs which are featured on the inside covers with their pets.
Themes: Concept, Dinosaurs, Humor, Rhythm & Rhyme, Series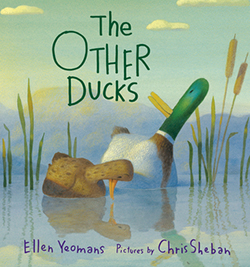 THE OTHER DUCKS
written by Ellen Yeomans, illus. by Chris Sheban, (Roaring Brook Press, $17.99, May 2018, ISBN 978-1-62672-502-7), 40p, Ages 3-6
This Duck and That Duck are great friends, but This Duck realizes that other ducks should be around to waddle in a line with them. "Two is not a line. Two is a follow. A line is better. A Line is more ducky. We need other ducks for that." When they come upon a pond, they see their reflections and assume other ducks are in the water. However, the ducks are always upside down, never waddle behind them, and disappear when it rains. As autumn approaches their feathers begin to itch and they join other "birdy-birds" flying south, only to realize that they have found the other ducks. The following spring. This duck and That Duck return to the pond with four adorable ducklings waddling behind them. Always curious, That Duck asks why they are so small, and This Duck replies "It's the way everything starts." Sweet, silly, and daffy, kids will enjoy this life-of-a-duck tale from a duck's point of view.
Themes: Animals, Friendship, Humor, Nature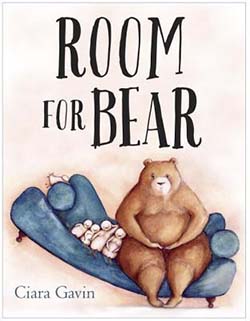 ROOM FOR BEAR
written/illus. by Ciara Gavin, (Knoph Books for Young Readers, March 2015, ISBN 978-0-385-75473-6), 32p, Ages 3-7
"When Bear wakes up one spring he goes in search of a new home. And he thinks he's found the perfect place. Unfortunately, things are a bit . . . snug." The duck family welcomes him and loves him unconditionally, as they try to accommodate his large size, At bedtime Bear sleeps on the roof and at mealtime his feet hang out the front window. With large hearts they all persevere until Bear realizes that he doesn't fit and leaves his new home. Missing the ducks terribly, Bear discovers the perfect duck-size solution to the problem, one in which everyone fits. Readers will love this sweet story of an unusual blended family.
Themes: Bears, Families, Series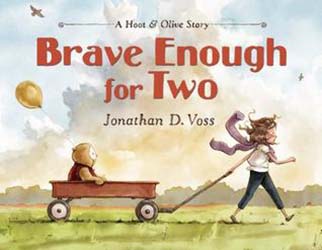 BRAVE ENOUGH FOR TWO
written/illus. by Jonathan D. Voss, (Henry Holt & Co., $17.99, June 2018, ISBN 978-1-250-12748-8), 40p, Ages 4-7
"Hoot was Olive's very best friend in the whole wide world. But as you know, best friends don't always like the same things." While Olive prefers adventures in books, Hoot, a chubby stuffed owl, prefers the real thing. Hoot declares that he has a surprise adventure for Olive, and promises to be brave enough for both of them. When he leads them to a make-shift hot-air balloon and flies them over rooftops and treetops, a storm comes up making for a bumpy landing. The balloon's basket then becomes a speedy boat, bobbing over rocks and waves until crashing on a shore, where Hoot discovers a rip in his stuffing. Leading them both safely home, Olive declares that she is brave enough for both of them. Applying a patch to Hoot's rip, they settle down for a bedtime story read by Olive. "'I was afraid today …But you were brave. And you kept me safe,' says Hoot. 'Don't ever be afraid,' Olive replies, 'I'll always keep you safe.'" With enchanting illustrations, kids and readers will love this memorable tale of friendship, taking chances, bravery, and protectiveness.
Themes: Adventure, Friendship, Heroes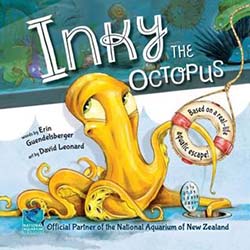 INKY THE OCTOPUS
written by Erin Guendelsberger, illus. by David Leonard, (Sourcebooks Jabberwocky, $17.99, April 2018, ISBN 978-0-4926-5414-8), 32p, Ages 4-7
"I live in a world of see-through walls, / in a tank with a locked-down lid. / I'm fed like a king three meals a day / of lobster, shrimp, and squid." So begins the tale of Inky, a friendly and charming captive octopus, who longs for the open sea. Finding his tank lid ajar one day, Inky slips out of the tank, slides across the floor, and down through a drain opening into the open ocean, where at last he is free. This fascinating tale is based on an actual escape by an octopus from the New Zealand Aquarium on April 16, 2016, where workers found arm "prints" on the floor leading to a 6-inch drainage hole. Endpapers describe the true story of Inky, short history of the National Aquarium of New Zealand, odd behaviors of other octopuses around the world, and their anatomy, behavior, and charm. Kids will enjoy Inky's humorous expressions, and especially his bag of belongings hanging from one of his tentacles as he envisions his quest.
Themes: Adventure, Oceans Lakes Rivers & Ponds, Rhythm & Rhyme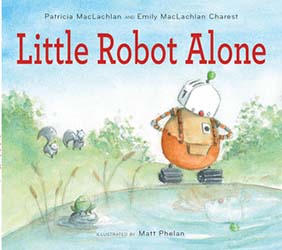 LITTLE ROBOT ALONE
written by Patricia MacLachlan / Emily MacLachlan Charest, illus. by Matt Phelan (Houghton Mifflin Harcourt, $17.99, June 2018, ISBN 978-0-544-44280-14), 40p, Ages 4-7
In a little cottage by a pond Little Robot leads a peaceful, but solitary life full of routine. In the morning after putting on his tracks and charging his battery, he sings a cute song with his breakfast, "Oats with cozy oil are yummy, / slipping slowly down my tummy," and then watches the birds, squirrels and fish. Indeed it's a lonely life, until one morning he wakes up with a light bulb idea and commences to build a friend. With metal, wood, a button, two marbles, soft wool, a small broom, and a battery for recharging, he creates a friend that licks, barks, and will love him forever. With energy, perseverance, and imagination, Little Robot has definitely found a cure for his loneliness.
Themes: Friendship, Inventions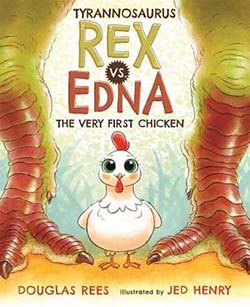 TYRANNOSAURUS REX VS. EDNA THE VERY FIRST CHICKEN
written by Douglas Rees, illus. by Jed Henry, (Henry Holt & Co., 2017, $17.99, ISBN 978-1-62779-510-4), 40p, Ages 4-7
Tyrannosaurus Rex might be fierce and terrifying, but Edna the chicken is brave, resourceful, and a formidable adversary in this humorous tale of bullies and heroes. In search of breakfast a T-Rex stomps and roars through the forest. All the dinosaurs flee except Edna, who decides to stand her ground. Not intimidated by his threats of sharp teeth, mighty claws, jaws, beak, and wings, Edna replies, "Beware my deadly stomp and long sharp teeth. Beware my pointy claws and many feathers." When he gobbles her up, find out how Edna uses her sharp teeth, claws, and feathers to cause the T-Rex havoc, sneeze her out, and flee the forest forever. "Which is why today there are no Tyrannosaurus Rexes but plenty of chickens." Author's Note explains why scientists believe that there might be a close relationship between birds and dinosaurs.
Themes: Dinosaurs, Food, Humor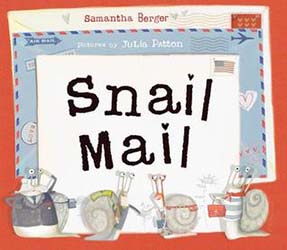 SNAIL MAIL
written by Samantha Berger, illus. by Julia Patton, (Running Press Kids, $17.99, May 2018, ISBN 978-0-7624-6251-3), 32p, Ages 4-8
It's a little known fact that, "before e-mail and texting, clicking and sending, mail was delivered in a much different way. A much s l o w w w w w w w w w e r way. It was called Snail Mail." When a little girl in Los Angeles sends a letter to a little boy in New York City, she chooses this mode of transportation, and four unusual snails are assigned to deliver it. Determined, ready, and able, Dale Snail, Gail Snail, Colonel McHale Snail, and Umberto slowly slither their way across the country with their motto: "Neither rain, nor snow, nor heat, nor hail will stop a snail from bringing the mail." As they travel through deserts, canyons, and mountains, over the country's heartland (catching a ride from sparrows), and on to New York, they considered their slow progress special, because the country was such an amazing place to see. With the letter safely delivered, they are congratulated by the United States Snail Mail Office and presented with gold medals for a job well done. Of course, they return home via the recently purchased Snail Mail Airlines. Kids will love the perseverance of dedicated mail carriers, the celebration of America's splendor, and power of handwritten letters.
Themes: Adventure, Animals, Friendship, Humor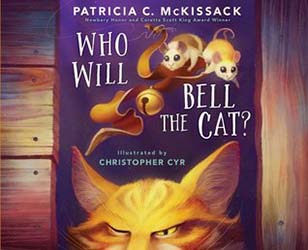 WHO WILL BELL THE CAT?
written by Patricia C. McKissack, illus. by Christopher Cyr, (Holiday House, $17.95, March 2018, ISBN 978-0-8234-3700-9), 32p, Ages 4-7
"On an icy winter evening a large tabby cat named Marmalade stumbled into the barn—cold, sick, and hungry. The mice took pity on the cat. They made her a warm bed of straw, shared their food and water, and nursed her back to health." In this retelling of an Aesop fable, the healed but ungrateful cat begins to terrorize the mice because that's what cats do—chase mice. The mice hold a meeting and decide to defend themselves. Finding an old sleigh bell and nibbling a leather band from a saddlebag, they realize the problem of attaching it to Marmalade. Neither the mice nor the rats are able to accomplish the task, until a family moves onto the farm with a little girl, who loves kitties and attaches the collar. The moral of the tale: "When you use a tiger to get rid of a lion, what will you do with the tiger?"
Themes: Animals, Folk Literature, Heroes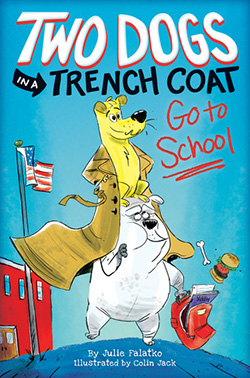 TWO DOGS IN A TRENCH COAT GO TO SCHOOL
written by Julie Falatko, illus. by Colin Jack, (Scholastic, $9.99, May 2018, ISBN 978-1-338-18951-3), 192p, Ages 8-12
Hilarious fun and slap stick comedy abound when two dogs, Waldo and Sassy, realize that their boy, Stewart, has school problems. Deciding to rescue him, they pose as a new student at the Bea Arthur Memorial Elementary School and Learning Commons. Disguised in an old trench coat with Sassy on the bottom and Waldo on top her shoulders, they walk to school where Waldo registers them for Stewart's class as Salty Woofadogington from Liver, Ohio (Waldo speaks human which he learned from a video). Turns out they love school, Stewart's teacher, the class skeleton, the cafeteria, Sloppy Joes, playing Frisbee, and music class. When they realize that Stewart doesn't have a topic for a project due the next day, the well-meaning dogs suggest squirrels. The resulting chaos surrounding Stewart's presentation will have kids reeling with laughter. Black and white illustrations are found on the majority of pages with the dog's favorite food (just about everything) in bold throughout the story. Anyone with a sense of humor will love this first tale of two wacky dogs and their boy.
Themes: Adventure, Friendship, Humor, Pets
RAFFIE ON THE RUN
written by Jacqueline Resnick, illus. by Joe Sutphin, (Roaring Brook, $16.99, Feb. 2018, ISBN 978-1-62672-866-0), 320p, Ages 9-12
Raffie Lipton lives with his family in the Brooklyn subway station, where they have an abundance of food from trash cans and soft beds for sleeping. Raffie enjoys telling his little brother, Oggie, his adventure stories as the Unstoppable Raffie, until one day Oggie is captured by a young boy for a school pet competition. Raffie begins his greatest adventure to rescue Oggie from a clue left in the boy's abandoned backpack. On his way to Central Park West, Raffie meets Kaz, a street-wise pigeon with a deformed wing, Marigold, a pampered poodle, and Walter a refined cockroach, who aid Raffie as he faces hungry cats, selfish squirrels, and deadly sewer rats. Kids will root for this little hero rat as he avoids humans, escapes animal control cages, and outmaneuvers enemies in his search for a beloved little brother.
Themes: Adventure, Animals, Families, Friendship, Heroes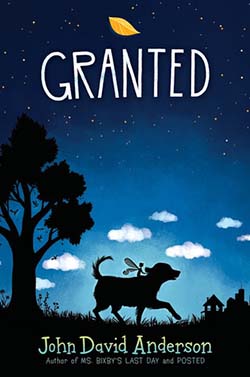 GRANTED
written by John David Anderson, (Walden Pond Press, $16.99, Feb. 2018, ISBN 978-0-06-264386-5), 336p, Ages 9-11
Ophelia Delphinium Fidgets is a wish-granting fairy, but has never been chosen to venture out into the world and grant a wish made by a human. When she is tasked with granting 13-year-old Kasarah Quinn's wish for a new bicycle (old one was stolen), Ophelia knows that she is perfect for the assignment. With a backpack full of supplies and orders to adhere to regulations, Ophelia's mission becomes complicated with unexpected airplanes, geese, brooms, hawks, trucks, a broken wing, and difficult choices. When the nickel Kasarah wished upon goes missing and winds up in the possession of a young boy, who makes a wish for his father's return from Iraq, Ophelia must decide which wish is more important. With the help of a pink-haired fairy friend and a loveable abandoned dog, Ophelia remembers the first rule of wish-granting: "Honor no wish that would lead to misery, misfortune, or malefaction." Readers will love this small, determined fairy and a dog who decides to follow her because she is broken and lost.
Themes: Adventure, Fantasy, Friendship, Pets
FRAMED!: A T.O.A.S.T. Novel
written by James Ponti, (Aladdin, $16.99, 2016. ISBN 978-1-4814-3630-4), 304p, Ages 10+
Having recently moved to Washington D.C. with his parents, seventh-grader Florian Bates uses his observation skills of T.O.A.S.T (Theory of All Small Things) to help recover three masterpieces that were stolen from the National Gallery of Art, where his mother works. When the FBI asks for further help, Florian discovers a fourth theft at the Gallery, which leads to a European Crime Syndicate. When a new friend, Margaret, asks him to investigate the mysterious circumstances of her adoption, they create their own FBI—Florian Bates Investigation. This tightly woven, well crafted mystery surrounding a smart, funny, and unusual 12-year-old will have readers considering their own observation skills and looking forward to a sequel.
Themes: Adventure, Friendship, Mysteries, Serires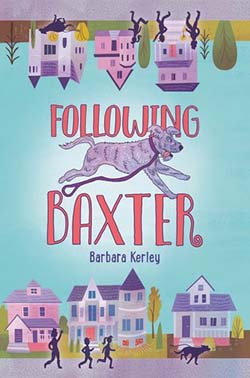 FOLLOWING BAXTER
written by Barbara Kerley, illus. by Gilbert Ford, (HarperCollin$16.99, April 2018, ISBN978-0-06-249978-3), 256p, Ages 10+
11-year-old Jordie Wallace's life suddenly changes when a science professor and her shaggy dog move in next door. Having always wanted a dog, Jordie volunteers to walk Baxter, while Professor Reese works in her basement on teleportation. When the Professor disappears, Jordie and her brother TJ, now lab assistants, think that she has transported herself somewhere in the world. They believe her disappearance surrounds a problematic laboratory teleporter, and they begin to piece together problems from previous teleportations, use map coordinates and computer latitudes, send her food and a cell phone through the teleporter, and discover the connection to Baxter's microchip. Kids will love this sweet and charming story of a young girl, a quirky professor, and a magical dog.
Themes: Adventure, Friendship, Mysteries, Science Fiction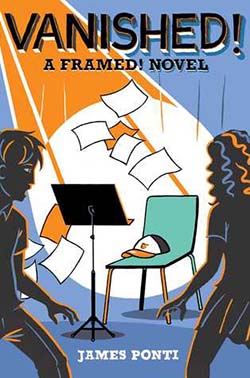 VANISHED! A Framed Novel
written by James Ponti, (Aladdin, $16.99, Aug 2017. ISBN 978-1-4814-3633-5), 384p, Ages 10+
"Once upon a twice, / In the middle of the nice, / The moon was on the rice / And the Mice were scoutaprowl …" On their nightly forage, elders warn young mice about the dangerous creatures in the woods and ponds. Young Jam Boy disregards the warnings and wanders off to watch a beetle and smell the flowers. He doesn't hear a silent water snake approach, hiss, and strike. Years later, an older, whiskered Jam speaks to a new generation of mice, and lectures them against wandering off. This cautionary tale of youthful arrogance and overconfidence will have many youngsters on the edge of their seats. With its glorious, nonsensical words (riskarascal, goofiddles, whispercroon) and wonderful illustrations of rice paddies, a huge yellow moon, and wide-eyed mouslings, this tale is too good to wait for Halloween to enjoy.
Themes: Adventure, Friendship, Mysteries Series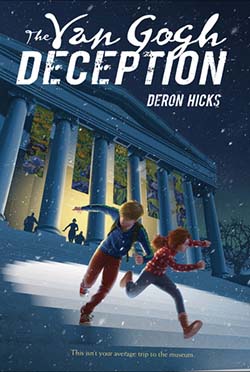 THE VAN GOGH DECEPTION
written by Deron Hicks, (Houghton Mifflin Harcourt, $16.99, Aug. 2017, ISBN 978-0-544-75927-5), 320p, Ages 11-14
On a wintery night in Washington D.C. a 12-year-old boy is found sitting alone on a bench at the National Gallery of Art unable to remember anything. The police turn Art over to an emergency foster care mother and her 10-year-old daughter, Camille. As his memory slowly returns, it soon becomes apparent that he has knowledge of one of the greatest art frauds in history. As Art and Camille stay one step ahead of criminals, they piece together a clever scheme involving the sale of a forged van Gogh painting to the gallery for $183,000,000. It turns out that Art has the only piece of information that will stop the sale. Not only will kids will enjoy this exciting mystery romp, including high speed chases, secret museum passages, clever devices to avoid the kidnappers, and the mysterious "spider," they may just develop a better appreciation of art. QR scanner codes are found throughout the book to allow readers with access to smart phones or tablets to view various artwork featured in the story.
Themes: Adventure, Friendship, Mysteries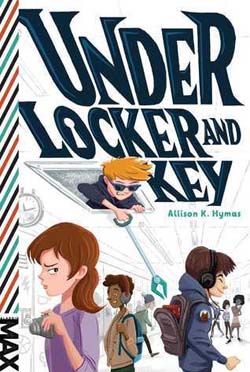 UNDER LOCKER AND KEY #1 (MAX series)
written by Allison K. Hymans, (Aladdin, April 2017, $16.99, ISBN 978-1-4814-6342-3), 256p, Ages 9-13
Eleven-year-old Jeremy Wilderson considers himself a "retrieval specialist and crime fighter" and not a thief, as Becca Mills, Scottsville Middle School's aspiring investigator and fellow sixth grader calls him. Returning items, whether stolen by students or confiscated by teachers, to their rightful owners is what Jeremy loves to do. When he is tricked by an aspiring eighth grade crime lord to retrieve a master key to the school lockers and student items go missing, it's up to Jeremy to retrieve the key. In desperation he turns to Becca for help. Hopefully they can find the key and take down the culprit before he winds up in detention by Becca for his unauthorized methods of crime fighting. Kids who enjoy entertaining capers and charming heroes will love this first book of Allison K. Hymas.
Themes: Adventure, Humor, Mysteries, Series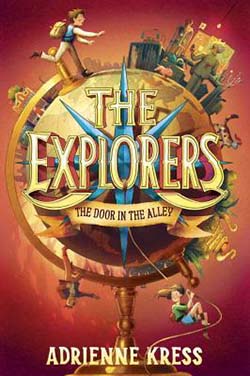 THE EXPLORERS: Door in the Alley #1
written by Adrienne Dress, (Delacorte Press, $16.99, April 2017, ISBN978-1-101-94005-1), 320p, Ages 11+
Twelve-year-old Sebastian is a serious rule follower and never takes chances, until one day on his way home from school he accidentally takes a wrong turn into a strange alley and stumbles upon the mysterious Explorers Society. The next day he rescues a little pig in a teeny hat, whose owner belongs to the society. He is invited in, has tea with its leader, and begins to work at the Society to avoid being arrested for trespassing. There he discovers strange rooms, the original Filipendulous Five members, and a hidden box containing information about them. Eleven-year-old Evie is an orphan fleeing from two dangerous men who are seeking a message she carries from her grandfather, a member of the Filipendulous Five. When she seeks help from the Society, she and Sebastian begin an adventure to locate a missing key and her grandfather while avoiding dastardly villains who seek the key. Readers will enjoy this very mysterious society with its famous explorers, missing persons, hired thugs, perilous chases, a lost map, and two courageous children, while awaiting the next installment of "The Explorers: The Reckless Rescue."
Themes: Adventure, Heroes, Mysteries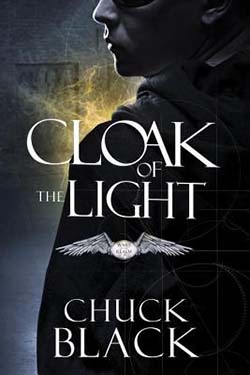 CLOAK OF THE LIGHT #1 (Wars of the Realm)
written by Chuck Black, (Multnomah Books, $11. 99, March 2014, ISBN 978-1-60142-502-7), 320p, Ages 16+
At the age of twelve, Drew Carter's father, a member of a Special Forces unit, dies in action. Since then, tragedy and heartache seem to follow Drew from one school to another. Over the years his father's best friend and fellow soldier, Jake Blanchard, helps Drew through his grief, takes him on camping trips, and eventually teaches him combat training. When college offers Drew a chance to start over, a physics experiment explodes leaving him blind and his high school friend, Ben, missing. After his sight miraculously returns, Drew discovers he has skills and sight beyond the normal and can observe what he calls invaders influencing humans for good or evil. When Drew begins to question his sanity, he remembers his father's advice: "It's wrong to do nothing when you have the power to do something." Determined to thwart the invaders, Drew moves to the inner-city of Chicago, locates Ben, discovers a long lost love Sydney, and protects his neighborhood from a local gang, earning him the nickname of "The Guardian," which brings him to the attention of the FBI. Teens will enjoy this first book in the Wars of the Realm series containing humor, heartache, suspense, action, a touch of romance, and an insight to the real spiritual battle between angels and demons.
Themes: Adventure, Friendship, Heroes, Suspense & Intrigue, Series
ABOUT US
The Children's Hour was created to promote and encourage reading to children and by children. We believe that reading aloud not only creates a special bond between parents and children, but it is important to the development of their imagination and curiosity.
The Children's Hour
150 N. Santa Anita Ave.,
Suite 300
Arcadia, CA 91006
626-393-5899
Conditions of Use
Privacy Policy