Welcome to The Storytellers, a monthly newsletter of outstanding children's literature to read and read aloud from preschooler age children to students in middle grades.

The best children's books are filled with imagination and fun. Stories that take children into a world of delight and adventure represent storytelling at its best. For more information on reading to children, great books to read and read aloud, log on to our web site at www.tchliteracy.com.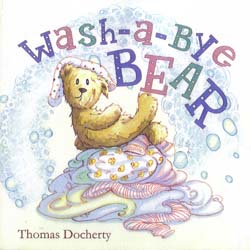 WASH-A-BYE BEAR
Wr itten/illus. by Thomas Docherty, (Templar Books, $14.99, ISBN 978-0-7636-6486-2), 32p, Ages 3-6
Mom says that Flora's precious Bear is smelly from breakfast smears, melted ice cream, sticky sweets, beach sand, glue, markers, and paint. In short, Bear needs a wash. As Bear spins around in the washing machine, Flora watches and encourages him with, "Don't worry, Bear. I'm going to be right here waiting for you." Now clean, Bear doesn't look, smell, taste, or feel like he should, but Flora remedies the situation by loving him back into his original condition. After her bath, Flora wonders about Bear's love, but Mom reassures her that Bear will always love her, whether clean or dirty. Little ones will enjoy Bear's facial expressions throughout the story, especially on the inside covers.
STEAM TRAIN, DREAM TRAIN
written by Sherri Duskey Rinker, illus. by Tom Lichtenheld, (Chronicle Books, $16.99, ISBN 978-1-4521-0920-6), 32p, Ages 3-5
"Through the darkness, clickety-clack . . . / coming closer, down the track . . . / hold your breath so you can hear / huffing, chuffing drawing near." Pulling into Night Falls station, the engineer signals the waiting crew (monkeys, rabbits, camels, kangaroos, bears, penguins, giraffes, turtles, and elephants) to load up the train cars. Boxcars, refrigerator cars, hoppers, tankers, reefer cars, gondolas, well cars, and autoracks are loaded with pogo sticks, monkey bars, ice cream treats, balls, and every kind of toy imaginable. The weary crew beds down on the flatbed car and caboose for a trip to dreamland. "The next stop . . . is another day." Kids will love the final page that explains the background for this engaging bedtime story.
Other Recommendations:

CHICKEN, PIG, COW AND THE CLASS PET
written/illus. by Ruth Ohi
(Annick Press, $6.95,
ISBN978-1-55451-346-8),
32p, Ages 2-5

NOODLE AND LOU
written by Liz Garton Scanlon
illus. by Arthur Howard
(Simon & Schuster, $15.99
ISBN 978-1-442-40288-1),
32p, Ages 2-6
Ages 4-8: Humor & Nonsense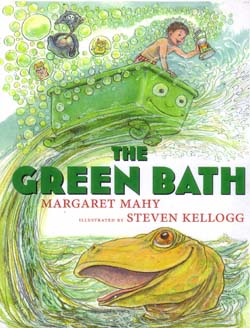 THE GREEN BATH
written by Margaret Mahy, illus. by Steven Kellogg, (Arthur A. Levine Books, $16.99, ISBN 978-0-545-20667-9),
40p, Ages 4-8
A neighbor's dad brings home a speedboat from the flea market, but Sammy's dad brings home a green, claw footed bathtub. Sammy realizes that this is no ordinary tub, when he hears it gurgle and watches a claw foot scratch its face. Donning his swimsuit, snorkel and water wings, Sammy settles in for a fun time in the soapy tub, not realizing that he is in for a fun adventure. "Then, in a minute, the bath was off and away. It bounded through the back door, leaped across the lawn, hopped over the hedge, and made for the wide, wide ocean." There they meet mermaids and a passing sea serpent, who helps Sammy battle buccaneers, who want his tub. Returning home, the tub settles back into the bathroom along with Sammy and his treasure chest. Don't be surprised when kids emulate the late Margaret Mahy's swashbuckling adventure at bath time.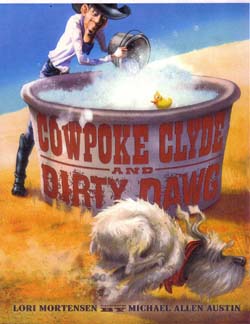 COWPOKE CLYDE AND DIRTY DAWG
written by Lori Mortensen, illus. by Michael Allen Austin, (Clarion Books, $16.99, ISBN 978-0-547-23993-4), 32p,
Ages 4-8
Cowpoke Clyde is a great role model of cleanliness. "Cowpoke Clyde propped up his feet. / His house was clean, his chores complete. / He'd even washed the kitchen floor / and shooed the horseflies out the door." Thinking that his dog needs a bath, Clyde grabs his rope, bucket, water, and soap. However, Dawg doesn't agree and runs for his life out the door. Trying every trick imaginable to catch Dawg, Clyde manages to drench the chickens, lasso the hog, and soap the cats, resulting in flying chicken feathers, spilled black bean soup, hissing cats, and a kicking mule. Disgusted and dirty, Clyde uses the tub himself. Who do you suppose decides to share his bath? The cumulative rhyme, catchy phrases, and hilarious antics will rope in the most reluctant listener.
Other Recommendations:

BOOT AND SHOE
written/illus. by Marla Frazee
(Simon & Schuster, $16.99,
ISBN 978-1-4424-2247-6),
40p, Ages 4-7

ONE COOL FRIEND
written by Tony Buzzeo
illus. by David Small,
(Dial Books, $16.99
ISBN 978-0-8037-3413-5),
32p, Ages 5-8

THE DAY DIRK YELLER CAME TO TOWN
written by Mary Casanova
illus. by Ard Hoyt
(Farrar, Straus, Giroux, $16.99
ISBN 978-0-3743-1742-3),
40p, Ages 4-8

JANGLES: A BIG FISH STORY
written/illus. by
David Shannon
(Scholastic Press, $17.99
ISBN 978-0-545-14312-7),
32p, Ages 5+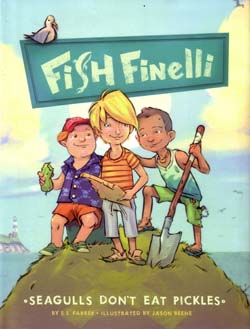 SEAGULLS DON'T EAT PICKLES: Fish Finelli, Book 1
written by E . S. Farber, illus. by Jason Beene, (Chronicle Books, $15.99, ISBN 978-1-4521-0820-9), 155p, Ages 7-10
Rumor has it that Captain Kidd's lost treasure is on Lyon's Island, across from Whooping Hollow, where Norman (aka Fish) and his friends, Roger, and T.J. live. When bully Brice Billings bets Fish that he cannot locate the Captain's treasure map, Fish, Roger, and T.J. embark on a quest to locate the map and dig for treasure. The three brave massive goose poop, a mysterious librarian, leaky kayaks, and mutant birds to find the map, sneak onto Lyon's Island, and search for treasure, occasionally using their secret code SDEP (Seagulls Don't Eat Pickles) when danger is near. Information sidebars provide background facts on Captain Kidd, pieces of eight, walkie-talkies, etc. Boys especially will enjoy this fun, entertaining, and humorous beginning of a new adventure series.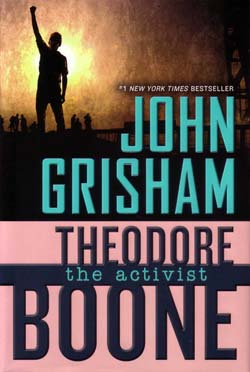 THEODORE BOONE: The Activist
written by John Grisham, (Dutton Children's Books, $16.99, ISBN 978-0-525-42577-9), 272p, Ages 9-12
The fourth installment of the popular Theodore Boon series finds Theo in the middle of a dispute over property rights, debating environmental issues, and fighting corruption. The town of Strattenburg is divided over a state project to divert traffic, bypassing the town to relieve congestion, and using eminent domain to obtain property. Theo becomes involved personally when he and his friend, Hardie, are roughed up, and Theo's dog is beaten unconscious by thugs working for the state. Joining an environmental group, Theo and Hardie gather information to present their case before the City Council. Theo wrestles with ethical issues regarding the release of classified information on one of the Council commissioners. Intense moments surround courtroom proceedings, shady clients, and crooked politicians, as well as heart wrenching moments with an injured pet. As always, Theo is a great role model for kids today.
Other Recommendations:

ON THE ROAD TO
MR. MINEOS
written by Barbara O'Connor
(Farrar, Straus, and Giroux,
$16.99, ISBN 978-0-374-38002-1),
192p, Ages 8-12

MALCOLM AT MIDNIGHT
written by W. H. Beck
Illus. by Brian Lies
(Houghton Mifflin Books,
ISBN 978-0-547-68100-9),
272p, Ages 10+

OF GIANTS AND ICE
written by Shelly Bach
illus. by Cory Loftis
(Simon & Schuster Books, $15.99
ISBN 978-1-4424-3146-1),
352p, Ages 10+

THE CHESHIRE CHEESE CAT: A DICKENS OF A TALE
written by Carmen Agra Deedy
& Randall Wright, illus. by Barry
Moser, (Peachtree Publishers,
$16.95, ISBN 978-1-56145-595-9),
256p, Ages 10+
Over the years, we have researched thousands of children's books, and can recommend some of the best in outstanding children's literature for parents to read aloud and children to read. Our recommendations must meet certain criteria: fun, creative and imaginative stories, delightful illustrations, and excellent for age appropriate listening and reading. We hope that you enjoyed our recommendations. If you desire further information some of the best in children's literature, please visit our website, www.tchliteracy.com.


CONTACT US:
The Children's Hour
10 N. Santa Anita Ave., #300
Arcadia, CA 91006


Email: info@tchliteracy.com